Tributes paid to BBC radio presenter Nicholas Parsons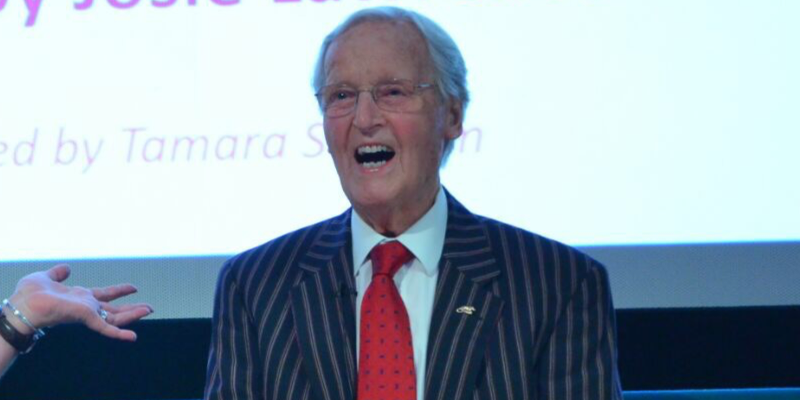 Broadcaster and BBC Radio 4 presenter Nicholas Parsons has died at the age of 96 following a short illness.
Nicholas was most popular for the Radio 4 show he hosted for 50 years, Just A Minute, and fronting game shows on TV.
The presenter recently appeared at the Radio Festival (photo above) sharing his insights and stories from 70 years of working in radio – his favourite professional medium.
He was honoured by TV and Radio writers last year at the 45th annual Broadcasting Press Guild Awards.
It was on December 22nd 1967 that Nicholas hosted the first edition of Just A Minute on BBC Radio 4, a role he has carried out ever since, missing only a couple of recordings until recently. In 1971, he also became host of the ITV gameshow Sale of the Century, which he presented for 12 years.
Other broadcasting highlights have included appearances in The Comic Strip Presents (Channel 4), Doctor Who (BBC One) and hosting Have I Got News For You (BBC One).
Tony Hall, BBC Director-General, paid tribute: "Very few people have done so much to entertain audiences over the decades, and no one deserves to be called a broadcasting legend more than Nicholas Parsons. His charm, inventive intellect and ability to create laughs were unsurpassed. Our thoughts are with his family and all who knew him."
Mohit Bakaya, Controller of BBC Radio 4, said: "Nicholas Parsons was one of the greats, a first class broadcaster and an icon in the world of British comedy.
"Nicholas always brought his sharp wit, brilliant poise and warmth to everything he did – but particularly as host of Just a Minute where his excellence shone in each episode without hesitation, deviation or repetition. He was that rare beast – a presenter whose appeal spread right across the generations – and he was a unique member of the Radio 4 family. He will be greatly missed by us all, as well as the many, many listeners who he entertained so brilliantly."
Julia McKenzie, Creative Director at BBC Studios Audio (which produces Just a Minute), said: ""Nicholas was such a smart and passionate man who cared deeply about his radio show and Radio 4 and its devoted listeners. He was utterly charming and faultlessly professional.
"He was funny and kind in person and wonderful company. I can't really believe he is gone today, he seemed indestructible. His legacy will live on with over 50 years of laughter-filled shows and the lasting friendships he made through his extraordinary career in show business. My thoughts are very much with Annie, his beloved wife and constant support and companion who attended every recording, and the rest of his family. Nicholas, you dear man, what a full life you lived – you really did bring much wit and joy to us all and we thank you for that – we miss you."