BBC Radio Ulster announces new breakfast show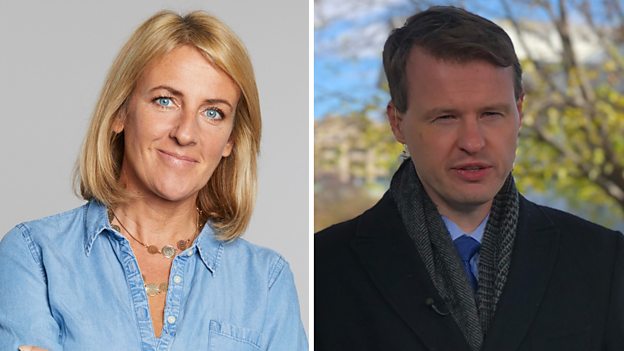 5 Live's Sarah Brett and BBC Washington Correspondent Chris Buckler are both heading back to Belfast to present Radio Ulster's new breakfast show from April.
They will replace Noel Thompson and Karen Patterson, who announced in November that they were leaving the Good Morning Ulster programme.
Sarah previously spent a decade at BBC Radio Foyle and Radio Ulster, before joining 5 Live in 2014 where she currently hosts the weeknight show from 10.30pm to 1am. She grew up in Donegal and studied journalism in Londonderry.
Chris has been with the BBC for 20 years as a reporter and presenter for BBC Radio Ulster and Newsline – and has worked as a network TV and radio correspondent since 2008. He moved to Washington two years ago to work as a North America correspondent. His radio career started at Belfast Community Radio and he was also Stephen Nolan's producer on commercial station Citybeat before a move to the Belfast Telegraph and then the BBC.
Adam Smyth, Head of BBC News NI, says: "Following a competitive process, we are pleased to confirm Sarah and Chris as the new voices of breakfast news on BBC Radio Ulster. While they have each gone on to forge impressive careers across the BBC, they have remained passionate about news and events Northern Ireland and they bring with them a wealth of broadcasting experience. They will make a formidable pairing and we're excited to see what they bring to the programme and station."
Chris says: "Having covered two very busy years of Donald Trump's presidency it was a difficult decision to leave the US ahead of this year's election… But the opportunity to come home and be a part of BBC Northern Ireland's flagship news programme was too much to turn down. I worked with all of the legendary presenters who are stepping down and it is a genuine honour to follow them on Radio Ulster's airwaves.
"I've spoken to Sarah many times from Washington on BBC Radio 5 live and I can't wait to sit alongside her in the studio in Belfast. We intend to make the programme a must-listen in the mornings and with ministers back in Stormont it is a great time to be relaunching the show. There may be some changes but you can rest assured that we'll continue to investigate the big stories and ensure people are held to account."
Sarah says: "It's been an extraordinary five years to work at 5 live, there's nowhere like it for breaking news and political analysis. The people that work for this station are exceptionally creative and hardworking, but I'd like to single out the late team who've shaped my current show into something unique on the network. They're also great people and a right laugh, which is entirely necessary in the middle of the night.
"I'm delighted about coming home for so many reasons, but to come back into a programme that's the soundtrack to so many people's mornings is a real honour. We're at the epicentre of huge political and social change in Europe, the UK and the island of Ireland, but there's so much happening on a local level too that's just as important. Chris and I and the superb team at BBC Radio Ulster are totally committed to bringing you the best of that every day. And brighten your morning with a few smiles if we can."
Heidi Dawson, controller of BBC Radio 5 live, told RadioTotday: "We're sorry to see Sarah leave but pleased she is staying within the BBC and moving back home for such a great opportunity. It's been a pleasure to have her on the station and she will be missed by everyone at 5 Live."