Greg James sends message to teenage hospital radio host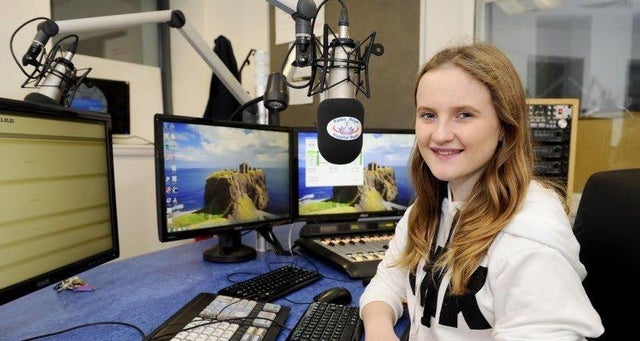 Greg James has recorded a special video message for a 15 year old hospital radio presenter who's broadcasting shows to patients from a gazebo in her garden.
The Radio 1 breakfast show presenter has also invited Amy Cardno from Forth Valley Royal Hospital's Radio Royal in central Scotland to sit in on his show once the lockdown has finished.
Amy – better known to her listeners as 'Wee Amy' – featured in an STV News report, with Greg sending the programme a video message to Amy to be included.
Greg told her: "I wanted to send you a message because I heard all about your extraordinary work on your hospital radio station. I've read up about you, I've listened to some of your stuff – and you just get it. You get why radio is so important. You get how it connects people. You get how it brings people together. And you get that it's a very special relationship between the presenter and the listeners – and as long as you remember that you can't go far wrong.
"So from me and everyone at Radio 1, and all your listeners – the people who work in the hospital and the patients – thank you for doing the work you do. You might think that it's too fun to be considered a very vital job, and it is fun for sure, but it's a lifeline for a lot of people. Playing the right song at the right time can really change someone's day and I know you understand that – so keep doing that. It's the most wonderful job in the whole world. It's a privilege to get to talk into a microphone every day, and no doubt I'll see you at Radio 1 one day when you you inevitably take over my job.
"Actually, would you like to come to Radio 1 with your friends and family whenever all this is blown over? Because this is very much an invitation! You're welcome to come and watch the breakfast show, hang out with us, meet the team, and have some fun one morning when things are looking a bit brighter. But for now, keep doing what you're doing, because you're doing a great job."
You can watch the STV report and Greg's full video message to Amy below.
A few weeks ago, I met Scotland's youngest hospital radio DJ. 'Wee Amy' is determined to stay on air despite the lockdown. So determined… She's turned her garden into a studio.

A snippet of my report for tonight's @STVNews… Put together with a little help from @gregjames pic.twitter.com/5dw1dfz2vu

— Polly Bartlett (@polly_bartlett) April 22, 2020
Hospital Radio is a vital source of information & entertainment for patients & frontline workers. And with so many in isolation, it's more important than ever.

When @gregjames – host of the UK's most popular breakfast show – heard about Wee Amy, he sent us a wee something… pic.twitter.com/BY88HYuw1A

— Polly Bartlett (@polly_bartlett) April 22, 2020