BBC Local Radio teams up for Race and Covid-19 special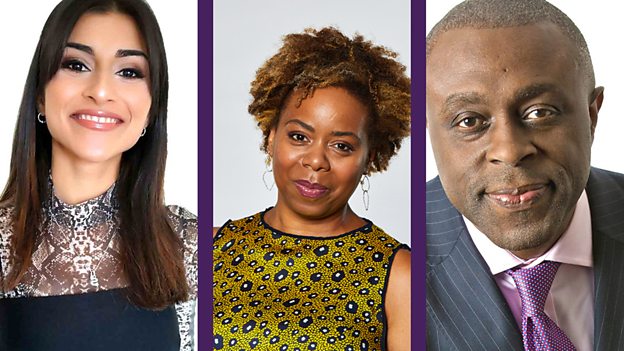 All of the BBC's 39 Local Radio stations in England are broadcasting a shared programme this evening, which will explore the impact of Coronavirus on ethnic minorities.
The special will air 7-8pm and is presented by Karen Gabay from BBC Radio Manchester, Summaya Mughal from BBC Radio Leicester and Dotun Adebayo from BBC Radio London.
'Race and Covid-19' looks at the facts and discusses what more can be done about the issue, and will invite listeners to get involved by sharing their own views and personal experiences.
Figures show that around a third of critically ill coronavirus patients identify as black, Asian or minority ethnic, despite making up only 14% of the population. BBC analysis also shows that black people account for 6% of coronavirus deaths in hospitals in England, but only around 3.5% of the population.
Karen Gabay said: "Covid-19 has directly impacted on my family, friends and listeners on a daily basis. I am not alone in this situation and I believe that this special gives a platform for us to share our stories and will help us to hopefully feel supported and push for solutions to help us overcome how we are disproportionally affected in this pandemic."
Summaya Mughal said: "As a broadcaster, based in one of the most diverse cities in the UK, I feel a responsibility to my community to try and understand why Covid-19 seems to be disproportionally affecting us. On a personal level, the programme is important to me because this issue concerns my neighbours, friends and, being British-Pakistani, my family also. The programme is for them, and my community."
Dotun Adebayo said: "Every lockdown story tells a story that tells a story. This important story raises some fundamental questions about equal rights and justice in our society."
The idea for the programme grew from a recent broadcast on BBC Radio Manchester that was also aired on Legacy 90.1 – a community station in Moss Side.
BBC Radio Manchester Editor, Kate Squire, said: "Across BBC Local radio we have fantastic presenters from communities disproportionately affected by Covid-19, and I'm so pleased we're able to come together as a network to be able to debate and discuss this significant issue further. It's vital we give people a voice and debate this issue on our 39 local stations as well as community stations in all our areas."
Community radio stations that are members of the Community Media Association are able to take the special programme for free, as well as other BBC local radio content during the crisis.