5 Live and talkSPORT to broadcast all remaining Premier League games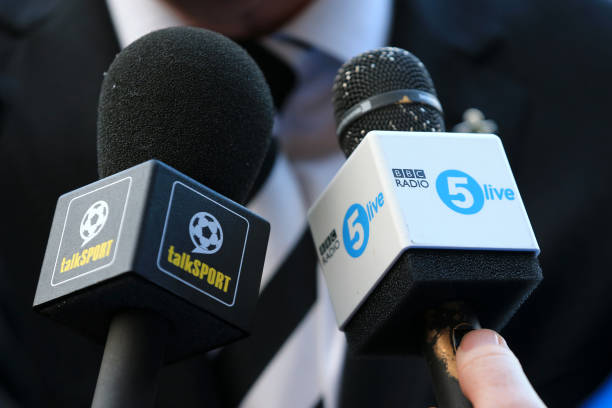 BBC Radio 5 Live and talkSPORT have reached an agreement with the Premier League to enable football fans to listen to live commentary of all 92 remaining top-flight matches when the season resumes later this month.
No two fixtures will be at the same time, meaning full match commentary of every match can be broadcast across both radio and TV.
talkSPORT's 'GameDay' will return to Saturdays with the station securing the rights to broadcast the matches at 12.30pm, 3pm, 5.30pm and 7.45/8pm. It will also cover some of the Sunday and weekday evening games.
5 Live meanwhile will air commentaries of seven live Premier League fixtures each week, including four on Sundays.
With matches all being played behind closed doors because of the pandemic, talkSPORT says that to make up for the lack of crowd noise it will use manager touchline audio for the first time to 'transport listeners to the stadium through the real sound of sport'.
Reshmin Chowdhury will continue to anchor talkSPORT's GameDay coverage alongside commentary from Sam Matterface and Clive Tyldesley plus ex-internationals Stuart Pearce, Trevor Sinclair, Darren Bent and Ally McCoist.
talkSPORT will have exclusive commentary of EFL and play-off matches too once dates are announced, and as the Premier League's global audio partner will provide live commentaries to listeners outside Europe via its international radio partners and streaming platforms.
Head of talkSPORT Lee Clayton said: "We've kept the nation's sports fans engaged and entertained throughout lockdown with the best sports conversation. Now it's time to get back to the live action. Our GameDay coverage will include an unprecedented number of games, with four Premier League matches on Saturdays. Radio is the most intimate way of staying across what is happening, enjoying the highs and lows of the action, while not having to commit hours in front of the television screen. Our experts will paint pictures with words from inside grounds that may be lacking supporters, but will not be lacking in action. It's non-stop football now through until the Euros and talkSPORT is the perfect place to follow all the action. Supporters cannot go to the games, but we will bring the games to the supporters."
5 Live says all its commentary teams will be broadcasting live from the grounds and the BBC will work closely with the Premier League to 'ensure all appropriate safety measures are adhered to in the broadcasting of these games'.
Schedules on the station will change from 15th June to accommodate the return of the football, with 5 Live Sport back in its usual 7-10.30pm slot Monday to Wednesday and 7-10pm on Thursdays and Fridays. In addition 5 Live Sport will run 12-6pm on Saturdays and 11am-9pm on Sundays.
Football phone-in 606 will be on 6-8pm on Saturdays and 9-10.30pm on Sundays, while Robbie Savage's Premier League Breakfast returns to 5 Live but moves from Fridays to Saturdays and is extended by half an hour.
Controller of BBC Radio 5 Live, Heidi Dawson said: "We couldn't be more excited about the return of live Premier League football on 5 Live. The past three months have been like no others and I'm delighted that football will be back to give fans the excitement and drama that the end of a season brings. Our sports team are working around the clock to ensure listeners don't miss a thing from the moment the action kicks-off – live commentaries, pre-match build-up, detailed analysis and of course the chance for our listeners to have their say."
Senior Commentator and Football Correspondent for BBC Radio 5 Live, John Murray said: "At a time when football fans would have been gearing up for Euro 2020, the return of the Premier League is hugely welcome news. It is going to be different, but I can't wait to resume my live commentary duties for 5 Live. With or without supporters in the stadium, the end of the 2020 season will undoubtedly provide us with yet more drama, excitement and unforgettable moments. As ever, our coverage will include exclusive live radio commentaries, comprehensive pre-match build up, expert analysis and opportunities for supporters to have their say on air."
Revised 5 Live weekend schedule from 15th June to 25th July:
Saturday
06:00-08:00: Saturday Breakfast
08:00-09:00: Robbie Savage's Premier League Breakfast
09:00-11:00: Scott Mills and Chris Stark
11:00-12:00: At Home…with Colin Murray
12:00-18:00: 5 live Sport (including live Premier League match coverage at 3pm)
18:00-20:00: 606
20:00-23:00: Stephen Nolan
23:00-01:00: TBC
01:00-06:00: Up All Night
Sunday
06:00-07:00: 5 Live Science
07:00-10:00: Sunday Breakfast
10:00-11:00: Savage Social
11:00-21:00: 5 live Sport (including four live Premier League games)
21:00-22:30: 606
22:30:01:00: Stephen Nolan
Across BBC Local Radio, stations are gearing back up to cheer on their Premier League clubs as well as looking ahead to the restart of the Championship on June 20th. More than half the teams in the Championship still have realistic ambitions of promotion to the Premier League. The BBC says match day coverage, including live commentary and analysis, will return in time to cover all the action.