Audio Content Fund releases first annual report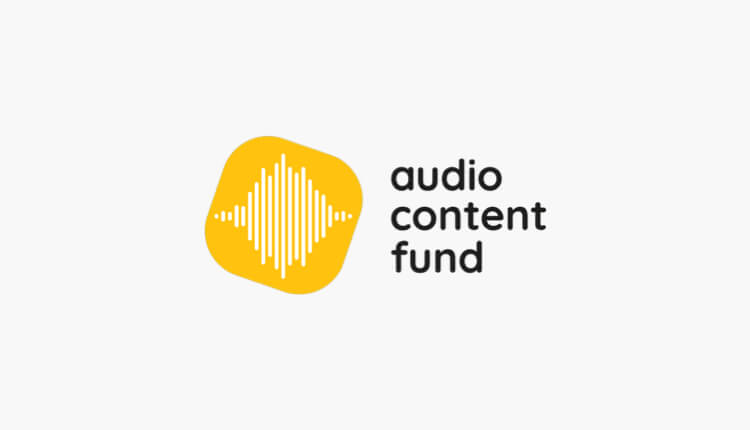 A project to use government money to pay for public service radio projects across commercial and community radio has published an annual report covering its first year of operations.
The Audio Content Fund paid for 25 radio projects across the 12 months to the end of March 2020 at a cost of £655,898.
The report highlights that 35 radio stations aired the content, which totalled 162 hours and will reach an estimated 5.6 million people.
60% of the 21 independent production companies who received funding to make the programmes were based outside of London. In the majority of cases the project led to a new relationship between production company and broadcaster – with programmes covering factual, drama, comedy, live discussion, children's, sport and current affairs.
Projects ranged from £10,000 for 'Patches of Land' on a network of community radio stations in Devon and Cornwall to £61,600 for a weekly programme – Kick Off: Added Time – covering diversity issues on talkSPORT.
£53,040 was allocated to produce 'Hometown Stories' for Virgin Radio and projects airing on Magic total £32,700 across the year, while Absolute Radio will air 'Time to Listen' and 'Rockanory' using £54,846 from the fund in 2019-20.
This year's work has already begun too – not covered in the report is the approx £400,000 distributed to 28 radio projects during the coronavirus pandemic.
Reflecting on the Audio Content Fund's first year, Helen Boaden described chairing its Independent Funding Panel as 'a pleasure and a privilege'. "We've been delighted by the sharp ideas, across every genre, developed by Indies for the tightly disciplined schedules of commercial radio, and the focused remit of specialist and community stations," she said.
Managing Director of the Audio Content Fund, Sam Bailey, said: "Seeing such creative and impactful ideas take shape on commercial and community stations has been a joy, and I'm extremely proud of the huge appetite I've seen for radio to be a force for good in what feels like an increasingly challenging world."
John Whittingdale OBE MP, Minister of State for Media and Data, said: "We set up the Audio Content Fund to bring to life brilliant ideas for high-quality and home-grown radio shows which add to the richness of the UK's media landscape. Since the first funding awards were made a year ago, millions of people have enjoyed over 150 hours of documentaries, comedy, drama, and shows that otherwise wouldn't have been made. Crucially, it has helped bring more diverse voices to the airwaves and has also reflected communities' experiences of coronavirus. I hope the initiative continues to go from strength to strength and continues to help independent producers create even more vital programmes for commercial and community stations."
Will Jackson, Managing Director of AudioUK, and a Director of the Audio Content Fund, said: "I'm delighted that the Audio Content Fund has got off to such a great start, creating new and diverse partnerships between audio-led production companies and commercial and community radio across the UK. I'm also pleased we were able to use the Fund to respond so quickly to the challenges of coronavirus, enabling listeners to continue to benefit from high- quality public service content on their favourite stations. We're grateful for the continued support of DCMS and look forward to hearing further creative programming from innovative new partnerships in the coming rounds."
Siobhan Kenny, CEO of Radiocentre, and a Director of the Audio Content Fund, said: "When the Government agreed to include radio as part of its contestable fund pilot scheme, it was setting a challenge to our industry – to use this opportunity to develop new ways of producing high-quality, original and distinctive radio output. The brilliant programming that has been supported by the Audio Content Fund so far provides compelling evidence of how radio stations and producers are meeting this challenge and that contestable funding can really work."
Projects receiving funding from the Audio Content Fund in 2019-20 are shown below along with the amounts received by the production companies to make the programmes: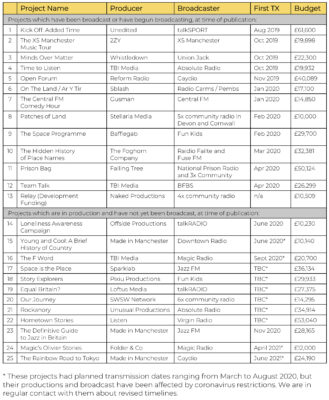 The Audio Content Fund is due to receive a total of up to £3m over three years to produce 'distinctive, public service radio programming that is traditionally more difficult to support on a commercial basis'. Bids have to be made by audio production companies working in conjunction with Ofcom-licensed radio stations who've agreed to broadcast the programming.
The next funding round is due to open in August 2020 – you can hear samples of the projects funded so far on the Audio Content Fund website.