Radio stations in the UK support Blackout Tuesday
BBC, commercial and community radio stations are showing their support of Blackout Tuesday today (June 2nd).
BBC Radio 1Xtra will broadcast special programming of music, discussions and debates in support of the Black community in the UK and around the world.
There will be an extended 1Xtra Talks special hosted by Seani B and DJ Ace between 6-8pm which will give listeners a chance to share their views and opinions on the recent tragic events in the US surrounding the death of George Floyd and the broader topic of racial injustice and the Black community.
As well as this, throughout the day the 1Xtra playlist will focus on Black empowerment, pride and identity, with 1Xtra DJs including Dotty, Yasmin Evans and MistaJam each choosing a personal selection of tracks for their show. Jamz Supernova and Snoochie Shy will continue the focus on Black pride and equality throughout the evening.
BBC Radio 1 will have moments of reflection throughout the day and Annie Mac's evening show will celebrate songs from black musicians reflecting the contributions they've made to our culture. Greg James spoke about the importance of challenging racism in his Breakfast Show today.
On Monday morning, BBC Radio 1's Greg James paused for a moment after the 8.30 news to share his thoughts on the situation, which you can hear in the tweet below.
"This is your problem too. It's mine. It's yours. It's everybody's."@gregjames spoke about George Floyd's death, racism, and what you can do. pic.twitter.com/7FSwwkXwAW

— BBC Radio 1 (@BBCR1) June 1, 2020
On BBC Radio 2, Jo Whiley will reflect musically during her show between 20.00 – 23.00, as well as being reflected within the daytime schedule.
As well as relevant music and features throughout the day on BBC Radio 6 Music, there's another chance to hear The 6 Music Black Power Soundscape presented by Don Letts between 1200-1300.
BBC Asian Network will reflect the day with UK and US reaction in The Big Debate from 10am, whilst Bobby Friction picks music from some of his most inspiring Black American artists from 7pm.
At commercial radio, all social media platforms operated by Bauer stations including KISS, Magic, Hits Radio network, and Absolute Radio will fall silent. The company says it will give time for us to reflect on ourselves, the audience, and our role in a more inclusive and progressive world.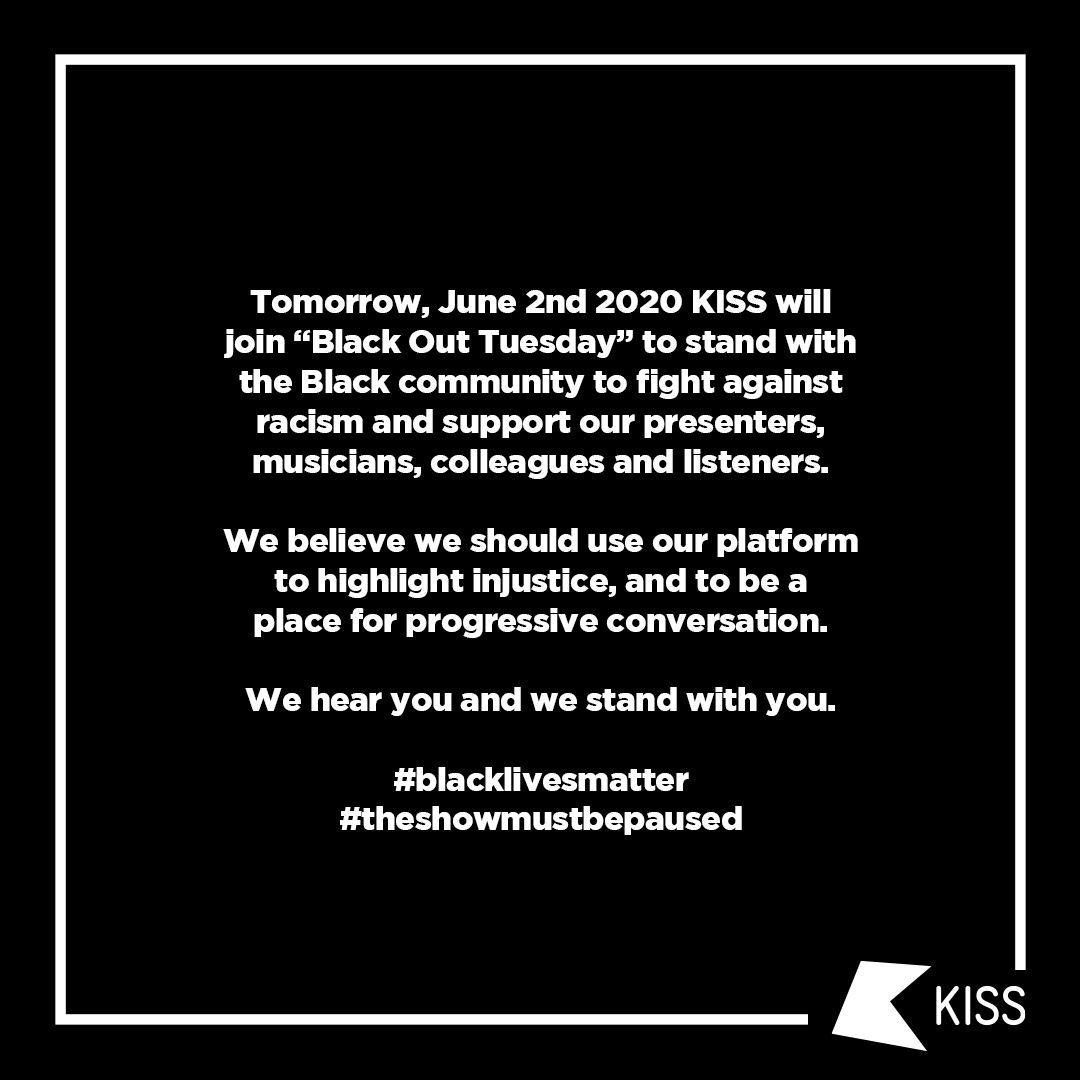 Other stations including Reform Radio, Union JACK/JACKfm stations, Reprezent Radio are stopping their social activity.
Zane Lowe has also tweeted he won't he hosting his radio show tomorrow, saying he stands united with his black and brown friends and colleagues.
Riverside Radio in London says it will stop broadcasting for 24 hours.
At midnight tonight Riverside Radio will suspend broadcasting for 24 hours… #TheShowMustBePaused #JusticeForGeorgeFloyd #BlackLivesMatter pic.twitter.com/GsP2HCryWR

— Riverside Radio (@ThisisRiverside) June 1, 2020