British Podcast Awards 2020 winners announced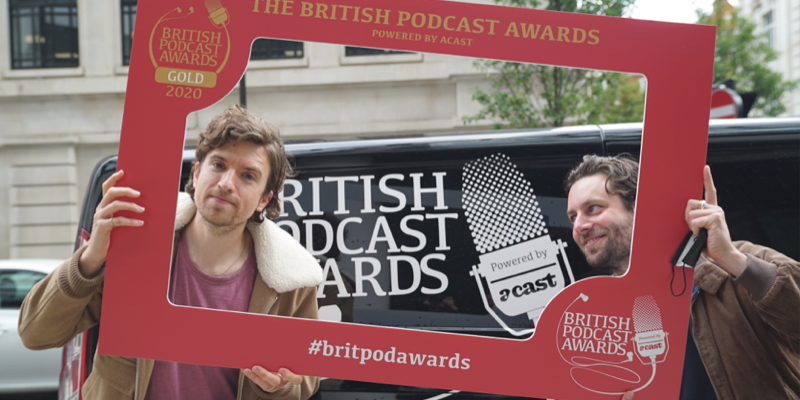 All the winners for the British Podcast Awards have been announced during an online event.
Hosted by Clara Amfo and BBC 6 Music's Rhianna Dhillion, with Claudia Winkleman, Louis Theroux, Ian Wright and Mel Giedroyc also taking part.
BBC Radio 4's Tunnel 29 won the best Radio Podcast, whilst BBC Radio 1's breakfast presenter Greg James won Best Live Episode for Tailenders with Jimmy Anderson and Felix White.
If you missed them, they'll be broadcast by BBC Radio 4 Extra on Tuesday July 14th at 8:30pm and then available on BBC Sounds.
Here's the big winners list:
PODCAST OF THE YEAR
Brown Girls Do It Too
PODCAST CHAMPION
Renay Richardson
LISTENERS' CHOICE AWARD
Shagged Married Annoyed, Chris & Rosie Ramsey
MOMENT OF THE YEAR
GOLD: Tunnel 29
SILVER: Ways To Change The World
BRONZE: QueerAF
BEST FAMILY PODCAST
GOLD: David Walliams' Marvellous Musical Podcast
SILVER: Diddy Pod
BRONZE: The Intended Parent
BEST ARTS & CULTURE PODCAST
GOLD: Rule of Three
SILVER: Classical Fix
BRONZE: Best Pick
BEST TRUE CRIME PODCAST
GOLD: Paradise
SILVER: The Hurricane Tapes
BRONZE: The Bellingcat Podcast: MH17
BEST BRANDED PODCAST
GOLD: Penguin Podcast
SILVER: Meet Me at the Museum
BRONZE: The Rough Guide to Everywhere
BEST COMEDY PODCAST
GOLD: Kurupt FM
SILVER: Brian & Roger
BRONZE: Dear Joan & Jericha
BEST ENTERTAINMENT PODCAST
GOLD: Something Rhymes with Purple
SILVER: George Ezra & Friends
BRONZE: Sam Walker's Desert Diaries
BEST FICTION PODCAST
GOLD: Passenger List
SILVER: Fall of the Shah
BRONZE: Hag
BEST SEX & RELATIONSHIPS PODCAST
GOLD: Brown Girls Do It Too
SILVER: Masala Podcast
BRONZE: F**ks Given
SMARTEST PODCAST
GOLD: The Sound of Anger
SILVER: Food Actually
BRONZE: Power Corrupts
BEST RADIO PODCAST
GOLD: Tunnel 29
SILVER: The Skewer
BRONZE: Ellie and Anna Have Issues
BEST LIVE EPISODE
GOLD: Tailenders
SILVER: Tape Notes
BRONZE: Blood on the Tracks
BEST NEW PODCAST
GOLD: The Log Books
SILVER: The Last Bohemians
BRONZE: Shagged Married Annoyed
BEST SPORT PODCAST
GOLD: Football Inside Out – FIFA Women's World Cup 2019
SILVER: The Beautiful Brain
BRONZE: The Game Changers
BEST INTERVIEW PODCAST
GOLD: Declassified
SILVER: Today In Focus
BRONZE: How to Kill An Hour
BEST CURRENT AFFAIRS PODCAST
GOLD: Today In Focus
SILVER: The Intelligence
BRONZE: Stance Podcast
BEST DAILY PODCAST
GOLD: The Rob Auton Daily Podcast
SILVER: Today in Focus
BRONZE: Beyond Today
BEST BUSINESS PODCAST
GOLD: Money Talks
SILVER: The Northern Power Women
BRONZE: Doing It For The Kids
BEST NETWORK OR PUBLISHER
GOLD: Somethin' Else
SILVER: The Athletic
BRONZE: The Guardian
BEST WELLBEING PODCAST
GOLD: The Sound of Anger
SILVER: Hooked: The Unexpected Addicts
BRONZE: Declassified
BEST PODCAST IN THE WELSH LANGUAGE
GOLD: Dwy Iaith, Un Ymennydd
SILVER: Yr Haclediad
BRONZE: Siarad Secs
THE SPOTLIGHT AWARD
GOLD: The Guilty Feminist
SILVER: Happy Mum Happy Baby
BRONZE: My Dad Wrote A Porno
THE BULLSEYE AWARD
GOLD: Things Unseen: Entombed
SILVER: The Investor's Guide to China
BRONZE: This Is Spoke
THE CREATIVITY AWARD
GOLD: Where is My Mind?
SILVER: Fake Heiress
BRONZE: Mind Canyon