Coronavirus Radio Ideas Awards open for entries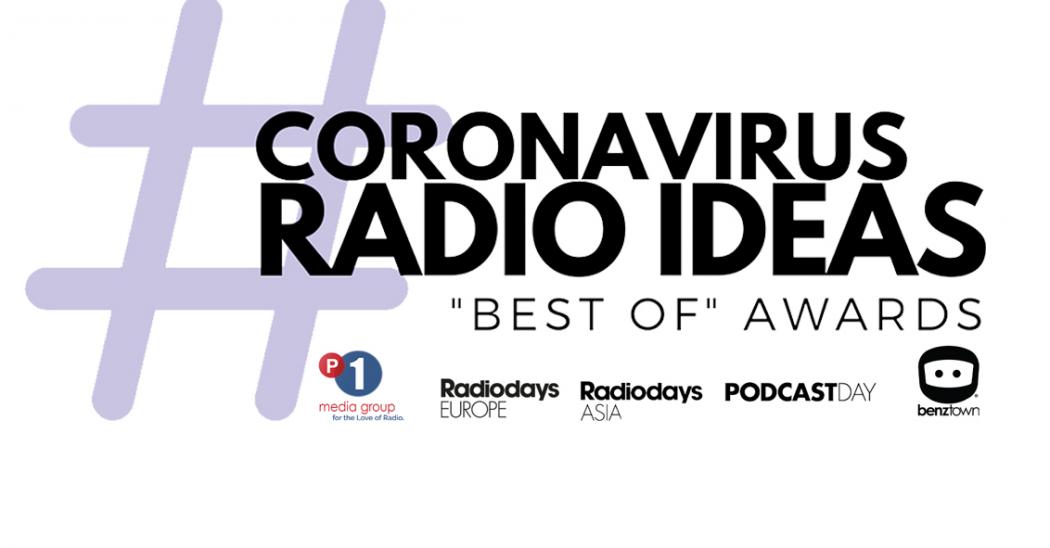 Radiodays Europe has partnered with Benztown, P1 Media Group and Global Radio Ideas Facebook Group to present The Coronavirus Radio Ideas Awards.
They will honour radio professionals from around the world who have used their brands and platforms in creative and innovative ways to better serve their listeners, partners and communities during the COVID-19 pandemic.
The Coronavirus Radio Ideas Awards will recognise the best ideas in 10 categories, including: Best Social Media Video Content, Best Virtual Event, Best Parody, Best Virtual Concert, Best Station Promo, Best Community Service, Best Social Media Visual, Best Hometown Video, Best Sales Promotion and Best Mega Promotion.
A further two categories will for Best COVID-19 Podcast and Best COVID-19 Reporting will also be part of the Awards, the nomination process will be announced for these two special categories in 2020, both will be judged by panel of experts.
The closing date for nominations is 31st July 2020 and you can upload your submission on the Facebook Group here.
The Coronavirus Radio Ideas Awards will be presented at the Radiodays Europe conference in Lisbon, Portugal, on 14 December 2020.
Anders Held, Co-Founder, Radiodays Europe, commented: "This has been an exceptional period of radio and podcasting in many ways and it's important that the work of all those involved is recognised and rewarded.
"Radiodays Europe, Radiodays Asia & RDE Podcast Day represent the radio and podcast industry and we are very happy to be a partner in this initiative. The world is changing and the new normal offers opportunities and threats in equal measure but facing them together we are stronger, we'll see you in Lisbon to award those who are leading the fight for the future of radio, podcast and audio."
Andreas Sannemann, Chief Executive Officer, Benztown, remarked: "We are honored to partner with P1 Media Group and Radiodays Europe to recognise the people and stations that have served their communities in an exemplary way during the COVID-19 pandemic. We are pleased to shed light on the best radio ideas that have informed, entertained, and helped people to better cope with the effects of this worldwide health crisis, while spreading positivity and good energy."
Ken Benson, Partner, P1 Media Group, noted: "We were amazed by the industry's quick response and even more impressed by the quality and creativity of the ideas shared with the group. We look forward to honouring the best ideas at Radiodays Europe."