Radio host James Whale reveals he's fighting cancer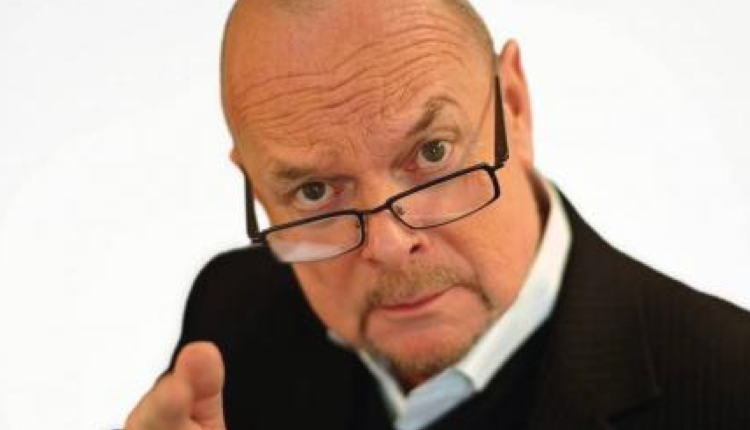 talkRADIO presenter James Whale has revealed that he's fighting cancer of the brain, spine, kidney and lungs.
Speaking to The Sun, James says he was given the diagnosis two weeks ago and had considered going to Dignitas but has now vowed to fight the disease.
James had one of his kidneys removed 20 years ago because of a tumour and tells the newspaper: "This little bastard has spread. It's in my remaining kidney. I've got a couple of small lesions in my lungs. I've got it in my spine. I've got it in my brain."
A recent blood test showed he had very low sodium levels and so he was referred to a haematologist for more tests which showed a tumour on the remaining kidney.
Being told the cancer had probably come back, James thought he was facing going through the treatment again 20 years later, but was then given the news that he also has small lesions in his brain and lung, in his spine and in his pituitary gland.
James is now on immunotherapy and hormone replacement treatment and says: "I haven't got a proper prognosis yet because it's very early days, but this immunotherapy is a very new way of treating cancer — it gets the immune system to attack the tumours.
"I'm probably going to be on tablets for the rest of my life but I've gone from being like a little shrunken, old man in the chair who's not eating and could hardly walk up the stairs, to where I can run upstairs.
"The pills should shrink the tumours until they hopefully disappear. I have no intention of dying right at this particular moment. I've got a few more programmes in me that I need to do, including more TV, I'm pretty sure I will be back on air very, very soon.
Following the news of his illness, James has received an outpouring of support on social media from friends and fellow broadcasters.
Last night, he thanked everyone for their support by tweeting: "I just like to thank everybody for their wishes I'm going to be back on the air fairly soon at Talk Radio to explain more.
"You're also amazing thank you for all your kind words I'm going to have to go to sleep now but I'll be on talkRADIO at 6-30 pm tonight."
I just like to thank everybody for their wishes I'm going to be back on the air fairly soon at Talk Radio tomorrow night I'll Join @danwootton at 6.30 to explain more xx

— James Whale (@THEJamesWhale) August 16, 2020
You're also amazing thank you for all your kind words I'm going to have to go to sleep now but I'll be on talkRADIO at 6-30 pm tonight x

— James Whale (@THEJamesWhale) August 17, 2020