Radiocentre launches new app for sales staff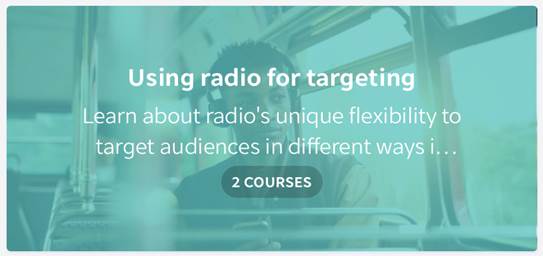 Radiocentre has launched a brand new training app and is looking for sales staff from its member stations to try it out.
The app distils a wealth of research on radio advertising into creative and educational modules.
The aim of the project is to help member radio sales teams in their client conversations, by providing easy access to Radiocentre's research resources in a practical and easy-to-digest format.
Lessons include how to use radio to target the right people at the right time, radio for both short-term business goals and long-term brand building, and using radio with other media. Case study examples, like helping a local car dealership increase football to a showroom, are included to bring learnings to life and show how lessons are applicable in day-to-day working.
The programme uses EdApp, a mobile-first micro-learning platform, to build on the in-office training previously offered prior to the coronavirus pandemic by bringing Radiocentre's research and knowledge to an important wider audience.
Judith Spilsbury, Radiocentre's Head of Training, said: "We started work on our e-learning programme last year in order to expand our offering to members beyond the training days we provide on-site at the Radiocentre office, knowing that digital learning would be more accessible for advertising sales staff across the country. Being able to offer this facility at a time when so many are currently working from home makes this more useful than ever."
Member stations and individuals interested in taking part or keen to know more should contact: Judith.spilsbury@radiocentre.org.