Rombalds Radio launches in Stray FM broadcast area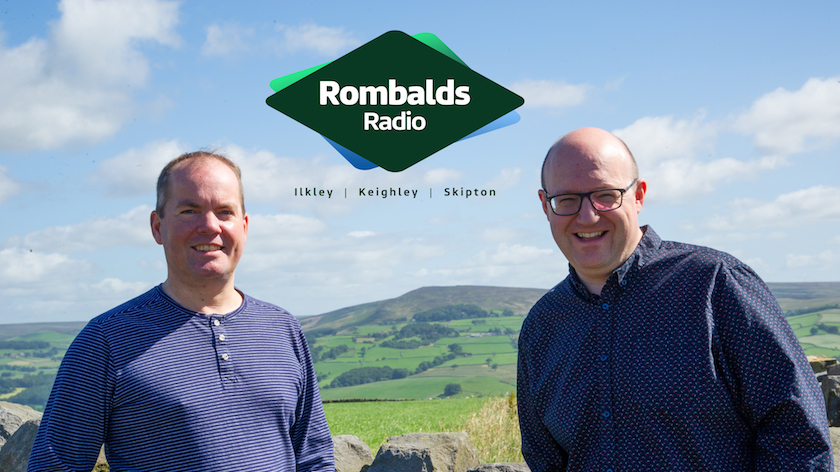 A new online station for the Ilkley, Keighley and Skipton areas of West and North Yorkshire has been launched by two former Fresh Radio and Stray FM presenters.
Rombalds Radio has been created by RadioToday's Deputy Editor Stuart Clarkson and his business partner Nick Babb. Both previously worked at Skipton-based Fresh as well as Stray, which bought the Fresh licence in 2012 and amalgamated it with the Harrogate station.
Rombalds Radio, which is available via its own app, smartspeakers and TuneIn as well as at rombaldsradio.com, launched at 8am today.
The station takes its name from Rombalds Moor, which runs through the area. Its launch sequence featured 'Rombald' – a folklore giant who's said to have lived on the moor thousands of years ago.
The station arrives in the local area at a time when Stray FM is preparing to change its name to Greatest Hits Radio from next month under new owners Bauer. Pulse 2 – which covers Keighley – will also become Greatest Hits.
Nick Babb says: "The response in the last few weeks has been amazing – everyone we speak to is very excited about the new radio station and we can't wait to get started with our plan to bring back local radio to this area. Digital listening is growing so much at the moment and our aim is to go on to DAB when the small-scale multiplex for our area is licensed in the next year or two."
Stuart Clarkson added: "We've put together what we hope is a great sounding professional radio station, with warm and friendly presenters who know and love the area."
Stuart will host the breakfast show each weekday morning, while Nick presents Drive. Other presenters on the station include Nick Bewes, who spent 7 years at Fresh Radio; former Stray FM mid-morning presenter Alex Cann; Elisa Hilton who was on The Pulse, Real Radio and Radio Aire; and Jeremy Gartland who was a regular presenter on Fresh from 2000 to 2012.