Tributes paid to BBC Radio Solent's Richard Cartridge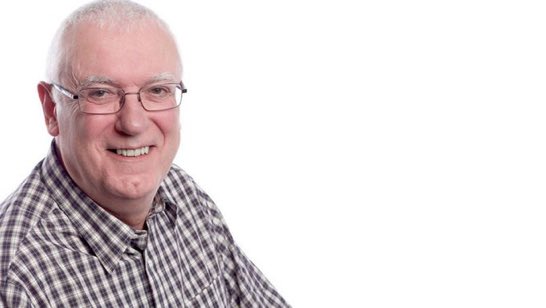 BBC Radio Solent has paid tribute to presenter Richard Cartridge who has died after a short illness.
Richard also worked on Bournemouth's former commercial station 2CR, and hosted programmes on Classic FM. He first joined BBC Radio Solent in the 1970s.
He hosted his last weekend show earlier this year and officially retired in June.
Many of his friends and colleagues have paid tribute via social media, and BBC Radio Solent has aired a special programme today.
Jason Horton, Head of the BBC in the East and South East, said: "Richard Cartridge was the most generous and warm-hearted man in Radio. A huge loss for his family and his BBC Radio Solent audience. That voice will live on forever."
Former BBC Radio Solent mid-morning presenter and colleague Sasha Twining tweeted: "So very sad to hear the wonderful, kind, fun, erudite, broadcasting giant, Richard Cartridge, has died. The gentleman of the studio, the warm wit, the twinkle in his eye, and the moment he had for everyone.
"When I first joined BBC Radio Solent all anyone said was 'Have you met Richard Cartridge yet?' and 'What's Richard like?'
You cannot overstate the esteem he was held in by listeners and colleagues alike. My thoughts are with his family, and his wider family across the south who will feel the loss so acutely. A true friend, both on the air to many, and in the corridors of the station to all.
"The news broke earlier this morning, while Alex Dyke was on-air. This is a beautiful heartfelt tribute to him put together by the team who would have been utterly shocked and heartbroken, but desperate to do Richard proud. Have a listen.. the news breaks an hour in, and the running order goes out of the window..
"Rest in peace Richard. May your headphones never crackle, your needle never jump, and your final song always hit the perfect back time. You will be much missed xx."
We are deeply sad to announce that our dear friend Richard Cartridge has passed away following a short illness

Richard entertained the South on-air for over 46 years. Thank you Rich

Our thoughts and prayers are with his family. He will be deeply missed pic.twitter.com/yxSvkOwS5m

— BBC Radio Solent (@BBCRadioSolent) August 22, 2020
Richard Cartridge first joined BBC Radio Solent in 1972

An iconic voice across the South

Here he gave us a behind the scenes look of his show in 2015 pic.twitter.com/WmFsTWp5jZ

— BBC Radio Solent (@BBCRadioSolent) August 22, 2020
Richard Cartridge was the most generous and warm hearted man in Radio. A huge loss for his family and his @BBCRadioSolent audience. That voice will live on forever. pic.twitter.com/oVfhr0CvqK

— Jason Horton (@JasonHorton_uk) August 22, 2020
Words can't express how much Richard Cartridge will be missed

A kind, gentle, loved man with an iconic voice

We'll make you proud on @BBCRadioSolent Rich! https://t.co/O25gcg7RYk

— Kane Reeves (@KaneReeves01) August 22, 2020
What a lovely, funny,kind and talented gentleman who is greatly missed by everyone. Incredibly sad …I will hold on to the lovely memories I have of Richard Cartridge @BBCRadioSolent pic.twitter.com/94evgvUbtZ

— Sally Taylor (@SallyTaylor_tv) August 22, 2020
Richard Cartridge – the kindest, tallest, silliest man I ever knew. Rest easy you lovely, lovely man. And thank you x

— Jon Cuthill (@joncuthill) August 22, 2020
Warm tributes to the great Richard Cartridge with @ALEXDYKE1 on @BBCRadioSolent now.https://t.co/kS351vNq6p pic.twitter.com/QdCYkDiP5r

— Pat Sissons (@pjsissons) August 22, 2020
You will be deeply missed Rich

We are devastated to hear that our close friend Richard Cartridge has passed away

An iconic voice on the airwaves across the South for over 46 years on @BBCRadioSolent https://t.co/qDzLc9mn0p

— BBC Radio Solent Sport (@solentsport) August 22, 2020
The saddest news. Rich, you were a complete gentleman. Proud to have known and worked with you. You will be so greatly missed. x https://t.co/oIPFcq2fc9

— Louisa Hannan (@louhannan) August 22, 2020
So sad to hear my old friend and colleague Richard Cartridge has passed away.
His laughter was always genuine and we often tried to make each other laugh at the most inappropriate times. Proper gentleman and a real honour to work with. pic.twitter.com/mDU57Hf52n

— Neil Sackley (@djneilsackley) August 22, 2020
Oh, this is sad news. I began my radio career at @BBCRadioSolent and Richard Cartridge was already on his way to becoming a legend. I remember nervously having to deliver a news report across the desk from THAT VOICE. https://t.co/p94hm2BF9g

— Jane Hill (@janehill64) August 22, 2020
So very sad to hear the wonderful, kind, fun, erudite, broadcasting giant, Richard Cartridge, has died. The gentleman of the studio, the warm wit, the twinkle in his eye, and the moment he had for everyone. When I first joined @BBCRadioSolent all anyone said was 'Have you

— sasha twining (@SashaTwining) August 22, 2020