2020 ReelWorld Radio Academy 30 under 30 revealed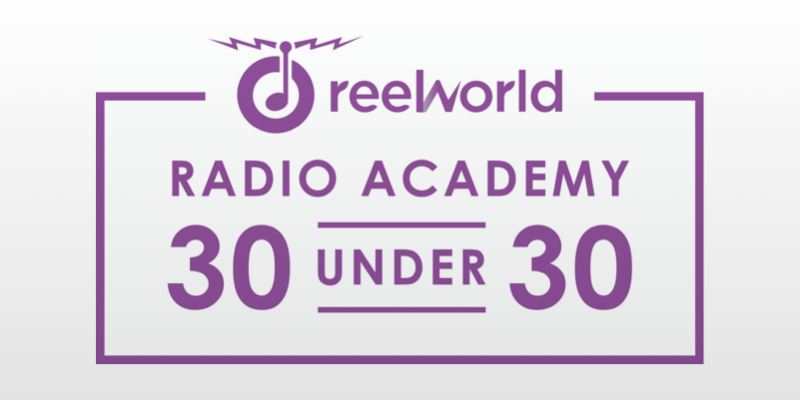 The Radio Academy and ReelWorld 30 under 30 – 30 people under the age of 30 who have shown exceptional tenacity, talent and a proven trajectory in radio – has been announced for 2020.
Steve Parkinson, Group Managing Director, National Radio, Bauer Media and Chair of the 30 Under 30, says "To the final 30 we say major congratulations in a fierce year of competition.
"Importantly to those who weren't included this year I would say that I wish we had a hundred places; such was the amazing talent on display from across the industry.
"The passion, professionalism and sheer energy from each entrant demonstrated that the industry's heart – its people – was beating more strongly than I have ever seen.
"The Academy was proud to hear each and every person's story of their career so far, and looks forward to following their progress in the years to come. The aim this year was to make the submission process easier and more accessible, so I'm delighted to report that we received the biggest number of entries ever, which in turn made the judges' job all the harder!
"The Academy and I'm grateful to them for the unenviable task of whittling down hundreds of entries to arrive at a fine set of alumni for
2020."
Anthony Gay, MD ReelWorld Productions & Co Founder/CEO of Reel2Media, says "This is the 7th year that we have supported the ReelWorld Radio Academy 30 Under 30 and I don't think it's an exaggeration to say there's never been a more important time to acknowledge, encourage, and champion the future of the UK's audio and radio industry.
"The way audiences and brands have rediscovered the power of audio has been inspiring but the enormous challenges of 2020 have also forced all of us to adapt and re-evaluate how we work with sound. Some of the results have taken us to places we could never have imagined 6 months ago, never mind years past.
"These people on 2020's 30 Under 30 list will be shaping a future for sound that now goes far beyond traditional radio with on demand, data driven and interactive experiences becoming the norm. The more 'radio' embraces these opportunities and looks outside of where we've been, the stronger the future will be.
"I'm proud of the part ReelWorld play in helping craft the sound of the UK's biggest radio brands but we've also launched a new business, Reel2Media, to focus on audio experiences on emerging platforms and as a company we remain optimistic, committed and excited about the future of sound. Wherever the technology takes us I still believe it boils down to sharing powerful stories and making strong emotional connections. I look forward to welcoming the class of 2020 to the ReelWorld Radio Academy 30 Under 30 and seeing what stories they have to tell."
Here's the full list:
Alex Hughes.- Metro Radio, Bauer Media
Axel Kacoutie – The Guardian
Cassidy Baillie – Folded Wing and Somethin' Else
Ellie West-Thomas – talkSPORT
Emma Pearce – BBC Radio 4
Euan Sime – BBC Radio 1, 1Xtra, BBC Asian Network, BBC Radio 2 and BBC 6 Music
Hannah Newton – Somethin' Else
James Kenny – Wise Buddah, IMGR
Jay Lawrence – Absolute Radio
Jayne Cheeseman – Virgin Radio UK
Jordan Foad – Whitstable Bay Radio
Joshua Ryan – 1Xtra, BBC Sounds and Fresh Air Productions
Kaya Aftab – BBC Asian Network
Kaylee Golding – Magic FM
Lauren Mitchell – Northsound 1 and Bauer Media
Layla Wright – Freelance
Leanne Ali – BBC Sounds
Lewis Mason – Freelance
Lucy Kinghorn – BBC Radio 1 and 1Xtra
Naomi Oiku – Somethin' Else
Rachael Venables – LBC
Rebecca Moore – BBC Radio 2
Reha Kansara – BBC News and BBC World Service
Richard Power – 7Digital Creative
Sera Baker – TBI Media
Seren Jones – BBC News
Serena Bhardwaj – Absolute Radio, Planet Rock and Kerrang Radio
Tim Hunter – BBC Jersey, BBC Guernsey and BBC Introducing
Tom Fuller – Somethin' Else
Vinuri Perera – BBC Asian Network