Tributes paid to former Signal presenter Johnny Owen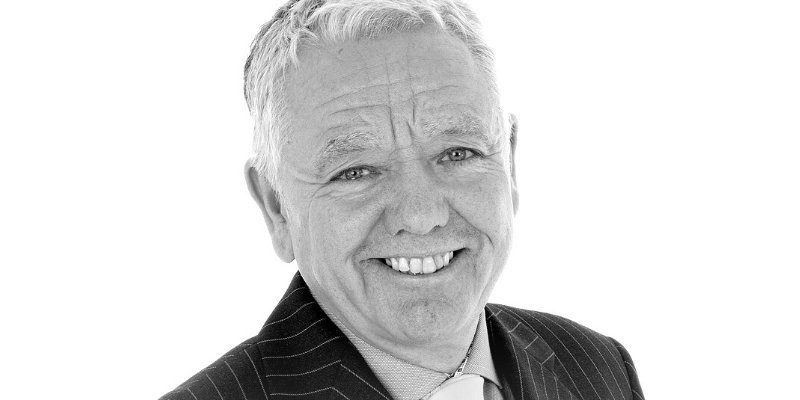 Long-serving Signal Radio presenter Johnny Owen has died aged 66 after losing his battle with cancer.
His current station, community service The Hitmix, said in a statement: "It is with great sadness that we have to announce the passing of our dear friend. He lost his battle with cancer on Wednesday. Everyone here at the Hitmix is devastated by this news. He was a husband, father and to us a valued work colleague and for thousands of listeners a friend on their radio."
Johnny presented the breakfast show on the medium wave service for Stoke from 2002 until moving to weekends on Signal 2 in 2017.
Last year he joined The Hitmix for a weekend show and went six days a week from earlier this year, broadcasting from home after being given just months to live because of his cancer. The station also named a studio in his honour in recognition of his 45 years in broadcasting.
He had started out on Radio Manchester in the 1970s before working for KFM and Signal Cheshire, Sunset Radio, Century 105, Signal Gold and Signal 2. His final show on The Hitmix was on Sunday 18th October, just a few days before his death.
Former Signal collegaue Doug Wood posted on Facebook: "Johnny Owen was a great entertainer, a real radio man, who started his radio career as a pirate broadcaster in Stockport. That station went legal and was then taken over by Signal, and soon after that he was transferred to Signal Gold where he soon nicked the breakfast show off of me, BUT the best man won and Johnny broke the record at Signal for staying on a breakfast show the longest.
"Sadly ill heath crept up on him but Johnny fought the good fight and returned to the airwaves at The HitMix where he once again entertained his old Signal audience who transferred with him. Johnny was doing what he does best just last Sunday only to be taken to hospital later that very day but sadly passed on Tuesday evening.
"Johnny was a very quiet private down to earth man who just got on with the job. Never phased if the world was falling to bits around him he was an absolute true pro. My thoughts are with his family and close friends who have lost a very really nice guy in there lives, who is irreplaceable. RIP Johnny, may those three wheels on your wagon roll on forever. If you get the breakfast show on Heaven FM then ask them to save Drive Time for me. XX"
Here are a few other tributes from social media:
It's been a tough 24hrs. Last night I lost my best pal Johnny Owen. I know he's up there now, mucking about and playing the music, and moaning about United, but the world is going to be much less fun without him. He was the best mate anyone could ask for x pic.twitter.com/CDIxkEkceI

— Jon Keighren (@JonKeighren) October 22, 2020
Really sad to hear my former colleague Johnny Owen has passed away. A unique broadcaster and always a good laugh in the office, and in the pub 'The Pineapple' next door. In true form, he carried on 'mucking about and playin' the music' right until the end. Bless you Johnny x pic.twitter.com/H7UzPoQUSs

— Trevor Thomas (@trevorthomas85) October 22, 2020
My friend Johnny Owen died on Wednesday from #Cancer He was still on the air last Sunday @thehitmix R.I.P (picture 1991 @ Granada TV Studios) KFM #Stockport 1st Birthday. pic.twitter.com/BHDApI6iOW

— Rob Charles (@radiorobcharles) October 23, 2020
A tough show knowing that Johnny Owen had passed away. The @thehitmix family will miss him together with the old @Signal1Official and importantly signal 2 audience to who he broadcast for many years. Yesterday he lost his battle against cancer, love to Lynn and family @Sotlive pic.twitter.com/hUuZIvrvKz

— Paul Fairclough (@paulfairclough) October 22, 2020
We are deeply saddened to hear of the passing of Johnny Owen.

Johnny was a well loved voice across Staffordshire and Cheshire and the soundtrack to our mornings for over 14 years.

We send our deepest sympathy to all his family and friends at this difficult time.

RIP Johnny pic.twitter.com/pGygdG98KF

— Greatest Hits Radio Staffordshire & Cheshire (@GHRStaffs) October 22, 2020
We are so sad to hear of the passing of radio legend Johnny Owen.

Johnny was a much loved voice on local radio and was the soundtrack to everyone's morning for 14 years on Signal 2 breakfast.

Our thoughts go out to his friends and family at this extremely sad time. pic.twitter.com/0dBY6vKMQt

— 6 Towns Radio (@6townsradio) October 22, 2020
Sad to hear that my former Signal Radio colleague Johnny Owen has passed away. A great storyteller who had a wonderful connection with his Signal 2 audience. Rest well, Johnny.

— Andy Martindale (@AndyMartindale) October 22, 2020
I co-presented with radio legend Johnny in the 90's. He worked so hard but made it look easy/spontaneous, producing the most interesting/entertaining content.

You don't get many broadcasters like Johnny Owen.

Sad day for radio.@RadioToday @thehitmix @MacmillanNW pic.twitter.com/jyAUYQhUpT

— Jackie O'Malley (@BerylBattersby) October 22, 2020
Sad to hear about Johnny Owen's passing. A great broadcaster. #rip

— Simon Green (@fatmancunian) October 22, 2020
#RIP Johnny Owen , great memories at #signal, and the wonderful #hitmix1075 pic.twitter.com/4Izs7LZOc9

— john robertson (@john111257) October 22, 2020