Huntingdon Community Radio celebrates 25 years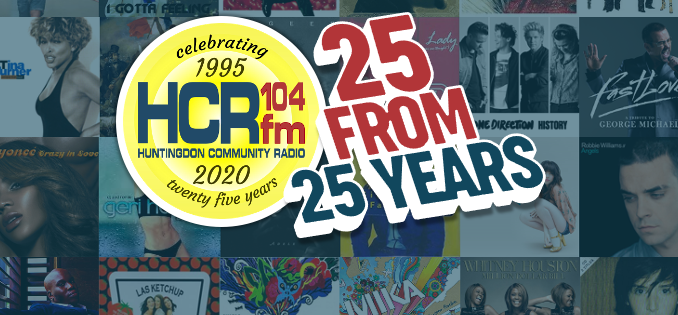 Huntingdon Community Radio is celebrating its 25th anniversary this year with an initiative called 25 from 25.
Music Director Tony Obee explains: "We developed a list of 100 songs from the past 25 years from when we had our first RSL with songs from our playlists over the years.
"We have asked our listeners to vote for up to three of their favourites from the list that appears on our website and every weekday, songs from the list get to be played every hour.
"From 1st December, we start the countdown playing the song at number 25 and then each day during the month through to the song at number 2 on Christmas Eve, 24 December.
"On Christmas Day, we will play the whole chart from the top 25 from 25 years, and of course, the number 1 as voted by our dedicated listeners will be given pride of place."
It's 25 years since the station achieved its first RSL in 1995. It was granted its FM licence by Ofcom in 2009 and took to the air officially on 23 April 2011. It received a further five years licence in 2016 and hopes to move forward in 2021 – broadcasting to the community of Huntingdon in Cambridgeshire and the surrounding villages and towns. The station has also moved to DAB, retaining its FM and online services and this has widened coverage to Cambridge.
Bill Hensley, Managing Director: "We have a dedicated band of volunteers and whilst it was sad that plans to make our 25th year something of a celebration were dashed following Lockdown 1.0 in March this year, we decided to do what we could to involve our listeners and volunteers in our achievement."