Nominations out for the Audio Production Awards 2020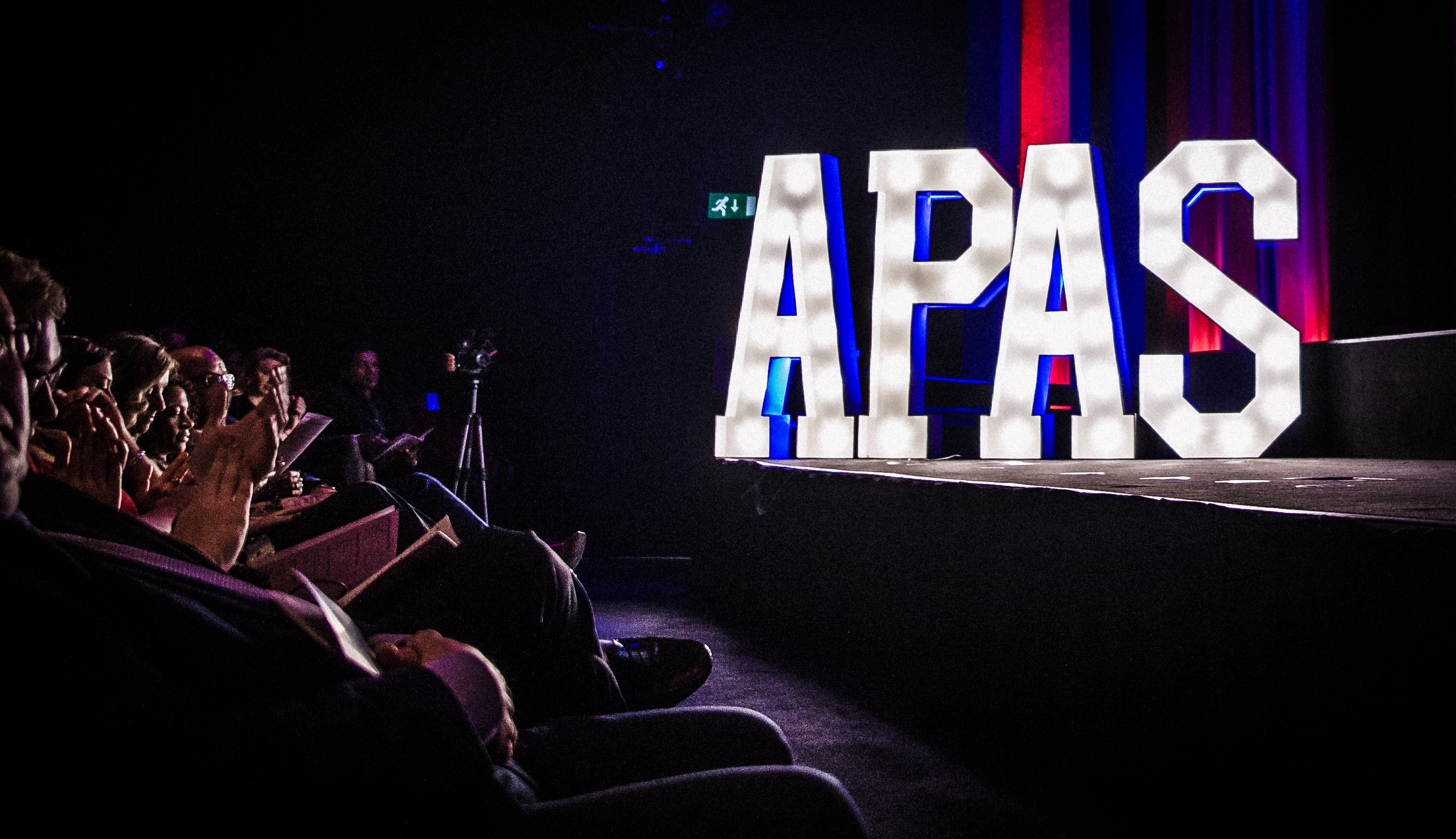 The shortlist has been announced for this year's Audio Production Awards after over 300 entries were received from across the whole audio sector.
Normally the awards are held at a gala ceremony on London's South Bank, but due to the ongoing pandemic this year's APAs will be held online on 26 November.
It will be an audio-led live stream, supported by social media engagement, where audience members can follow the winners being revealed live.
The 90-minute ceremony will be broadcast live, for free, from the Spiritland studio in London, via YouTube from 7pm on Thursday 26 th November.
In total, there are 21 awards plus the prestigious Gold and Lifetime Achievement Awards.
Benbrick & George the Poet's 'Have You Heard George's Podcast?' has been shortlisted for five categories. Meanwhile the Prison Radio Association has six nominations in five categories, including Production Company of the Year.
This year's new 'Life in Lockdown' category, which recognises the incredible ingenuity and creativity of producers working during the first lockdown in spring 2020, received over 50 entries, with 'Best Podcast Producer' the next most popular, reflecting the huge growth in this sector.
Actors Cherylee Houston, Glenda Jackson and Ciarán Hinds are among those nominated in the 'Best Audio Performer' category.
Those nominated for 'Best Presenter' include Lauren Laverne, Mark Kermode and Grammy-Award-winning country musician Brad Paisley.
The BBC has several nominations from local, nations and national network radio including Rayhan Rahman for the & Brown Girls Do It Too podcast from BBC Asian Network.
Community radio representatives include Cambridge 105, for its Virtual Strawberry Fair, produced by Trevor Dann and supported by the ACF after the real event was cancelled.
There were more judges on the panel than ever before, including over 60 who are new to the APAs, providing greater representation than ever before. The Judges Panel noted that "the quality and standard of entries was extremely high, that there was nothing that wasn't an enjoyable listen and this year was extremely difficult to judge."
Audible has once again been announced as headline sponsor, for the fifth year running. And the Audio Content Fund is an additional sponsor again this year, for the Best Factual Producer category.
Kellie While, Chair of AudioUK and Head of 7digital Creative, said: "We're so pleased to have had such a huge response to this year's APAs and I'd like to congratulate all the nominees. While this year's been very tough for everybody, we're really proud of the way our sector has responded to the pandemic.
"Our live-streamed ceremony will really celebrate the power of audio. We're very pleased that Audible has once again agreed to be the sponsor and I'm really looking forward to the 26 November. We hope as many people in the audio community as possible will be able to join us for what promises to be a very special and unique evening."
APAs 2020 – Details of Awards Nominations
1. Best Arts Producer
Anishka Sharma – Whistledown Productions
Benbrick – 'Have You Heard George's Podcast?', George The Poet Ltd
Cathy FitzGerald – White Stiletto Productions
Claire Crofton – Freelance
Steven Rajam – Freelance
Victoria Ferran – Just Radio Ltd
2. Best Music Producer
Benbrick – 'Have You Heard George's Podcast?', Benbrick Music / George The Poet Ltd 
Emma Louise Amanshia – '1Xtra Rap Show', BBC 
Jesse Howard – Somethin' Else 
Nathan Goodman – We Are Grape 
Rich Attley – TBI Media
Victoria Ferran – Just Radio
3. Best Factual Producer
Cherry Wilson & Duncan Middleton – 'The Story of Joy Morgan' – BBC Newsbeat 
Dan Hardoon – Whistledown 
Emma Weatherill – 'Nut Jobs', Audible Originals
Jessica Beck – 'World At One', BBC Radio 4
Max O'Brien – 'The Bellingcat Podcast', Novel 
Peter Sale – Freelance
4. Best News and Current Affairs Producer
Asya Fouks – 'Stories of our Times', The Times
James Shield – The Times & The Sunday Times
Jessica Beck – 'World At One', BBC Radio 4
Josh Kelly – 'Today in Focus', The Guardian
Robert Nicholson – Whistledown Productions
Tim Johns – BBC Audio
5. Best Sports Producer
Abi Paterson – Muddy Knees Media
Ben Mundy – BBC Newsbeat
Ed Morrish – Freelance
Megan Hill-Smith – Mags Creative
Steve Hankey – Whistledown Productions
6. Best Entertainment Producer
Adem Waterman – Absolute Radio
Geoff Jein – TBI Media
Jacob Rickard – BBC Audio for BBC Radio 1
Katie Boden – Somethin' Else
Laurence Bassett – Somethin' Else
Gareth Evans – 'Pop Detectives', EighteenSixty
7. Gethin Thomas Award for Best Comedy Producer
Adnan Ahmed – BBC Studios Audio 
Ben Walker – Fuzz Productions / Storyglass 
Ed Morrish – Freelance 
Jon Holmes – 'The Skewer', unusual 
Marc McElroy – 'What Happens In Ulster', BBC Radio Ulster 
Simon Nicholls – Freelance
8. Best Live Event/Outside Broadcast Producer
Ben Walker – 'Dermot's Saturday Breakfast Festival Season', Ora Et Labora
Kat Harbourne – 'The Naked Podcast', BBC Radio Sheffield
Mark Carter – Surrey Day 2020, BBC Radio Surrey
Trevor Dann – 'Virtual Strawberry Fair', Cambridge 105 Radio
9. Best Podcast Producer
Anishka Sharma – Whistledown Productions
Benbrick – 'Have You Heard George's Podcast?', George The Poet Ltd
Cherry Wilson & Duncan Middleton – 'The Story of Joy Morgan' – BBC Newsbeat
Kat Harbourne – 'The Naked Podcast', BBC Radio Sheffield
Max O'Brien – 'The Bellingcat Podcast', Novel
Rayhan Rahman – 'Brown Girls Do It Too', BBC Asian Network
10. Best Drama Producer
Ben Walker – Storyglass 
Celia De Wolff – Pier Productions Ltd 
Roshan Singh – 'Temujin: An Audio Drama' 
11. Best Audiobook/Readings Producer
Eilidh McCreadie – BBC Scotland
Lily Ridett – RNIB/Freelance
Lisa Hollinshead – Audiobook Productions
Nathan Osgood – HarperCollins Publishers
Roy McMillan – Penguin Random House
Tanya Hougham – HarperCollins Publishers
12. Best New Producer
Bridey Addison-Child – Transmission Roundhouse 
Courtney Yusuf – The Guardian 
Emma Barnaby – Whistledown Productions 
Jessica Beck – 'World at One', BBC Radio 4
Louisa Adams – Prison Radio Association 
Thomas Curry – Novel 
13. Best Station Sound Producer
Adam Venton – Little Monster Media
Ali Rezakhani – BBC Sounds
Chris Nicoll – WIZZFX
Gordon Lundy – Absolute Radio 40s
Mark Jeeves – Scala Radio
Sam Wickens – BBC
14. Best Sound Designer
Benbrick – 'Have You Heard George's Podcast?', George The Poet Ltd
Eloise Whitmore – 'Tunnel 29', Naked Productions
Jon Holmes – The Skewer, unusual
Mark Pittam – TBI Media
Rich Evans – Syncbox Post
Steve Bond – Freelance
15. Grassroots Production Award
Prison Radio Association
New Writing North
Gusman Productions
Multitrack
The Log Books
Vent Podcasts
16. Audio Performer of the Year
Carl Prekopp – 'The Little Match Girl', Almost Tangible
Cherylee Houston – 'Tinsel Girl', Penguin Random House
Ciaran Hinds – 'Imaginary Fred', HarperCollins Publishers
Glenda Jackson – 'Blood, Sex & Money', Penguin Random House
Kristin Atherton – 'Howls Moving Castle', HarperCollins Publishers
Yuriri Naka – 'The Phonebox at the Edge of the World', Bonnier Books UK
17. Best Presenter – Speech
Anushka Asthana – 'Today in Focus', The Guardian
George The Poet – 'Have You Heard George's Podcast?', George The Poet Ltd
Elinor Hamilton – 'Tales from the Tannoy', Tadah Media
Elis James & John Robins – Audio Always
Hilary Ineomo-Marcus – Prison Radio Association
Laura Whitmore – TBI Media
18. Best Presenter – Music
Brad Paisley – TBI Media
Guy Bellamy – Great Music Stories Radio
Lauren Laverne – BBC Radio 6 Music
Mark Kermode – Scala Radio
Snoochie Shy – TBI Media
19. New Voice Award
Anthony Olanipekun – Prison Radio Association 
Brenda Birungi – Prison Radio Association
Elinor Hamilton – 'Tales from the Tannoy', Tadah Media
Izzy Lee-Poulton – Transmission Roundhouse
Jacob Hawley – BBC Studios
Jordan Dunbar – BBC Radio
20. Production Company of the Year
Fresh Air Productions
Listen Entertainment
Mags Creative
Prison Radio Association
TBI Media
Whistledown Productions
21. Life in Lockdown Award
Aoife Allen – 'Brixton's Got Talent',  HMP Brixton  
Ben Green & Abi Paterson – 'Homeschool History', Muddy Knees Media 
Cathy FitzGerald – 'Life on Lockdown',  White Stiletto Productions
Izzy Lee-Poulton & Bridey Addison-Child – 'When Someone Great Is Gone', Transmission Roundhouse
Reduced Listening – 'Lockdown Theatre Festival' 
TBI Media & Absolute Radio – 'Absolute 40s'