Peterborough station celebrates fireworks success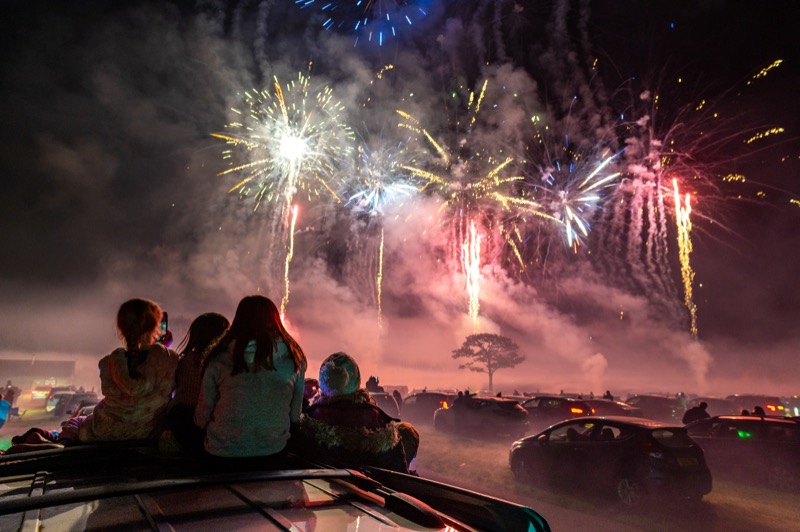 Peterborough's PCR FM is celebrating its part in a unique live broadcast covering the city's first ever drive in firework show.
The public display at the East of England Showground – billed as Cambridgeshire's biggest firework event – was devised along the lines of a drive in movie to enable people to enjoy the event in a COVID safe way.
Visitors were allowed to leave their cars to watch the display but had to remain close to their vehicles and within their group bubbles.
The radio station lent its airwaves to the event with a three hour interactive broadcast featuring calls from listeners in their cars at the show and also played the music sequence that accompanied the firework display.
"This was a unique radio broadcast for unique times," said PCR FM's Kev Lawrence who hosted the show from the station's Herlington Centre studio in the city.
"It's the first time a radio station has used its transmitters to provide the soundtrack to an event via car radios in this way because big stage PA was not allowed due to the COVID restrictions.
"Every car driver arriving for the display was handed a leaflet explaining how to tune in to PCR and advised that the station would provide the safety information and entertainment as well as playing the synchronised music to accompany the display.
"It was local radio at its very best reaching right into the community we serve – a huge public event and PCR was at the very heart of it."
The display was a sell-out with over 4,000 people attending. PCR FM also broadcast live drone-captured video coverage of the display on its Facebook page produced by local photographer and videographer, Terry Harris.
"The atmosphere was fantastic- there were people tooting their car horns and flashing their lights in time to Strauss's Blue Danube Waltz and the studio 'phone didn't stop ringing for the entire time we were on the air," said PCR chair Wayne Fitzgerald.
"The Facebook interaction was amazing too – the red light was pinging all evening and we gained over 500 new followers who we very much hope will also become regular listeners to the station.
"It was such a huge success that the event company, Entertainment Effects, has already announced plans for a festive firework show on the Sunday before Christmas and PCR will provide the on-air service once again.
"We're very grateful to two superb local companies and friends of PCR, Princebuild property maintenance and Smith's Motor Group who sponsored the special show."