Tributes paid to Essex radio presenter Eric Hall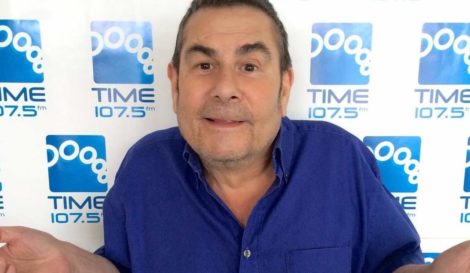 Time 107.5FM has paid tributes to presenter Eric Hall who has died after a short illness.
Eric was well known for being a football and entertainment agent, which led to tributes coming in from a variety of famous people Frank Bruno, Lord Sugar and Stan Collymore.
He also worked at BBC Essex, with presenters also paying tribute today.
Station manager at Time, Lorna Waters, commented: "We were incredibly lucky to have Eric here as part of our team for almost seven years.
"He amazed us with the calibre of guests he would invite onto his show and his knowledge of music was undoubtedly second to none."
The station posted on its Facebook page: "We will be paying tribute to our Monster friend and Time 107.5 presenter Eric Hall with some special shows and interviews over the coming days and from later today we will be placing a special tribute to Eric in our Window so passers by can pay their respects.
"We won't let him go quietly it's not what he would have wanted. RIP Eric."
"What a great life he had"
 
Michael Hall McPherson pays tribute to his uncle, Eric Hall.

The former BBC Essex presenter has died at the age of 73. pic.twitter.com/vZU5FeGDiO

— BBC Essex (@BBCEssex) November 17, 2020
Tributes are being paid to former BBC Essex presenter Eric Hall following his death at age 73.
Lorraine remembered calling his programme which ended with an amazing encounter with her idol David Cassidy. pic.twitter.com/S22UjklOjC

— BBC Essex (@BBCEssex) November 17, 2020
Eric Hall RIP I have known Eric for many years a real character I worked for him a lot always made me laugh would I buy a car off him? No! pic.twitter.com/jgyn6ak7gK

— Frank Bruno MBE (@frankbrunoboxer) November 17, 2020
Larger than life, great great fun, sad to think Eric Hall has passed.

Rest in peace, Eric, hope there's a big Churchill waiting for you on the other side.

Monster Monster pic.twitter.com/Ql5smwhhLT

— Stan Collymore (@StanCollymore) November 16, 2020
Football agent Eric Hall has passed away. He was a real character R.I.P.

— Lord Sugar (@Lord_Sugar) November 16, 2020
1/2] Stunned to learn of the passing of my dear mate Eric Hall. Forty seven years ago, Eric was the Promotion man at EMI who worked on my records. He changed my life by getting them into the charts. The world has lost a rare character. A man of brilliance and charisma.

— Steve Harley (@steveharleyCR) November 17, 2020
Sad to hear Eric Hall's died. I *tried* to produce Eric Hall a couple of times @BBCEssex it was pretty much impossible. He just wanted to do his own thing & there was no way he'd be allowing me to get in the way of that.

Good on him.

Condolences to his family.

Monster monster. https://t.co/TH2gmn4Bsf

— Adam Cumiskey (@cumiskey) November 16, 2020
Eric Hall's nephew has described him as "an egomaniac in the most sincere way" whose "favourite topics of conversation was music and himself", following his death at the age of 73.https://t.co/EoB6dtVuuB

— Time 107.5 (@Time1075_fm) November 17, 2020