Bauer Media runs first radio campaign for thortful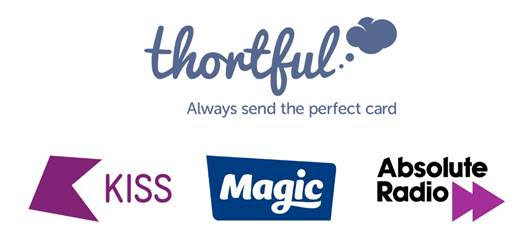 Bauer Media has secured thortful's first ever radio campaign with promos running on KISS, Magic and Absolute Radio.
They are introducing a card design competition which will see teams of presenters from each station – including Ronan Keating, Jordan Banjo, Perri Kiely and Dave Berry – compete against each other to create their own Valentine's Day cards.
As part of the radio campaign, thortful designers will share what inspires their designs, give advice on creating the perfect greetings card and mentor the presenters through the design stage of the challenge.
All cards will be unveiled online on Monday 1st February, where listeners will be able to vote for their favourite design. All voters will be in with a chance of winning a prize worth £2,000 courtesy of thortful, plus a personal card from the winning show.
Listeners will then also be able to purchase the Valentine's Day cards from thortful's website, with a portion of all sales donated to Cash for Kids.
Simon Kilby, Managing Director Bauer Media Advertising said "We're delighted that thortful has chosen to work with Bauer Media for its first ever radio campaign and can't wait to see all the different cards that the stations and thortful designers will create.
"Our presenters' competitive streaks are already out in full force and we know listeners will enjoy the station rivalries. Listeners have turned to radio for comfort and entertainment over the past year, so we think this campaign will be perfect to inject some joy into our listeners' lives this third lockdown."
Andy Peace, CEO, thortful said: "We are really excited to join forces with Bauer, we love their radio stations and because we're all about championing amazing creative talent we are really delighted that their presenters will be getting involved and designing unique cards for us. I can't wait to see what they produce; may the best man or woman win!"
The campaign was brokered by Mostly Media and will launch on 25th January, running till Valentine's Day on 14th February.
Stuart Smith, Managing Director, Mostly Media added: "The opportunity for thortful to align themselves so closely with such distinct and well-respected brands was exactly what we'd hope we'd achieve. The ability to showcase the brand and its values in this way is hugely exciting and we can't wait to hear and see the end product, and of course the winning cards."