BBC Radio Sussex and Surrey launch #CrawleyTogether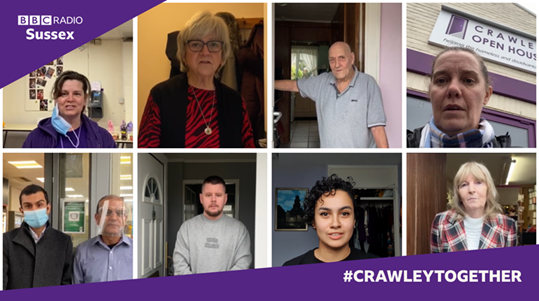 BBC Radio Sussex and BBC Radio Surrey have launched a new initiative called #CrawleyTogether, looking in-depth at the issues faced by the West Sussex town of Crawley.
Crawley has been one of the hardest hit casualties of the Covid 19 pandemic and through #CrawleyTogether, the local BBC radio stations are adopting a Crawley street and in the months ahead, presenter Allison Ferns will be checking in with the people living there to hear their stories.
The stations will also be linking up with a range of community groups to shine a spotlight on help available from food-banks to job centres, and on the day of the launch they featured a selection of music showcased from Crawley musicians courtesy of BBC Introducing.
Alongside the coverage on BBC Radio Sussex and BBC Radio Surrey, #CrawleyTogether is also being supported by BBC South East Today and across local BBC social media. The initiative has also received the backing of the town's MP Henry Smith, as well as local newspaper – The Crawley Observer.
Acting Managing Editor Mark Carter commented: "Crawley and the surrounding area has been dramatically affected by the pandemic, not least by the huge reduction in flights in and out of Gatwick Airport.
"Both BBC Radio Sussex and BBC Radio Surrey cover news from Crawley and in the weeks and months ahead we want to shine a spotlight on the issues faced by local people. #CrawleyTogether will be a listening ear but we also want to offer as much practical help as we possibly can."