Community stations to air post-Covid radio soap opera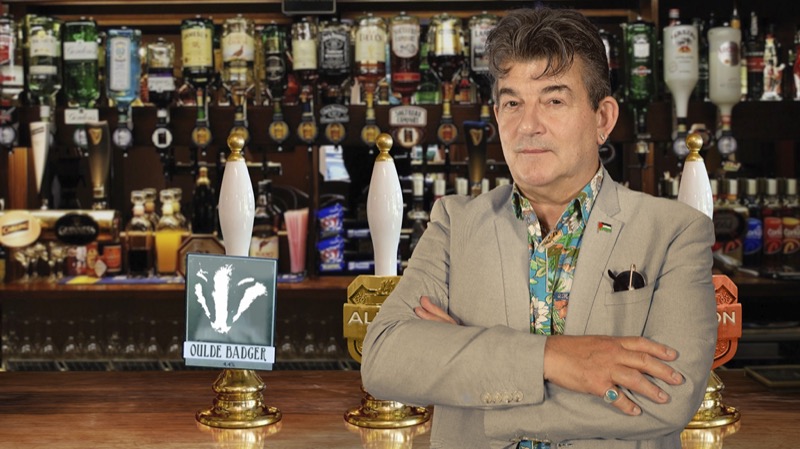 Over 30 community radio stations are to air a soap opera with former Eastenders actor John Altman set in a fictional village called Greenborne.
The actor, who played Nick Cotton, will be one of the villagers rebuild their personal and professional lives after Covid.
John plays Alan Godwin, the landlord of The Fox and Dragon.
An ex-detective inspector and a real rough diamond, he is a tough, streetwise, but honest man with a copper's nose for trouble. His village, Greenborne, is slowly waking from the long nightmare of Covid-19. Set six months in the future, it starts in the summer of 2021, when the entire country (and world) is adjusting to the new 'normal'.
The majority of the UK population has been vaccinated, but a series of 'circuit breaker' lockdowns are still in place. For now, the virus is considered to be under control.
"With misunderstandings, half-truths, secrets, revelations and surprises in every episode, Greenborne offers a fast-paced, fun glimpse at where we might all be on the other side of lockdown and, most importantly of all, while we remain starved of 'normal life' it offers a vision of hope for the future," the description says.
John Altman: "I am very excited about Greenborne as it's not only a part I could really get my teeth into, but it is about hope and rebirth, amongst many other things, and will appeal to the whole family. It is a little bit of escapism at a time when we need it the most."
The numerous storylines are threaded through the imaginary community radio station where a number of the characters, including a young aspiring DJ, Jeet, [Shash Hira] and the surprisingly old-school female vicar [Laura Shavin] are regularly heard broadcasting under the watchful eye of Logan [Joshua Manning], the Scottish station manager with a secretive past.
Greenborne, which will be 12 episode, 15 minutes long, is devised by Colin Brake [EastEnders, Doctor Who] based on an idea by himself and Andrew Mark Sewell [Dan Dare, I Robot, Mrs. Palfrey at the Claremont], it is produced by UK indie B7 Media and financed by a grant from the Audio Content Fund.
Colin says: "At their best soaps offer up a mirror to society, allowing us to see our daily hopes and fears played out amongst a cast of characters that we can empathise and identify with. Covid-19 has had a dramatic and long-lasting effect on all of us, but Greenborne has been created and designed to take a positive look at how we may begin to heal and rebuild our 'normal' after the trauma of the coronavirus crisis."
Andrew Mark Sewell, Executive Producer and Series Director, said: "It has been some years since a brand-new radio soap debuted on British radio and Greenborne is the realisation of a long-held ambition to produce a new radio soap more in step with our times. It is meant to be familiar to all of us to some degree, whether it's the location, the people or their stories, but most importantly we want it to offer a vision of hope for the future."
The stations taking the drama are:
Alive Community Radio, Dumfries
Apple FM, Taunton
Beyond Radio, North Lancs
Bolton FM
Cando FM, Barrow & Furness
Crescent Community Radio, Rochdale
Forest of Dean Community Radio
Fuse FM, Ballymoney
Future Radio, Norwich
K107 FM, Kirkaldy
Kennet Radio, Newbury & Thatcham
Link FM, Sheffield
Oldham Community Radio
Pendle Community Radio
Phoenix Radio, Calderdale
Radio Leyland, Leyland, Moss Side & Farington
Radio Tyneside
Red Kite Radio, Thame, Haddenham and area
Riviera FM, Brixham
Somer Valley FM, NE Somerset
Tameside
Vixen 101, Market Weighton, East Yorkshire
Winchester Radio
Carillon Wellbeing Radio
CHBN Radio
Corby Radio
Hermitage FM
Hope FM
Park Radio
Sine FM
Swindon 105.5
TMCR
Bradley Stoke Radio
Koast Radio