Industry marks 10th anniversary of World Radio Day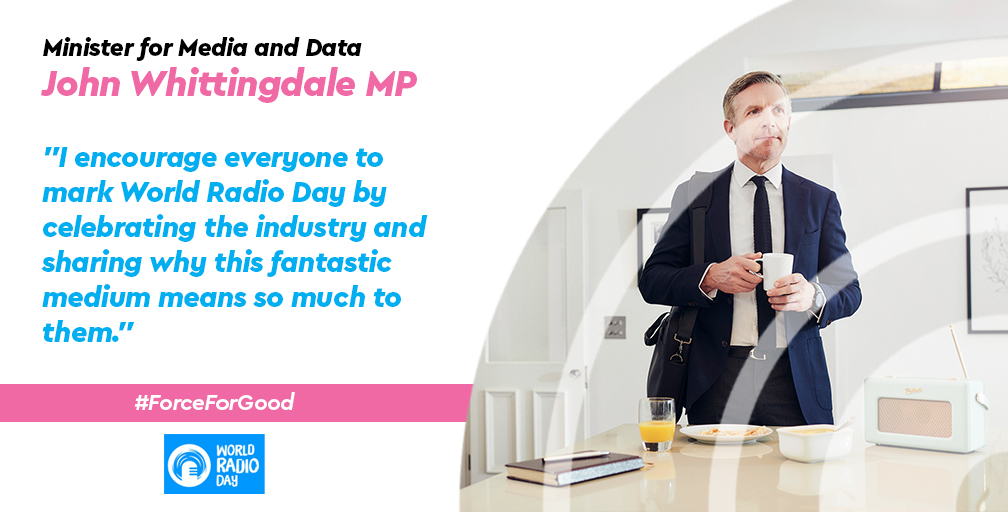 Radio people around the UK and around the world have been marking World Radio Day by tweeting anecdotes about themselves and how long they have been in radio.
And today, on World Radio Day 2021, UNESCO calls on radio stations to celebrate this event's 10th anniversary and the more than 110 years of radio.
Radio stations can download and play a special 30 second ad here and play it during the day.
Radiocentre has been marking the event over the last week with a number of articles published leading up to the big day. They can be found under the #ForceForGood hastag on Twitter.
Minister for Media and Data John Whittingdale said: "Radio has been a beacon of light during the pandemic – providing companionship for the vulnerable and isolated and faithfully serving audiences with trusted news and entertainment.
"I encourage everyone to mark World Radio Day by celebrating the industry and sharing why this fantastic medium means so much to them."
World Radio Day was proclaimed in 2011 by the Member States of UNESCO, and adopted by the United Nations General Assembly in 2012 as an International Day, February 13 became World Radio Day (WRD).
This year's theme, New World, New Radio, recalls how this medium is part of humanity's history by following the various developments in our society and adapting its services. As the world changes, so does radio. Thus, during the Covid 19 pandemic, radio made it possible, for example, to ensure continuity of learning, to fight against misinformation.
At the global level, radio remains the most widely consumed medium. This unique ability to reach out the widest audience means radio can shape a society's experience of diversity, stand as an arena for all voices to speak out, be represented and heard.
Radio stations are also getting in on the occasion. One station in Kirkcadly is broadcasting two special programmes the highlight the day.
K107fm will use this edition's theme to reflect on their development and growth within the local community. Earlier today, the community station aired 'COVID-19 and Community Radio – Presenting In a Pandemic' to highlight how the station has stayed on-air, managed volunteers self-isolating, produced content, interviewed guests with social distancing in place and increased its output.
In addition, the station will highlight its additional content from the past 12 months covering wide-ranging topics such as Carers, COVID-19, Disability, Drama and Mental Health in a two hour special. This show features an extended interview with Dom Chambers, Chair of the Community Media Association discussing wider challenges across community stations and the wider radio community.
There will be focus on innovation, with Alan Coote, Development Director of Monogram Media talking of the use of social media, with K107fm being the first radio station in Scotland to deliver localised weather update videos via the stations social media.
Hear the special programmes here, and hear the latest edition of our inRadio Podcast with Dom Chambers here.
#Radio has always been there for you. Changing as you changed. Bringing you information, entertainment & knowledge when you most needed it.

Join us on 13 Feburary to celebrate #WorldRadioDay!

https://t.co/sevl6BsCNk pic.twitter.com/prKwmSVJQh

— UNESCO #Education #Sciences #Culture (@UNESCO) February 12, 2021
On the 4th of September 1993 I was in the crowd witnessing the birth of a radio station that I would go on to see right through to the very end. Miss you like crazy! #WorldRadioDay2021 #RadioDay #Media #Broadcasting #WessexFM #TheWessexYears #ProperLocalRadio #Dorset. pic.twitter.com/HFuBMzuY0N

— David Goulden (@davidgoulden) February 13, 2021
On this #WorldRadioDay, we remember your greatness pic.twitter.com/HEklOSSDBQ

— BrownSugar (@UrsulaChikane) February 13, 2021
I fell in love with radio once I started working there, and I never stopped. From Radio Rahma, Salaam FM to Radio Maisha…#WorldRadioDay pic.twitter.com/ooSVWCDL16

— Ali 'Mwamvita' Manzu (@Ali_Manzu) February 13, 2021
17 years in the game… Can't believe I'm almost 2 decades in…

Happy #WorldRadioDay pic.twitter.com/vthBXeEE9y

— Mpho Letsholonyane (@M_Letsholonyane) February 13, 2021
Happy #WorldRadioDay – it's been a pretty good 21 years working with this lot Xxx pic.twitter.com/DWjXGLOHos

— Nicola Everett (@nicolakeverett) February 13, 2021
I've loved you since I was 16… Thank you for loving Me right back Happy #WorldRadioDay pic.twitter.com/MRQJoA1rX9

— Lirio de los Valles (@TheRealJess_B) February 13, 2021
#WorldRadioDay today. I started doing radio 20 years ago this year and I've been @moresussex for 16 years now Somehow they still let me talk into a microphone every day pic.twitter.com/atd35d7HNM

— Nick Osborne (@djnickosborne) February 13, 2021
A very happy #WorldRadioDay, to celebrate, here's some pictures of me in radio studios when I was young and less young. pic.twitter.com/0TTpcpLL0h

— Chris Quilietti (@ChrisQ_1) February 13, 2021
Happy #WorldRadioDay, had an amazing time working on the radio. pic.twitter.com/1VBFVQwpDA

— Matt Shields (@OnAirMatt) February 13, 2021
Did someone say #WorldRadioDay? Here's to the best medium on earth! Thanks for keeping me sane since age 18 pic.twitter.com/ZfRIZeQ5sP

— Issy Panayis (@IssyPanayis) February 13, 2021
Playing with the mic on grandad's hi-fi + hearing my voice in the cans is what set me off, then listening to @therealbrunoB @simonmayo @bigshowfactoids & @achrisevans on @BBCR1 before work exp at @Pulse1Radio, hospital radio & first show at Yorkshire Dales Radio #WorldRadioDay https://t.co/2Dp0njpahS pic.twitter.com/Qa8z0yUKPc

— Stuart Clarkson (@stuartclarkson) February 13, 2021