Tributes paid to radio professional Fred Marden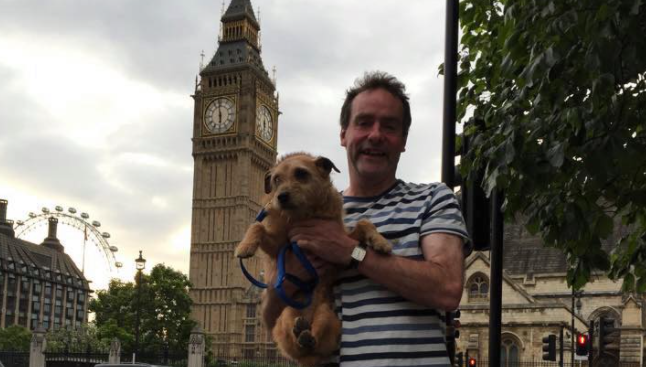 Radio presenter, producer, executive, and lecturer Fred Marden has died at the age of 55.
Fred has worked in radio his whole life after attending Swansea University where he became Station Manager of the student radio station.
During his career, he was a presenter at County Sound, MFM and BBC Southern Counties, and spent almost 20 years at Eagle Radio.
He was also Programme Controller at Star FM and Lantern FM, and held many positions sharing his love of radio in Education, including spells as Head of the School of Media at the Farnborough College of Technology and Head of Radio at the University of Sunderland where he was also Station Manager at Spark.
He also ran Farnborough Airshow Radio and was a Visiting Tutor at the City of Westminster College.
In more recent months, he signed up to host shows on Radio Biscuit.
They announced his sad death today and paid tribute, saying "All of us here at Radio Biscuit are deeply saddened to hear about the loss of our friend and colleague @fredmarden in the early hours of this morning.
"He was a lovely, funny, talented, gentle man who will be sorely missed by all who knew him and our listeners. Rest easy Fred…."
His colleague and friend Peter Gordon added: "A friend to many, and, for some of us, for a long time. Both on the radio & personally. In our last conversation, just yesterday, we shared a joke. We nearly always did. He was the model of vibrancy. One of life's contributors. Thank you Fred. Rest well chum."
Fred also loved dogs. The photo above shows him with Bruce, an elderly rescue from Ireland who Fred delivered to his new home in France, via his friend Debbie Buxcey Bsya in London who runs a voluntary organisation dedicated to the work of rescuing and homing retired greyhounds.
Debbie also paid tribute: "In deep shock here over the passing of my friend Frederick Jude Marden. Will miss his hilarious stories on-air and his phone calls to check on the hounds. A new star will be shining brightly tonight."
Rest in peace, Fred.
All of us here at Radio Biscuit are deeply saddened to hear about the loss of our friend and colleague @fredmarden in the early hours of this morning. He was a lovely, funny, talented, gentle man who will be sorely missed by all who knew him and our listeners.
Rest easy Fred…. pic.twitter.com/B3krbXEqi4

— Radio Biscuit (@biscuit_radio) February 10, 2021
What a guy. I had the pleasure of working alongside Fred at wonderful Star FM and The Eagle. He always seemed to have the right words at the right time, both on and off the air. A delightful man who will be missed by many #RIPFredMarden https://t.co/R5lW0kW09k

— Ian Downs (@downsyofficial) February 10, 2021
This is really sad news.

Fred launched @SparkSunderland with us and was one of the nicest men you'd ever wish to meet.

He even begrudgingly gave myself and @RossMitchell11 a first for our dissertation.

RIP big man. https://t.co/yJB6wXacWi

— Adem Waterman (@ademwaterman) February 10, 2021
Heartbroken to hear this news. @fredmarden was my lecturer at Uni, & a special one at that. He still kept in touch 11 yrs later. When he knew I wasn't doing so good around xmas, he called me just to check in & we made a deal to get a beer as soon as we could. Until then, Fred. https://t.co/pMrqFJqLTZ

— Rachael Devine (@_rachaeldevine) February 10, 2021
I was shocked when I heard this. Truly awful news.

— ??????? ????? (@richardberryuk) February 10, 2021
RIP Fred. He and @richardberryuk were the original movers & shakers behind @SparkSunderland and its launch in 2009. https://t.co/UqCyVRPzwC

— Peter Sullivan (@ceemage) February 10, 2021
That's sad news to read. He was such a personality on air and know his talents went much further than the microphone. Poignant last tweet from him as well. RIP Fred.

— Stacey Harris (@harrissn) February 10, 2021
Very sorry to hear this. Sending condolences to family and friends

— Nick Osborne (@djnickosborne) February 10, 2021
Met Fred a couple of times professionally in the 90s but he reached out to me via social media a couple of years back, we became friends, spoke often. He was kind with his time and his knowledge. Gutted our meeting in December got postponed. Rest easy, the world lost a great man https://t.co/Now6Q11KtV

— Mark Denholm (@markdenholm) February 10, 2021
So very sad. Had so much time for Fred and always enjoyed our conversations. Sleep Well Fred mate.

— Barrie Funnell (@CTYFCChairman) February 10, 2021
Very sorry to read this news PG. I remember listening to Fred on Eagle and we subsequently connected on Twitter. May he Rest In Peace

— Kieran McGeary (@kieranmcgeary) February 10, 2021
So sad to hear this. I read the news on Fred's breakfast show on @BBCSurrey several years ago – and more recently returned to the programme. I hope we'll be able to remember Fred on air utomorrow.

— Peter Stewart (@TweeterStewart) February 10, 2021
A friend to many, and, for some of us, for a long time. Both on the radio & personally. In our last conversation, just yesterday, we shared a joke. We nearly always did. He was the model of vibrancy. One of life's contributors. Thank you Fred. Rest well chum. https://t.co/0ppHO6gJCy

— Peter Gordon (@PGcomms) February 10, 2021