Jackie Brambles to host Greatest Hits Radio series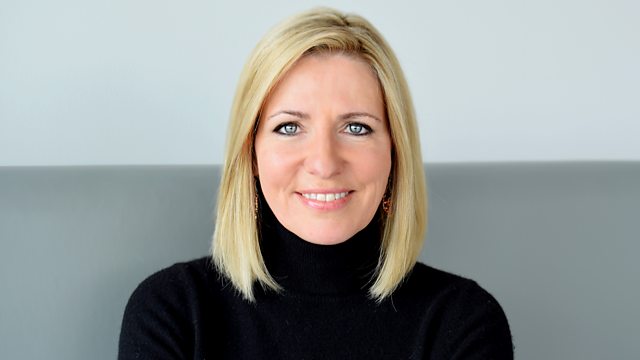 The latest Audio Content Fund includes funding a four-part series called Greatest Brits with Jackie Brambles for Greatest Hits Radio.

The former BBC Radio 1 host and current BBC Radio Scotland presenter will celebrate 80s and 90s British female artists in the run-up to the 2021 BRIT Awards.
It's one of many projects awarded money in the latest round, bringing the total to £1.7m in the past year.
The projects will broadcast across more than 120 different radio stations and will be produced by 19 different independent production companies.
Also at Bauer, KISS and KISS Fresh will run a six-part doc series called Mic Check, telling the story of British MC Culture from an underground scene to its domination of the charts today.
Jazz FM and Scala Radio will come together to broadcast Jazzical, an examination of the similarities and differences between classical music and jazz.
And Absolute Radio will mark the anniversary of the first national lockdown on 23 March, as One Year Like This celebrates the heroes that have helped keep our spirits up or literally helped save our lives.
On the talkSPORT network, Lost Ones will examine the emotional and mental health impact of the Football Academy system in the men's and women's game.
And comedy and football will come together for Everything You Didn't Know About…, a wry exploration of the countries and cultures making up the groups of the Euro 2020 tournament, also on talkSPORT.
Factual content also features in this round in various short-form projects to be broadcast on networks of Community Radio stations. We Can Make will follow the progress of John, a man in Bristol who has spent two years living in a shed, but is now building a house with the help of his community.
Source To Sea will join adventurers Lee and Jenny as they explore four major Scottish rivers by bike and canoe.
Fighting With Pride will tell the stories of the personnel who epitomise the ban on LGBT+ people serving in the British Armed Forces, only lifted 20 years ago.
Tape Letters will share the audio recorded on cassettes by migratory communities in the 1960s and 70s to send to their families overseas.
And The 1920s: A new audio history for the centenary of Northern Ireland will present a trilingual audio history for the Centenary of Northern Ireland, in Irish, Ulster Scots and English.
Further Commercial Radio projects on the list in this round include two new children's radio ideas for broadcast on Fun Kids. The Old Man In The Boat will use drama and comedy to explore big ideas and philosophical thinking with children, through a loveable character fishing and having conversations with the creatures and objects around him. While, Audiomoves will encourage physical movement amongst primary-age children using storytelling, movement, dance and original music.
Two drama projects made the list, both to be broadcast on Community Radio. The Waves will be a set of five short dramas from up-and-coming writers of colour, exploring how our contemporary life is shaped by our colonial past.
While Stay-home Safari will throw listeners into an unfolding drama in the savannah, as a broken-down truck leads to a series of exhilarating challenges that will make the pandemic seem very far away.
Community Radio will also be the home of two music series – the first, Blind Notes with Ravi Sagoo will be a series of one-to-one interviews with visually impaired musicians, looking at their work, their musical loves, inspirations, and the special relationship music plays in their lives.
While The Scottish Hip-Hop Show will do what it says on the tin, showcasing artists who are contributing to the vibrant hip hop scene north of the border.
Finally in this round, In Our Element will be an artist-led series exploring the Climate Crisis and asking how art can help find ways of understanding and ultimately responding to it. While Leicester Build Back Better Stories will be a series of six magazine programmes highlighting urgent post-Covid-19 community projects that are being developed across one of the UK cities worst-hit by the global pandemic.
Sam Bailey, Managing Director of the Audio Content Fund, said: "The unprecedented events of the past year have led to the ACF distributing nearly double our intended grant budget, thanks to additional funding given to us by DCMS. We're really proud to be supporting audiences with world-class public service content. This round sees the fund pass a milestone of more than 100 funded projects – 115, in fact. ACF-funded content has now been heard on more than 300 different radio stations around the UK, reaching tens of millions of listeners."
Kate Cocker, Panel Member of the Audio Content Fund, said: "Every round we review, the quality gets better and better. What I particularly liked about this round was seeing radio stations creating space for some brave and well-thought-out ideas from the production companies. When we launched the Audio Content Fund we said we wanted stations to feel they could do something they wouldn't normally do, and it really feels like we are seeing that more and more."