Tributes paid to former Radio 1 Producer Simon Willis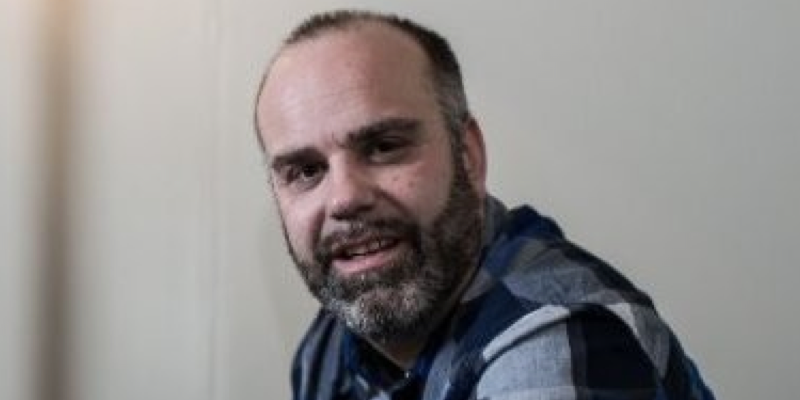 Friends and former colleagues of Simon Willis have been paying tribute to him following news of his passing.
The former BBC Radio 1 Producer, who was also Head of Content at Wisebudah, worked on many national shows including the Zoe Ball Breakfast Show and Simon Mayo's morning show.
He also covered Mark & Lard, the Official Top 40 and was a member of the Radio 1 Playlist Committee.
Before moving to London to work at Radio 1, Simon was Programme Controller and Breakfast Presenter at Plymouth Sound in the early 1990s and attended the University of Plymouth.
Jo Whiley said Simon was the third person in her marriage to her husband Steve: "We woke to the news that we have lost our beloved Willy aka Simon Willis and today our family is bereft.
"You could say there were three of us in our marriage. And it was the perfect recipe. Me. My husband Steve and Willy. He was my Doctor Who husband, we both loved musical theatre with a passion and together we were complete radio geeks. Steve and Willy were like Morecambe and Wise except I was never sure which was which.
"I suspect they were both Eric. Their love for each other was plain for all to see and I have never seen two friends laugh together more than them. Willy was The Godfather to all our children and they completely and utterly adored him
"We were blessed to have spent many many precious moments with him throughout our lives together and in the recent months and weeks when he was poorly. He celebrated his 30th/40th and 50th birthday at our home and we had a ridiculous amount of fun. I never did met anyone who knew Nik Kershaw's back catalogue like Willy.
"Willy was a one-off. The funniest man you could ever meet and anyone who knew him will have their own favourite story to tell about 'What Willy did…'
"Godammit Willy… what are we going to do without you??"
Simon's brother, Mark, shared the sad news via social media: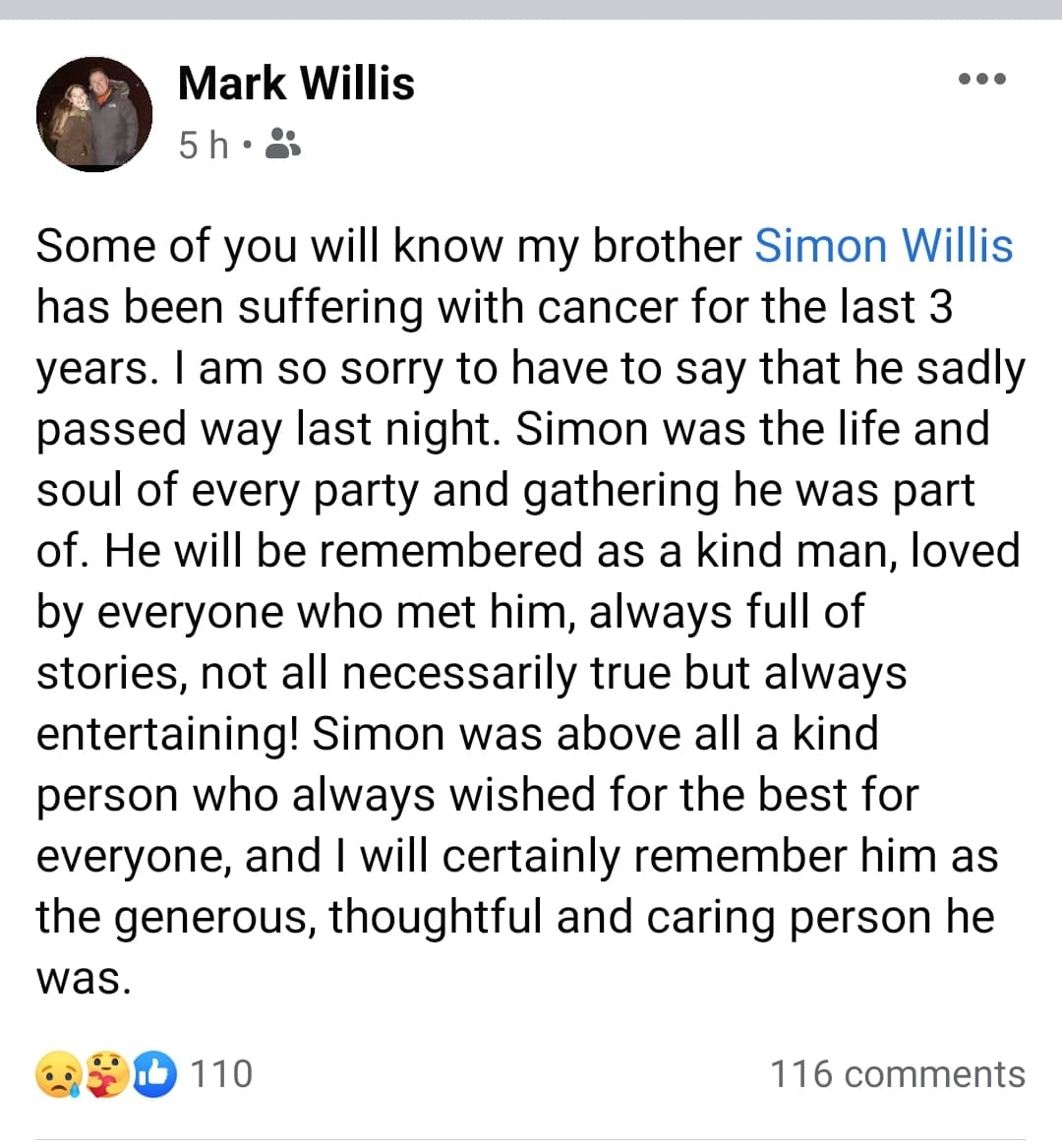 Mark Goodier wrote: "Simon was head of content at Wisebuddah for 5 years. You would be hard pushed to find a more generous, witty and creative entertainment guru."
Simon Mayo also paid tribute: "Simon produced my Radio 1 morning show for many years. He was a fabulous, charismatic, extravagant producer. Terribly sad news."
Former colleague Trevor Dann said: "Lovely bloke. What a shame. A big part of the 90s re-shaping at R1."
Simon had been ill for the last few years fighting cancer.
We woke to the news that our beloved Willy aka Simon Willis has left us & we are bereft.
There were 3 of us in our marriage. And it was the perfect recipe. Me. My husband Steve & Willy. He was my Dr Who husband, Ernie Wise to Steve's Eric Morecambe, THE Godfather to our kids pic.twitter.com/7pBWfllLdH

— Jo Whiley (@jowhiley) March 3, 2021
Simon produced my Radio 1 morning show for many years. He was a fabulous, charismatic, extravagant producer. Terribly sad news. https://t.co/KT9URtnUV7

— Simon Mayo (@simonmayo) March 3, 2021
Heartbroken to learn of the passing of the wonderfully charismatic Simon Willis. He dined at the top table of showbiz but never forgot his old pals pic.twitter.com/kbGX1pOgtD

— Chris Dinnis (@MrChrisDinnis) March 3, 2021
Lovely bloke. What a shame. A big part of the 90s re-shaping at R1. https://t.co/OfLuVfjryf

— Trevor Dann (@TrevorDann) March 3, 2021
Not a great deal of sleep. Looking through old pics. I get moaned at for taking lots of pics. Even before smartphones I took lots of pics. Here's Simon Willis in Plymouth in the early '90s. In pic 1 he's in his flat on Grand Parade with a Radio Times. M x pic.twitter.com/oT0M766By3

— Martin Burgess-Moon (@BurgessMoon) March 4, 2021
You don't me Jo. I have known Simon Willis since I was 14 (along with Lynne M).

I'm in bits. So many people are hurting today, including I'm sure yourself and your husband.

Sending thoughts

Gav x

— Gavin Marshall (@gavinmarshall1) March 3, 2021
Thinking about Simon Willis. This was the time when we went to a Chinese restaurant & I got confused and I ordered chicken feet. God, I'll miss him. RIP legend. M xxx @dullington pic.twitter.com/naibk0O8Dz

— Martin Burgess-Moon (@BurgessMoon) March 3, 2021
Your spirit was everything Simon Willis thank you https://t.co/dRsAuq3sYS

— Hayley Redmond (@HayleyFudge) March 3, 2021
Simon Willis was the guy who got me into Radio 1 over 20 years ago when he rang me; a nervous but keen student. He gave me the work experience with @simonmayo that started me in radio. A kind and hilarious man who kick started a lot of careers. https://t.co/Wew5zssAIn

— Dave Rose (@djdaverose) March 4, 2021
Tonight I shall be raising a glass to Simon Willis who sadly passed away today. He taught me the basics of editing back in the 90's. I owe him a lot.

— EDsound (@EDsoundstudio) March 3, 2021