BBC Radio 1 Live Lounge talent winner announced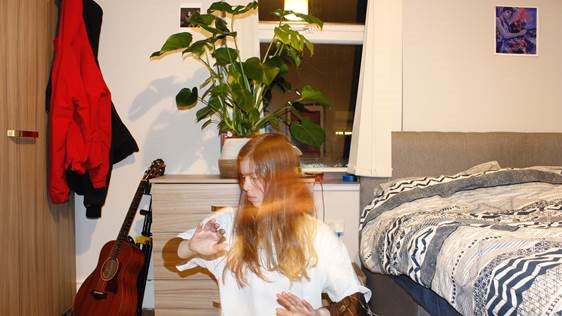 A 19-year-old from Edinburgh has been named as the winner of BBC Radio 1's Live Lounge Introducing talent search.
Singer-songwriter Bonnie Kemplay claimed the top spot ahead of over 10,000 other entries from some of the UK's very best undiscovered and under-the-radar musicians, each hoping to land a once-in-a-lifetime opportunity to perform in the Radio 1 Live Lounge.
The search, founded as a partnership between Radio 1 and BBC Music Introducing, was conceived as a means of nurturing and developing new talent, helping to propel some of the UK's best new acts onto a national stage as the music industry begins to emerge from the challenges of the past 12 months.
Bonnie is a current student at the Royal Northern College of Music. She began nurturing her love of performing aged just 11 when she joined a community music club who supported her to explore different instruments and build her confidence.
Bonnie will perform in Radio 1's Live Lounge on Thursday 29 April 2021, joining the likes of Ariana Grande, Miley Cyrus and Stormzy in the Live Lounge history books.
The entries to Radio 1's Live Lounge Introducing were reviewed by BBC Music Introducing's network of local and regional shows, with a panel of industry experts helping to narrow down the longlist.
Introducing alumni artists Celeste, Arlo Parks, Sam Fender, Tom Grennan, Wolf Alice's Ellie Rowsell and YUNGBLUD then joined Radio 1's Clara Amfo and Gemma Bradley to judge the top five best tracks and select the overall winner.
Clara Amfo, host of Radio 1's Live Lounge, says: "Being part of the judging process for our first ever Radio 1 Live Lounge Introducing was a challenging and rewarding process. The top five all had a uniqueness that made us all unanimously excited for their future as artists.
"With that, Bonnie instantly stood out for her lyrical vulnerability, tender yet powerful voice and production skill that will no doubt continue to flourish and I just know her performance this week is going to gain her a legion new life long fans."
Chris Price, Head of Music for Radio 1, says: "The standard of the submissions to Live Lounge Introducing was exceptional; I'm so excited about the next generation of emerging talent. All five of our shortlisted artists are winners, but congratulations in particular to Bonnie, who shone through as a fully realised artist proposition with a long career ahead of her."
Aled Haydn Jones, Head of Radio 1, says: "The Radio 1 Live Lounge is known for hosting some of the biggest artists on the planet, so it's really exciting that we're able to open the doors up to someone right at the beginning of their journey for the very first time in partnership with BBC Music Introducing. We launched this initiative earlier this year as part of our commitment to finding and developing new talent, and with our top five succeeding ahead of staggering 10,000 entrants, we're looking forward to seeing where this opportunity takes them next."