Calder Valley Radio to appear on Meet the Richardsons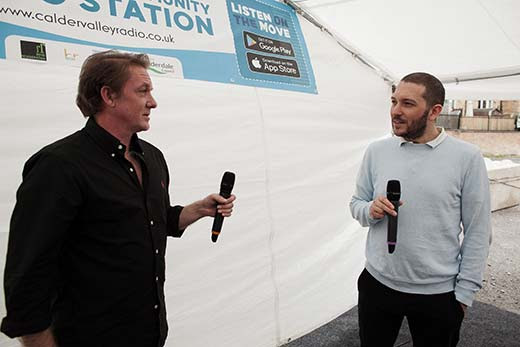 Calder Valley Radio presenters Guy Parry and Dave Moses are featuring on Meet the Richardsons on television this week and next.
The Meet the Richardsons production company used the Mytholmroyd Community and Leisure Centre and Calder Valley radio station as a location to film the series that is now showing on the channel Dave.
Programme Controller, Dave Moses and Events Manager, Guy Parry were thrilled to be asked to help and star in the TV series.
Guy said: "It was a real honour and of course we instantly said 'yes'. We first met Jon and Lucy Richardson when we provided a PA system for a comedy night at the Mytholmroyd Community and Leisure Centre when they were testing out their jokes on an audience."
"We instantly hit it off, and then later on invited Jon to open our new radio station in July, last year which he did – in a Pandemic. We were very touched by this," Dave says.
Calder Valley Radio has been on air now for 10 months and has continued throughout the lockdowns. Dave Moses adds: "It has been a challenging time and very stressful in parts but we have managed to keep everything running and providing a top-quality service for our listeners and the Calder Valley."
Watch Meet the Richardsons this Thursday and every Thursday at 10pm on the channel Dave.