Target goes on a UK Touchdown Tour with Radio 1Xtra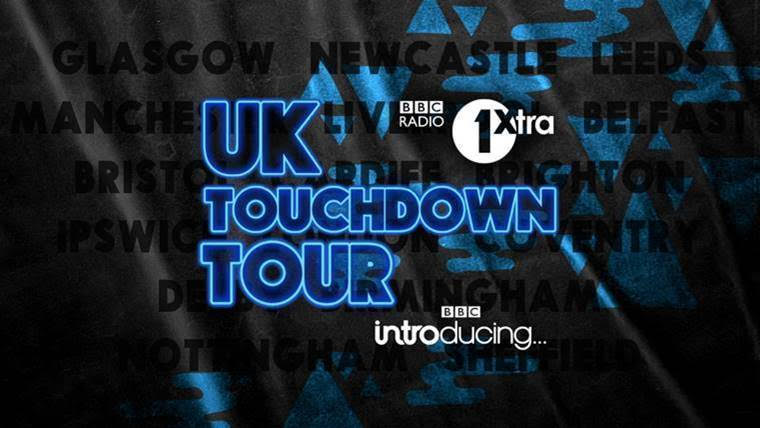 1Xtra will be showcasing the best in new and emerging homegrown artists and talent within the music scene from across the UK this month.
Across four weeks (Monday-Thursday, 7-9pm) presenter Target will be touching down in a total of sixteen different cities including; Sheffield, Belfast, Nottingham, Cardiff, Birmingham and more.
Celebrating local talent and getting to know more about each region's unique music scene, Target will be connecting with artists and DJs in that area including, London's Little Simz, Liverpool's Aystar, Birmingham's Lady Leshurr and Sheffield's Toddla T plus many more.
For each show, BBC Music Introducing will be sourcing the tracks using their network of local Introducing shows to help curate the best new talent whilst also collaborating with 1Xtra to create a weekly BBC Sounds playlist with the hottest new artists from the four cities visited by the Touchdown that week.
The celebrations will continue across the network with a brand new Live Lounge performance from MOBO winner Mahalia, exclusive performances from 1Xtra's Hot For 2021 artists and a special series of UK Touchdown Tour online sessions hosted by Reece Parkinson which will focus on the music, culture and community coming from different regions across the UK.
The tour kicked off yesterday in Glasgow and Target will be in his second city tonight touching down in Newcastle.
Target says: "I'm really excited for the UK Touchdown Tour this month. It's another great way for us to connect with the regions and showcase some amazing new talent from all over the UK."
Faron McKenzie, Head of 1Xtra, says: "The UK is brimming with amazing new talent and it's important that as the home of new music, 1Xtra continues to support new and emerging artists and talent. 1Xtra's UK Touchdown Tour will enable us to get closer to the artists in different cities and communities across the UK as we support them from the early stages of their careers."
Full list of cities
Week 1 (5-8 April)
Glasgow
Newcastle
Leeds
Manchester
Week 2 (12-15 April)
Liverpool
Belfast
Bristol
Cardiff
Week 3 (19-23 April)
Brighton
Ipswich
London
Coventry
Week 4 (26-29 April)
Derby
Birmingham
Nottingham
Sheffield