Bauer stations team up with Disney for ticket giveaway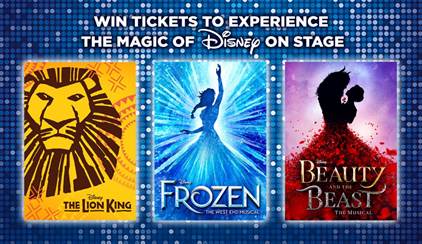 Listeners across some Bauer stations will get a chance to win tickets for Disney's The Lion King, Frozen the Musical, and Beauty and the Beast this month.

In a deal with Disney Theatrical Group, Magic Radio, Magic at the Musicals, Scala Radio, Absolute Radio and KISS will give away over 3,000 tickets to theatregoers who have missed live entertainment throughout the pandemic to its shows.
Throughout May, all stations will give away on-air spot prizes and presenters and station-voiced trails will drive listeners online to a branded Disney on Stage landing page for their chance to win tickets.
The three musicals will also take over Magic at the Musicals once a week. To further enhance the campaign, on Scala Radio, every Sunday morning will see 'Jamie Crick West End Brunch' – where one of the shows will take centre-stage each week – and every Friday at 3:15pm during Sam Hughes' show, a 'Matinee Moment' will play and highlight one of the songs from the three musicals.
Tony Moorey, Group Content Director, Magic and Absolute Radio, said "Through in-depth audience insight we know that one of the top things listeners are looking forward to is going back to experiences and live events.
"We're delighted to be partnering with Disney to launch theatre's biggest giveaway, bringing joy to over 3,000 listeners, and using our national networks and large reach of theatre-loving audiences to ensure the shows get the support and ticket sales they deserve after having their lights down for so long."
A spokesperson from Disney Theatrical Group added: "We can't wait to welcome audiences back to our shows and celebrate the return of The Lion King as well as opening two brand musicals in the UK – Frozen the Musical at the Theatre Royal, Drury Lane and the world premiere of Beauty and the Beast which will tour the UK & Ireland.
"Bauer Media has always been a strong support to the theatre community with Magic at the Musicals and its events, so we're excited to be partnering with its iconic stations to launch our biggest ever radio campaign and giveaway and surprise some of its loyal fans."
The partnership was brokered by Shine Creative Solutions.