Free BBC Academy podcasting webinars available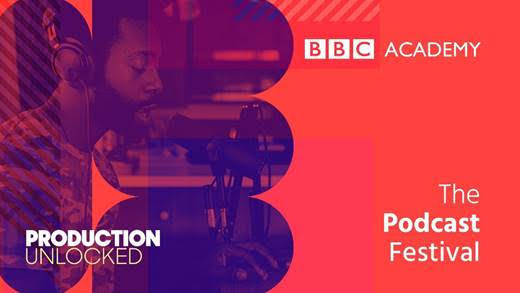 The BBC Academy's Production Unlocked is launching a series of free webinars for people who make Podcasts.
Running throughout May, the series brings together podcast presenters, producers and commissioners in and outside the BBC.
They'll be discussing everything from formats, storytelling and what's going to the next big Pod.
Places are free and you don't need to work at the BBC or be a member of the BBC Academy. For details of the whole series see this link.
Here are the details of all the upcoming events:
Tuesday 11 May 1430
Making podcasts: what happens now?
Your essential briefing on what's just over the horizon of podcast production – inside the Beeb and out.
Facing up to key creative challenges – what are the best ways to connect with young audiences and tell the most powerful stories?
Panel: Leanne Alies, BBC Sounds; George Lavender, Head of Miniseries at Wondery & more.
Host: BBC Radio 1's Vick Hope
Thursday 13 May 1530
Exploring the format frontiers
Experts from all corners cook up food for thought on how podcast formats develop. And where the formats we haven't thought of yet will come from.
Developing fresh voices and getting to the heart of great storytelling. What we already know and what new energy we can bring.
Panel: Ciaran Tracey Battle of Rave; Julia McKenzie, BBC Studios; Joy Addo, Joy's World.
Host: Richard Maddock, podcast commissioner, BBC 5 Live
Tuesday 18 May 1100
How We Find Them and They Find Us
Choosing the right words to lead listeners to our goodies – and how to keep them in the house when they're here.
Insights, tips, tricks and through lines. Keeping your listener locked in episode by episode.
Panel: Andrew Davies, ABC, Australia, Emma Conneely, BBC Sounds & more.
Host: Jon Manel. Podcast commissioner, BBC World Service.
Thursday 20 May 1430
How new techniques and new combinations are giving storytelling a 21st century twist.
Mixing the magic of drama, documentary, playlists and audio fiction to tell compelling stories.
Panel: Ella Watts, BBC Studios; Ollie Wilson and Jade Scott, Ian Wright's Everyday People; Danny Robins, Battersea Poltergeist.
Host: Rhian Roberts, podcast commissioner, BBC Radio 4.
Tuesday 25 May 1430
How new voices will bring new truth, authenticity and power to our podcast offer.
Do our podcasts feature and represent the full breadth of our audiences? Panel: Rubina Pabani, Brown Girls Do It Too; Damon Rose, Disability Lead, BBC News; Khaliq Meer, Diversity Accelerator Programme, BBC Sounds.
Host: Miranda Wayland, Head of Creative Diversity, BBC
Thursday 27 May 1430
Informed predictions about the podcast world we don't yet know. What will technology and content give us next and how will we know if it's working?
Working together and making more than the sum of the parts in a podcast world.
Panel: Anna McGovern, BBC Design and Engineering; Jen Tracey, BBC Scotland; James Cridland, Pod News.
Host: Anna Doble. Digital Editor, BBC World Service.