Local BBC Radio project poppy mural to go on display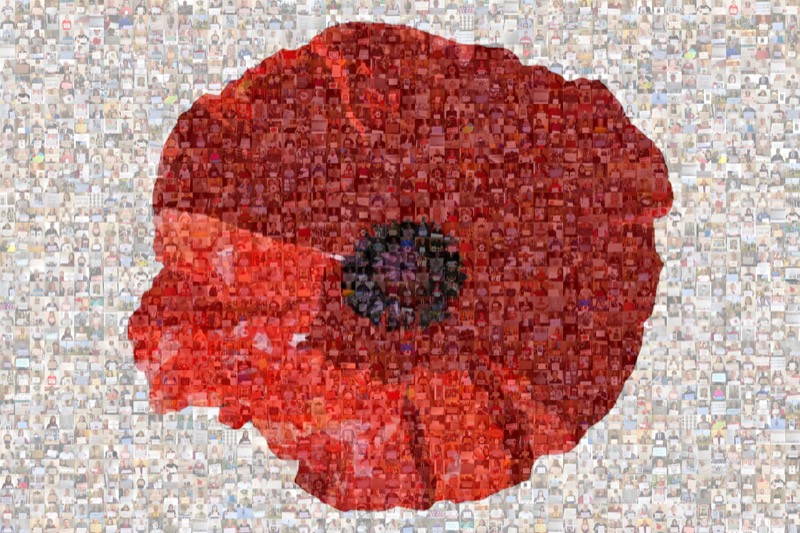 A poppy mosaic made from hundreds of thank you notes to military heroes is to be finally displayed at the Memorial Garden at the REME Museum in Wiltshire later today.
The museum lies at the entrance to MOD Lyneham near Royal Wootton Bassett, the base where fallen soldiers who served in Afghanistan were repatriated to.
It was published last year on Remembrance Day in November, but couldn't be displayed at the museum due to the lockdown restrictions.
The BBC's network of 39 Local Radio stations asked people to send in photos of themselves holding a note naming someone they wanted to thank – as part of the BBC's Remember Together campaign. The late Captain Sir Tom Moore also contributed to the poppy mosaic by sending a video message last year.
The Director of the REME Museum, Major Rick Henderson said: "As a military museum, the REME Museum is delighted to have been asked to display the BBC Radio Wiltshire's Virtual Poppy mosaic. The poppy is the powerful symbol of Remembrance, honouring the service and sacrifice of the Armed Forces community. Being able to display the mosaic facing into the Memorial Garden not only seems fitting, but clearly shows how the people of Wiltshire were determined to remember those who have served the nation, even when restricted by Covid-19."
It will also be exhibited later in the year in Coventry as part of its year as UK City of Culture 2021. It will be exhibited 80 years to the month since 500 German bombers destroyed much of the city in an overnight air raid.
Chris Burns Head of Local Radio said: "I am delighted we finally get to see this huge thank you displayed today. Through local BBC radio our audiences responded across the England in their hundreds to this campaign and we hope this poppy made of a thousand thank you notes will be a fitting tribute to the heroes who died in battle, and those who continue to serve."