Listen and Platform agree on a new strategic partnership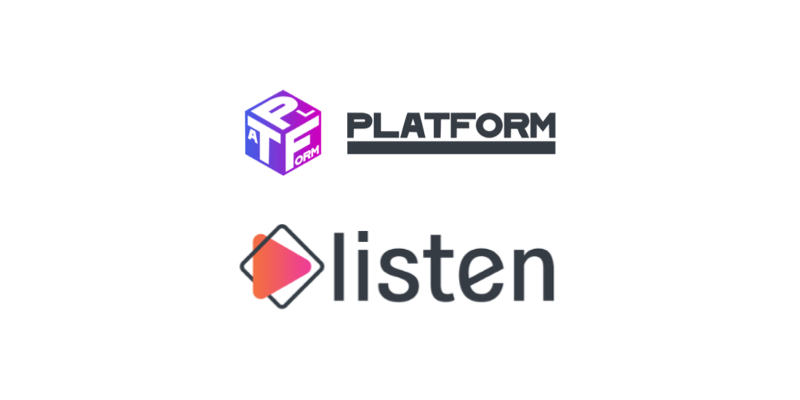 Creative content group Platform and UK audio producer Listen have entered into a strategic partnership.
The two companies will collaborate on building brands around what they call ambitious 360° programming that spans podcasts, social media and beyond.
With a number of high-profile projects already in the works featuring some of the biggest names in the country, the partnership will open up opportunities for creative talent to build long-term projects in which they share a stake.
Launched in May, the Platform group is the home of ventures including: Wildfire, a social agency specialising in video, content distribution and communications; media technology business Format; and multimedia storytelling company Folding Pocket, whose co-founders include renowned actor James Nesbitt and former England rugby stars Mike Tindall and James Haskell.
Folding Pocket's programming includes Rob Brydon's Spotify-exclusive podcast Brydon, & John Bishop and Tony Pitts' Amazon Music exclusive Three Little Words, boxing champion Carl Frampton's Inside Fighting; and The Good, The Bad & The Rugby, the world's biggest rugby show.
Listen, born out of the Wisebuddah group, creates shows with millions of listeners. Working across all genres, its podcasts and radio projects include commissioned shows, branded podcasts and TV sister shows. The company works with talent including Claudia Winkleman, French & Saunders, Edith Bowman, reality star Gemma Collins, chef Levi Roots and boxing promoter Frank Warren.
As well as shows for Audible, the BBC and national commercial radio networks, Listen has created branded content for brands including BMW, Vodafone, Starbucks, Sky Bet, Churchill, Fiverr and The Open University.
Matthew Sherry, CEO, Platform, says: "Listen is the UK's pre-eminent creative force in the world of audio, so we are thrilled to be joining forces with them. Their 25 years of experience are a huge asset to Platform, supercharging the scalability of our core business model. As a creative partner, they will complement Platform in the development of market-leading ideas and IP.
"As a production partner, they will instantly give us the capacity to deliver a higher volume of prestigious shows.
"Platform uses its cross-section of companies to transform podcasts into premium brands. Listen shares our drive and ambition in ensuring that podcasts not only rise above the saturated marketplace, but have the capacity to deliver significant commercial media value, so we are delighted to be working with them in this way."
Josh Adley, Director of Commercial & Client Relations, Listen, adds: "Platform's keen awareness of building brands and developing talent are in perfect harmony with our own values. Their unique combination of creative skills and distribution expertise makes them the perfect partner for us.
"Talent, brands and platforms are increasingly looking for more than just an audio solution.
"They want to establish programming brands through strong distribution, discoverability and visibility. Our collaboration with Platform allows us to do just that, creating a one-stop-shop for those who are wanting to create, or own, ambitious programming."