talkSPORT Euros presenters get covered in yellow paint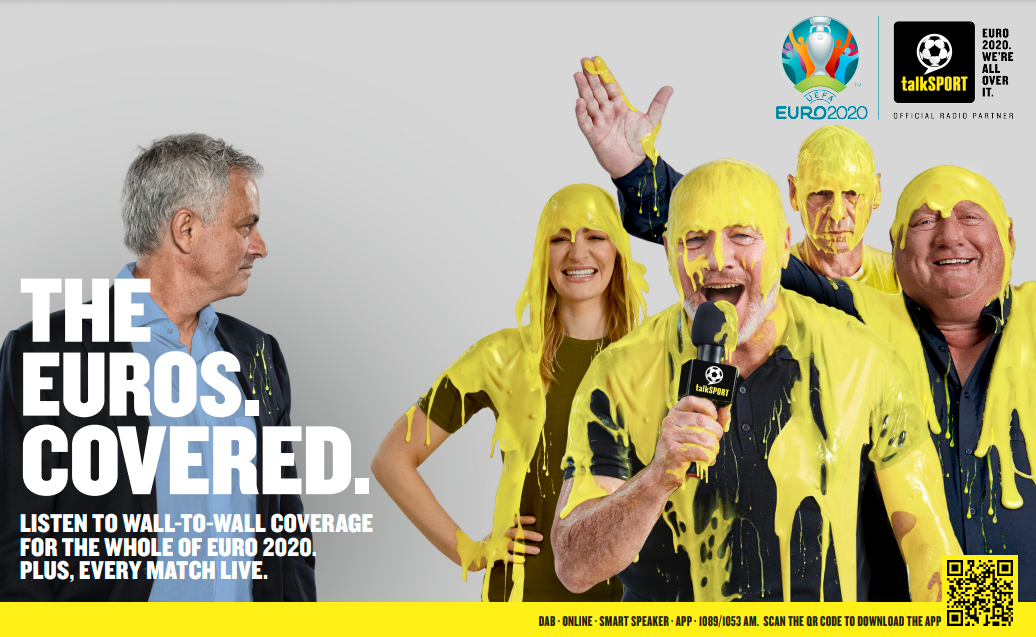 talkSPORT is launching a new brand campaign for the Euros ahead of its upcoming coverage.
The talkSPORT 'We're all over it' campaign sees presenters and pundits covered in talkSPORT yellow coloured paint.
The team includes former England internationals Stuart Pearce and Trevor Sinclair, former Scotland legends Ally McCoist and Alan Brazil plus the regular team, including Laura Woods, Jim White, Simon Jordan and Jose Mourinho.
Jose will be across the schedule and provide pre-game insight and a post-game phone in for talkSPORT listeners as well as being part of the team for all three England group games, one last 16 game, two-Quarter Finals, one Semi Final and the Final.
England warm-up Shows will be live from Wembley on the day of all England matches and every game from the tournament will be live on the talkSPORT network.
Our team, as you've never seen them

The Euros on talkSPORT. ???????.

Every match is live on our network. 

Get the app ☞ https://t.co/RBbQlLLahL pic.twitter.com/k95wRYW4lh

— talkSPORT (@talkSPORT) June 6, 2021
Head of talkSPORT Lee Clayton said: "talkSPORT's aim is to be the home of the fans for the Euros, with unique 24/7 coverage, including phone-ins, the latest news stories from inside the training camps, live commentaries and on the road shows PLUS Jose Mourinho. This fun campaign is designed to remind listeners how we will create and amplify all the noise of the competition and when it comes to the Euros, we're all over it."
Head of Marketing for Wireless, Will Martin said: "This is a Euros like no other, given what we have all been through and the delayed tournament (on home soil), it feels like a huge cultural moment. talkSPORT will be offering 24-7, wall-to-wall and unfiltered coverage over the next four weeks, which no one else can do. This campaign aims to reflect the passion that our stellar lineup of presenters will provide to our audience, in our unique tone of voice."
talkSPORT is also broadcasting two big documentaries in the run-up to the launch of the Euros to get fans excited for the tournament – Gazza and McCoist: Together Again and It's Coming Home, the story of Three Lions.