Vick Hope and Jordan North to replace Grimmy at BBC Radio 1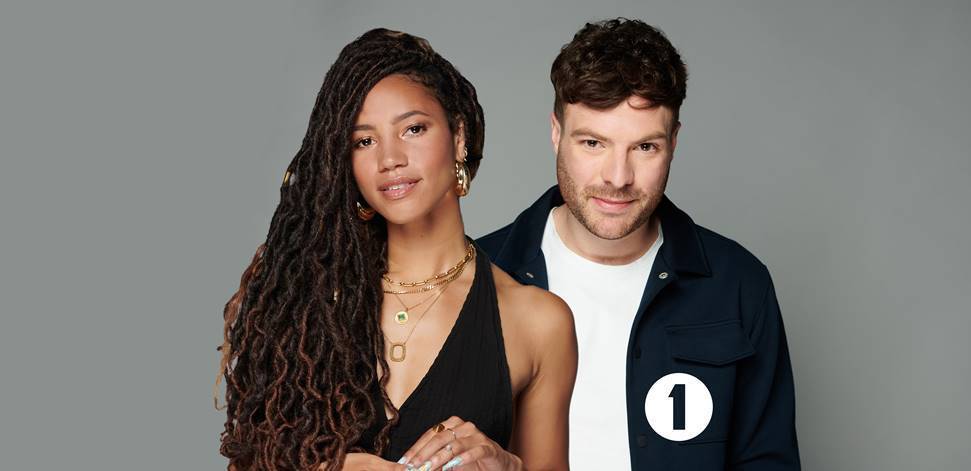 Nick Grimshaw is leaving BBC Radio 1 after 14 years to be replaced by Vick Hope and Jordan North on the afternoon drive show.
Vick and Jordan will start their new show on Monday 6th September, with Nick finishing on August 12th.
Nick announced the news on his show Wednesday afternoon saying working at Radio 1 was like a dream come true but now it's time to make other dreams come true.
Vick will continue to present Life Hacks (Sundays, 4 – 6pm) and The Official Chart: First Look (Sundays, 6 – 7pm) alongside co-host Katie Thistleton.
Jordan joined Radio 1 in 2018 as host of Radio 1's Greatest Hits on Sunday, taking on his current weekend show (Friday – Sunday, 11am – 1pm) in 2020, and appearing on 'I'm a Celebrity…Get Me Out of Here!' last year.
Vick Hope says: "What a madness! Drivetime!!! I love Radio 1 so, so much, having grown up tuning in religiously every single day, it means the world to be taking the reins at home-time with the phenomenal Mr North.
"Grimmy is an absolute legend of the game, thank you mate for every laugh you've sent rippling through the country! Taking over Drive is a task we won't be taking lightly, but Jordan and I are ready to put our all into making your journey home that little bit brighter."
Jordan North says: "I am absolutely chuffed to be making the move over to Radio 1 daytime and even happier to be working alongside Vick. Grimmy is a Radio 1 legend so we definitely have big shoes to fill but will work extremely hard to make sure afternoons on Radio 1 still sound superb. I am super excited to get started and look forward to this next chapter with Vick and the rest of my Radio 1 family."
Aled Haydn Jones, Head of Radio 1, says: "I am so excited for Vick and Jordan. The audience have taken to both of them over the last year so it's a dream to be able to bring them together to host such an important show in Radio 1's schedule. I can't wait for people to hear some of the ideas and projects they've got lined up, they're really pushing the boundaries of what we can do. September is going to be a new sound for Radio 1, from established great broadcasters to bringing through the next generation of talented DJs we will continue to reflect our young audience across the UK and we'll have a lot of fun doing it."
Nick first joined Radio 1 in 2007 and went on to replace Chris Moyes on BBC Radio 1 Breakfast.
Some news I can finally share after giving it some thought for a while….I have decided that after 14 years on air it's time for me to leave Radio 1. It was my childhood dream to work here and I have truly had the time of my life. But now is time for a change

— nick grimshaw (@grimmers) June 30, 2021
Nick Grimshaw says: "My childhood dream was to work on Radio 1 and I have been lucky enough to make that dream come true. It has been everything I'd imagined and even more. I grew up wanting to connect with people and to feel accepted and the Radio 1 listeners gave me that and let me be part of their daily life, for which I will be eternally grateful.
"But over the last few months I've been doing a lot of thinking about my future and after 14 years, I've made the decision that it's time for me to move on – I'd like to thank the listeners as without them none of this could have been possible and the Radio 1 family, who have been such a huge part of my life. Thank you thank you thank you."
Aled Haydn Jones, Head of Radio 1, added: "Grimmy has given everything to Radio 1 over the past 14 years and he is loved by all of us who've had the pleasure to work with him. He helped to define Radio 1's young audience, is always supremely entertaining on air, and is an incredible radio talent. We wish him all the best but most of all – thank you!"
Meanwhile, Northern Ireland's Dean McCullough has announced that he will permanently join Radio 1 to host a brand-new weekend show (Friday – Sunday, 10:30am – 1pm). Dean was given his first opportunity to host on Radio 1 over the 2020 festive period as part of Radio 1's Christmas Takeover where 33 new DJs and presenters were given a once in a lifetime opportunity to broadcast on the UK's biggest youth radio station, and has since hosted Friday Early Breakfast on the station.
Dean's first show will be on Friday, 10 September. Dean's new show will be broadcast from Salford and is the first Radio 1 programme to move out of London as part of the BBC's Across the UK plans, announced by the Director-General earlier this year.
Dean McCullough says: "When I applied for the Christmas cover gig in December I didn't think for one second that I'd get it never mind landing my own show 6 months later, I'm absolutely buzzing. So let me get this straight, we get to hang out every weekend, cause absolute CHAOS and party to all the biggest Radio 1 anthems? That's iconic!
"This one's for my people in Manchester and my wee country of Northern Ireland, we did it!"
In addition to the new shows being announced today, Victoria Jane will be joining Radio 1 to launch a new show – 'Radio 1 Future Soul'. Musically it'll be a blend of R'n'B, Neo-Soul and all related genres from across the UK, influenced by the musical scene from the North, and broadcast from Salford. Victoria Jane was also one of the 33 presenters who took part in Radio 1's Christmas Takeover, hosting DJ Target's simulcast show on Radio 1 and 1Xtra.
Victoria Jane says: "I honestly can't believe I am now a presenter on Radio 1. I don't think it will ever sink in, it's honestly a dream come true. I'm so happy to be another northern female voice on the BBC and to be hosting a show that I dreamt of as a little kid is honestly a fairy tale!"