Audio Content Fund awards grants to 13 new radio projects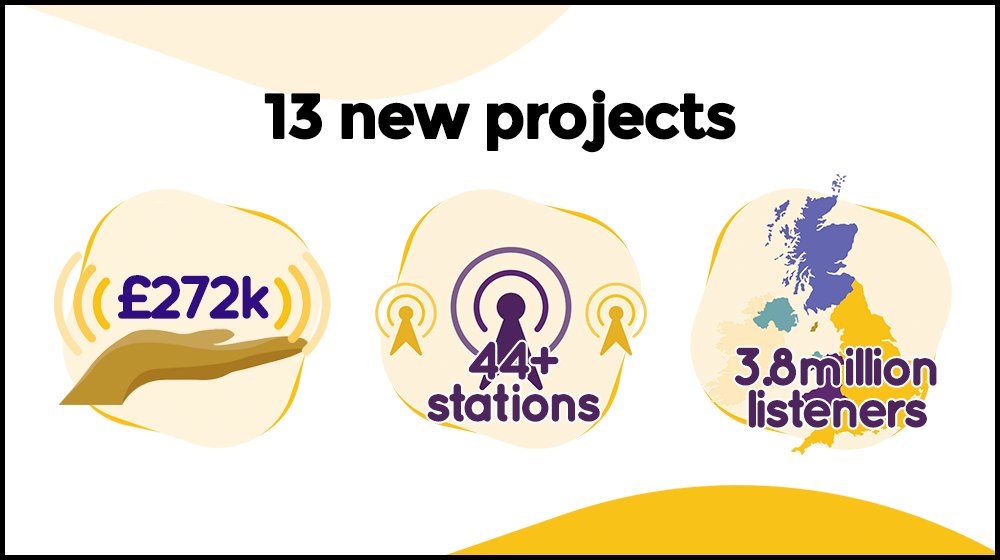 New content from 13 audio projects will air on at least 44 radio stations thanks to the latest awards from the Audio Content Fund.
Projects include documentaries, comedy, current affairs and kids radio in the latest round which gives £272k of grant funding for new public service content.
Each project will be produced by a different independent production company and the ACF has announced it will be working with distribution company The Local Media Network for the first time to expand the reach of the community radio projects to even more stations.
The funded projects are:
Cool Skool Sketch Show (working title) – Unusual Productions, for KMFM
A ten-part, short-form comedy sketch show series written, performed, and produced by Kent schoolchildren – with a little bit of help from professional writers and comedians.
Scat's The Way It Is – Spiritland Productions for JazzFM
Legendary hip-hop artist Master Gee (The Sugarhill Gang) hosts a two-part series tracing the influence of early scat on the rappers of the 80s and 90s.
Truthdiggers – Bafflegab Productions for Fun Kids
A true-crime series for kids, in which the listeners crack the case! School friends Morgana and Alfie pursue a notorious cold case and encounter pirates, vampires, aliens and more.
Unstoppable – Burning Bright Productions for talkSPORT
Showcasing inspiring stories that celebrate disabled heroes from the sporting world, with a series of beautifully crafted, two-minute pre-recorded portraits for the Paralympics.
Dead British – Folder & Co for Union Jack
An improvised comedy interview show, where the interviewer knows the person from British history they are meeting, but the improviser has no idea who they are about to play.
XS Manchester's Voice – Audio Always for XS Manchester
A series of Sunday night current affairs talk shows focussing on local Manchester stories from the past seven days.
Songs From Amy's Jukebox – We Are Grape, for Absolute Radio
A two-hour special, marking the 10th anniversary of Amy Winehouse's passing, by curating music from Amy's actual jukebox of records, with insights from her friends and family.
My Instrument and Me, with Bekah MacLeod – Demus Productions, for Community Radio in Scotland (Gaelic)
Isle of Skye-based Bekah MacLeod (Bekah NicLeòid) presents a six-part conversation series with a variety of musical masters celebrating traditional Scottish music.
Tigeropolis – Belle Media, for Fun Kids and Community Radio in Scotland (English/Gaelic)
A comedy adventure series for kids, where a family of vegetarian tigers set out to save the planet. Light-hearted, with a strong conservation message, building on COP26 themes.
Fear of Missing Out – BoldFace, for Community Radio
A series all about what we wish we'd learnt at school – from the Highland Clearances to Empire Windrush – illuminating misunderstood British history to contextualise life today.
Coal's Last Chapter – Smoke Trail, for Community Radio
A series of original features will bring to life the story of coal, told by the communities that lived it, from immigrant workers to matriarch miners. The series will also look at the environmental legacy of coal, speaking to a new generation about climate change.
Catch of the Day – Sparklab, for Community Radio
A series of five features about the state of the fishing industry in the UK today, aiming to find out what life is really like for our coastal communities and what the future may hold.
Would Like To Meet – Exeter Phoenix, for Community Radio
The pandemic was rubbish for dating. But for disabled people, the dating game has long been something of a twilight zone. Goz Ugochukwu, comedian and wheelchair user, is looking for love, updating friend Lucy Bell on progress in this six-part documentary series.
Rob Littlejohn, Panel Member of the Audio Content Fund, said: "This was a fantastic round of ACF submissions for my first panel, and the selection process was tough but really stimulating. At a time that remains challenging for creatives across the board, the sheer range of quality, diversity and community-focussed proposals was brilliant. Being part of the ACF panel has given me an inspiring confidence for what public service radio can offer. I look forward to hearing all of the ideas come to life on air."
Announcing a pilot partnership with The Local Media Network, Sam Bailey, Managing Director of the Audio Content Fund, said: "We always want to make sure that as many listeners as possible can hear our funded projects, so we're delighted to be working with LMN to push the community radio projects as far as we possibly can. I've been really impressed by the work they've done with some individual suppliers in previous rounds, and I'm excited to see how many more communities they can reach with this round's fascinating-sounding documentary projects."
All the projects will be produced and broadcast in the next 12 months. The next ACF funding round opens on 7 September for projects to be broadcast in 2022. Full details of the projects can be found at audiocontentfund.org.uk