Dunkin' ads can change music to adapt to genres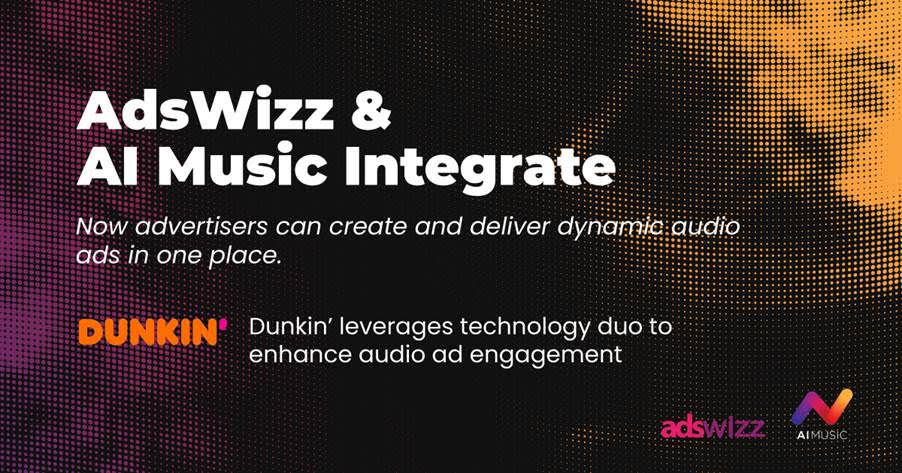 AdsWizz and AI Music have signed an agreement to bring AI Music's Sympaphonic Ads technology to AdsWizz AudioMatic DSP, the company's audio and podcast ad buying platform.
The integration means that brands and agencies using AdsWizz AudioMatic can enable the background audio of the ads to automatically adjust to the listener's music genre, in real-time when the ad is played.
The technology also has been shown to result in more ad engagement, and to significantly cut production time for brands and agencies, while delivering a more personalised ad experience. Under the terms of the agreement, AdsWizz AudioMatic is the only ad buying platform that can take advantage of this technology for digital audio advertising.
Dunkin' is one of the first to tap into the joint solution to enhance the way they engage with listeners.
"We're excited to be working with AI Music to bring Publicis Inspire Media Engine and Dunkin' new digital audio ad experiences," said Pierre Naggar, SVP of Global Demand, AdsWizz.
"Pilot campaigns have shown advertisers' positive results with an average of 95% decrease in production time, 5x greater efficiency compared to standard audio tactics, and 238% higher engagement compared to non-personalized ads."
"AdsWizz is the ideal partner to bring this solution to market" said Siavash Mahdavi, CEO of AI Music.
"We believe that this will enable brands and agencies to more closely engage with their audience, as they can create audio ads at scale that are less disruptive for listeners."
"We're thrilled to be one of the first brands to run campaigns using the Sympaphonic Ad product with AdsWizz, in collaboration with Publicis Inspire Media Engine, as we promote our espresso platform and highlight our new non-dairy offerings," said Keith Lusby, VP of Media at Dunkin'. "Leveraging the AI ad product gives listeners a seamless, personalized ad experience."
The solution is available today in beta to agencies and trading desks globally that use AdsWizz AudioMatic DSP, and to publishers that use AdsWizz AudioServe Campaign Manager.