The 2021 British Podcast Awards – full winners list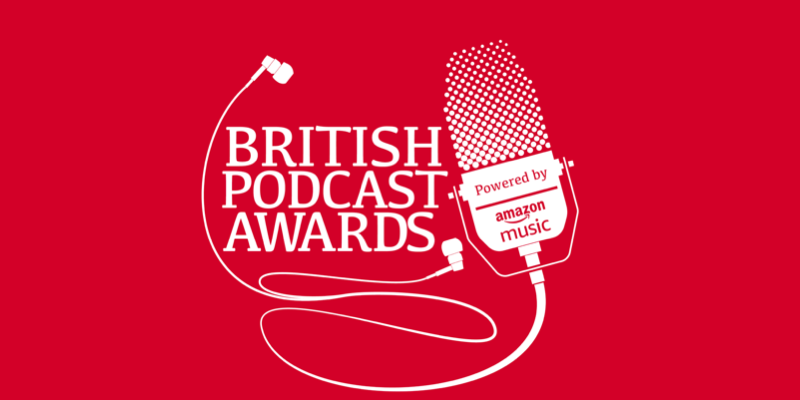 All the winners have been announced for the 2021 British Podcast Awards powered by Amazon Music at Brockwell Park in London, hosted by Jordan North, William Hanson and Poppy Jay.
Guest presenters at the event also included Fearne Cotton, Jessie Ware, Oti Mabuse, My Dad Wrote A Porno, Vick Hope, Dr Rangan Chatterjee, Kurupt FM, No Such Thing As A Fish and Deborah Frances-White.
It was a knock-out evening for VENT Documentaries, a podcast that shares the formative experiences of young people in the London borough of Brent. They pick up three awards – Smartest Podcast, Best Documentary and the prestigious Podcast of the Year, an award won by Brown Girls Do It Too in 2020 and George The Poet in 2019.
One of the biggest awards of the night, the Podcast Champion, went to Fearne Cotton, host of Happy Place, for her efforts to open up the mental health conversation and her work in the wellness podcast space, which she has not only created but truly defined.
The Spotlight Award, which recognises a podcast reaching the masses and was presented by Vick Hope, was awarded to Grounded with Louis Theroux, the first season of which showcased a brilliant selection of high profile guests who open up in unexpected and vulnerable ways.
Moment of the Year was awarded to Where Is George Gibney? while last year's Spotlight Award winner, Deborah Frances-White, presented Best Arts & Culture podcast to Real Dictators. Best Interview went to Dead Honest while the fresh, diverse and creative Tough Talks from Hits Radio Pride pinched the top spot in the Best Sex & Relationships category. Who Killed CJ Davis? was chosen as Best True Crime.
In one of three new categories for 2021, Stolen Goodbyes won Best Lockdown podcast, which tells the stories of those who died from Covid-19 without having the chance to say goodbye. Best New podcast went to Field Recordings, a perfectly timed and beautifully produced podcast transporting listeners to the great outdoors whilst being confined to their own homes.
The only award voted for by the public, the Listeners' Choice Award saw over 140,000 votes cast. The top spot this year was won by RedHanded podcast, with Shag*ed Married Annoyedtaking silver place and Football Weekly in bronze.
The full list of winners are below.
PODCAST OF THE YEAR supported by Sony Music
Presented by Dr Rangan Chatterjee
VENT Documentaries
PODCAST CHAMPION
Presented by Miranda Sawyer
Fearne Cotton
LISTENERS' CHOICE AWARD
Presented by Jordan North, William Hanson, Poppy Jay
RedHanded
MOMENT OF THE YEAR supported by Acast
Presented by My Dad Wrote A Porno
Where is George Gibney?
BEST ARTS & CULTURE PODCAST supported by Create Podcasts
Presented by Deborah Frances-White
Real Dictators
BEST BRANDED CONTENT supported by Acast Creative
Presented by Jay Rayner
Gardening with the RHS
BEST BUSINESS PODCAST supported by Wondery
Presented by No Such Thing As A Fish
Doing It For The Kids
BEST COMEDY PODCAST supported by Stitcher
Presented by Danny Wallace
Kurupt FM
BEST CURRENT AFFAIRS PODCAST
Presented by John Sweeney
Your Broccoli Weekly
BEST DAILY PODCAST supported by Spotify
Presented by James Barr
The Intelligence
BEST DOCUMENTARY PODCAST
Presented by Zeze Mills & Sideman
VENT Documentaries
BEST ENTERTAINMENT PODCAST supported by Amazon Music
Presented by Oti Mabuse
Stars In Your Ears
BEST FAMILY PODCAST
Presented by Gaby Roslin
Maddie's Sound Explorers
BEST FICTION PODCAST
Presented by Maddie Moate
This Thing of Darkness
BEST INTERNATIONAL PODCAST supported by Podfront UK
Presented by Sangeeta Pillai
Revisionist History
BEST INTERVIEW PODCAST supported by Podbible
Presented by Jordan North, William Hanson, Poppy Jay
Dead Honest
BEST LOCKDOWN PODCAST supported by Amazon Music
Presented by Fearne Cotton
Stolen Goodbyes
BEST NEW PODCAST supported by Field Recordings
Presented by Rubina Pababi
Field Recordings
BEST RADIO PODCAST supported by DTS AutoStage
Presented by Jordan North, William Hanson, Poppy Jay
The Skewer
BEST SEX & RELATIONSHIPS PODCAST
Presented by Grace Dent
Tough Talks from Hits Radio Pride
SMARTEST PODCAST supported by Podfollow
Presented by Kurupt FM
VENT Documentaries
BEST SPORT PODCAST
Presented by John Robins
GIANT – A Spotify Original
BEST TRUE CRIME PODCAST
Presented by Helen Zaltzman
Who Killed CJ Davis?
BEST WELLBEING PODCAST
Presented by Gemma Styles
Discovering Dementia
BEST NETWORK
Presented by Jordan North, William Hanson, Poppy Jay
Economist Radio
BEST PODCAST IN WELSH
Presented by John Robins
Dewr
SPOTLIGHT AWARD supported by Global
Presented by Vick Hope
Grounded with Louis Theroux
BULLSEYE AWARD supported by Global
Presented by Steven Bartlett
SomeFamilies
CREATIVITY AWARD supported by Audible
Presented by Max & Harvey
Interconnected Voices