Radio City founder and former MD Terry Smith has died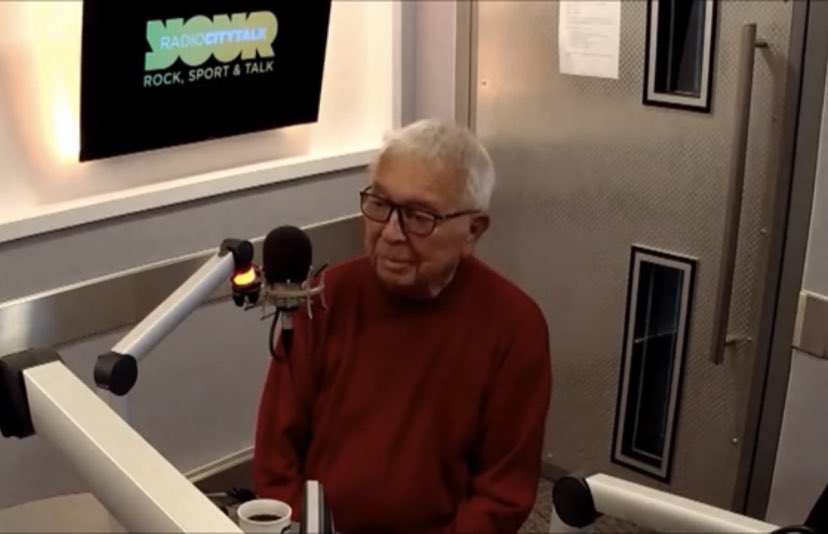 Radio City founder and IRN Chairman Terry Smith has died at the age of 87 following a short illness.
He passed away at Arrowe Park Hospital in Birkenhead in the early hours of Sunday 15th August.
A former journalist with Granada TV and the Sunday Express, Terry moved to Liverpool in the early 1960s beginning a long association with the city, where he first set up the Mercury Press Agency. This developed into a major provider of news, sport, features, and pictures to all the UK's national newspapers and radio and TV organisations.
Then in 1973 he formed the group which won the franchise for Liverpool's first commercial radio station. For 17 years he was Managing Director and when the station was sold to the EMAP group he was appointed Chairman of the station and became Chairman of EMAP's radio division before eventually retiring in 2013.
Over the years Radio City has won numerous awards not just for its journalism but also for its support of the arts, community service and charitable activities.
Terry was a lifelong Liverpool fan and he achieved his dream role when joining the LFC board following Bob Paisley's retirement as club director in 1992 and continued in his role until the sale of the club to Tom Hicks and George Gillett in 2007. One of his proudest moments was being with the club in 2005 the night Liverpool won the Champions League in the 'Miracle of Istanbul'.
Following the Hillsborough disaster in 1989 Terry played a leading role in the appeal fund which raised more than half a million pounds. The appeal featured a special show at the Empire Theatre in Liverpool with a host of famous local entertainers as well as the re-mixing and re-issuing of Gerry Marsden's famous recording of "Ferry Across the Mersey", which topped the charts for seven weeks. In 2004 Terry received an Honorary Fellowship from John Moore's University in Liverpool for his services to radio and the local community and in 2015 he was appointed Chairman of the Empire Theatre Trust.
Terry was recently honoured by the IRN Board in commemoration of his 30 years as Chairman of the Company. During his stewardship of IRN the commercial radio industry underwent dramatic changes and much consolidation but throughout this period IRN has remained a reliable and profitable news partner for the industry. Terry played a big part in this stability and was instrumental in leading the company away from an unprofitable owned newsroom model towards an outsourced managed service model, partnering with ITN's greater newsgathering scale and then in 2009 moving over to Sky News.
IRN Managing Director Tim Molloy paid tribute, "I was very saddened to learn of Terry's death today and my thoughts are with his wife Pam and family.
"Terry was my boss for 18 years but more than that he has been a mentor and wise counsel on many invaluable occasions and I will miss him greatly."
Terry lived in Hoylake with his wife of 37 years Pamela and had two sons and a stepdaughter.
I just want to say how terribly sad I am to hear about Terry's death. He truly was a legend in radio. For decades Radio City was THE place to work as a journalist, and I remember my time there so fondly. My thoughts are with his family and friends today. Liam O'Donoghue BBC NWT

— BBC North West (@BBCNWT) August 15, 2021
A titan of the UK media industry and massively influential commercial radio pioneer. Thoughts with his family, friends and former colleagues. Pictured with @PeteWatermanOBE at the Radio City 40th Birthday Celebration in October 2014. pic.twitter.com/P85yvN0IqE

— Al Stirling (@alstirlingUK) August 15, 2021
I'll never forget meeting Terry with Richard Maddock in London when they were recruiting for City Talk. Listening to him talk about Liverpool and radio was enough to make me join their team. A proper radio legend. RIP Terry.

— Duncan Barkes (@DuncanBarkes) August 15, 2021
We're sad to report the passing of Radio City founder Terry Smith, who ran the station for 35 years.

Rest in peace Terry, and thank you pic.twitter.com/scWHkUPHUI

— Radio City 96.7 (@RadioCity967) August 15, 2021