Radio Academy announces new mentoring programme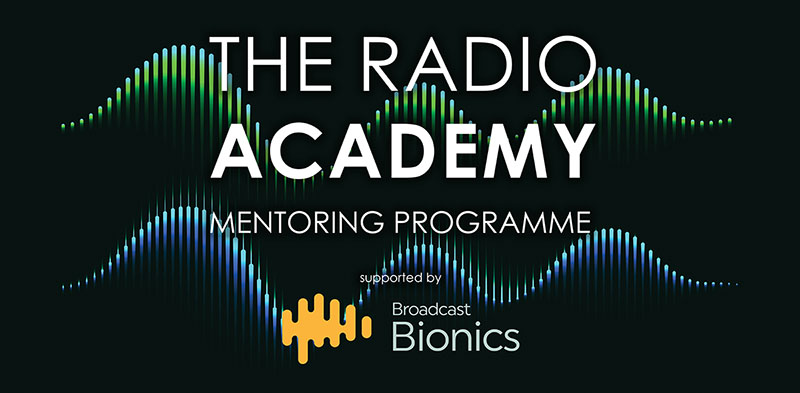 The Radio Academy has opened applications for the first pan-industry mentoring scheme for people in the UK radio and audio sector.
RAMP – The Radio Academy Mentoring Programme – is supported by Broadcast Bionics, and is designed for mid-career professionals who are ready to take a significant step in their careers.
Applications are welcome from people working in all disciplines including production, presentation, journalism, technology, craft, commercial and support roles, and RAMP is open to anyone with a minimum of five years' professional experience.
A total of twenty mentoring places will be available, and mentees will be carefully matched with an industry leader that suits their challenge, for six mentoring sessions taking place monthly from January next year.
Successful applicants will also form a 2021 Cohort network, with peer-to-peer feedback, access to group seminars, and networking events designed to boost confidence, enhance skills, and provide ongoing support.
Mentors already signed up to share their experience and knowledge include Scott Taunton (CEO of Wireless), Lorna Clarke (Controller BBC Popular Music), Mohit Bakaya (Controller, BBC Radio 4), Chris Skinner (Vice President, Entertainment Podcasts UK, Somethin' Else), and Rebecca Frank (Content Director, KISS), who said: "I've been lucky enough to have had mentors who have boosted my energy, helped me realise what I wanted and enabled me to go for it.
Being a mentor is an incredibly rewarding, stimulating and humbling role to take on, for someone wanting to demystify things or to take their next step. Mentoring, quite frankly, makes the world go round, and I can't wait to connect with new people, and learn things myself along the way."
RAMP will be facilitated by Hannah Corneck, an executive coach, training designer and professional development consultant with over 30 years'
experience in TV and radio.
Hannah said: "Mentoring has the potential to bring about major transformational change for people, by connecting them with industry experts to help fulfil their potential. It is a powerful partnership of experience and ambition that grows confidence and courage to make brave decisions. I would urge everyone to take advantage of this energising and dynamic experience that The Radio Academy is offering, and I can't wait to get started."
Duncan Smith, General Manager of Broadcast Bionics, said: "Broadcast Bionics are pleased to support the Radio Academy Mentoring Programme. As developers of the industry-standard products in audience engagement and communication for Radio and TV, and as a global leader in software development and hardware distribution, Bionics' unique relationship with the world's leading broadcasters and suppliers enables us to innovate products and provide services which have transformed our industry.
"By helping to foster these mentoring relationships, Bionics hopes to help the industry continue to innovate and further assist in delivering some of the world's most compelling broadcast content."
More information about The Radio Academy Mentoring Programme is available now at radioacademy.org, where applications are open until 27 September.
A special Zoom webinar hosted by Hannah Corneck and Radio Academy Managing Director Sam Bailey will be held on 15 September for anybody that has questions about the scheme.