All the winners from the Communty Radio Awards 2021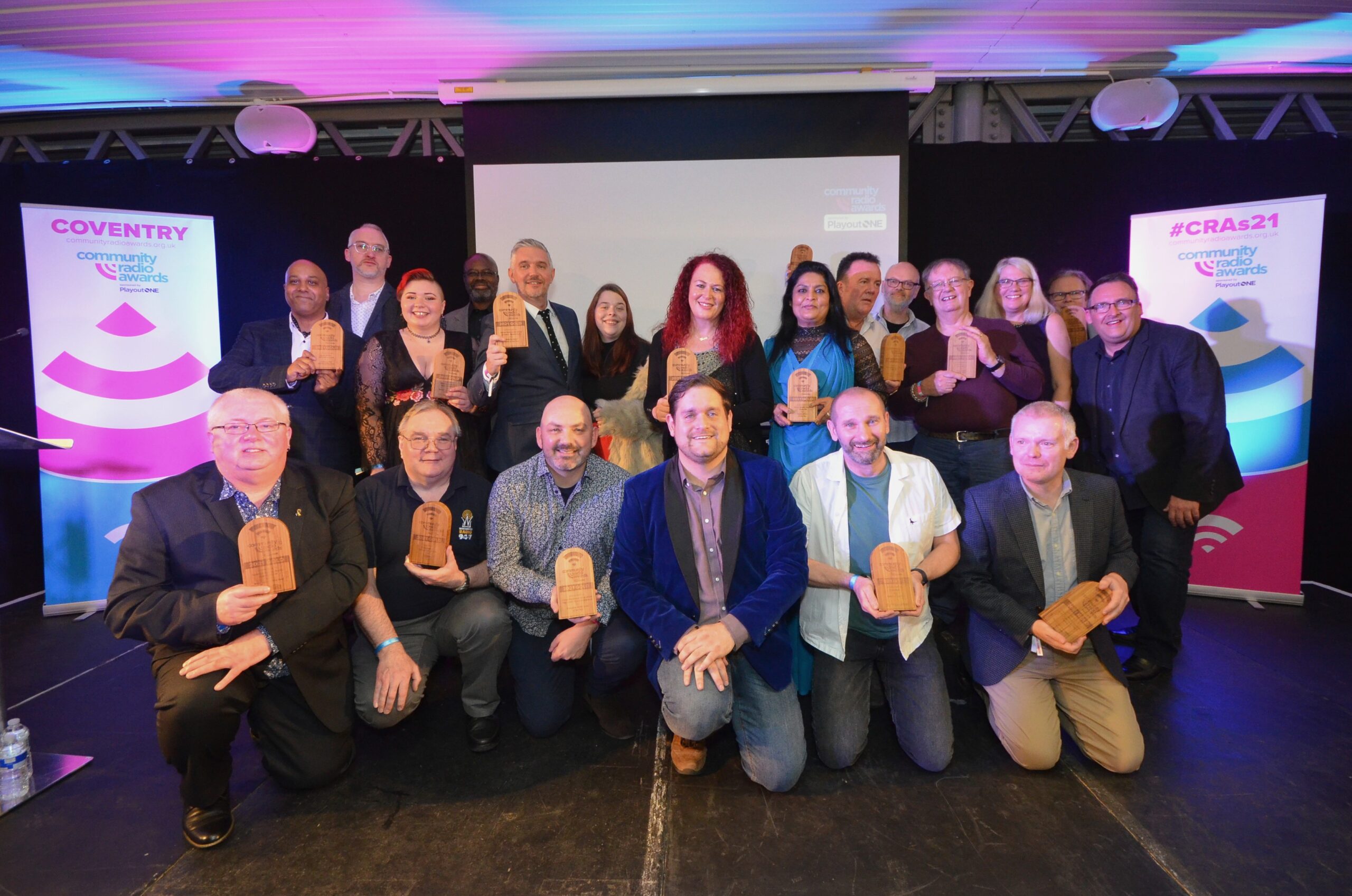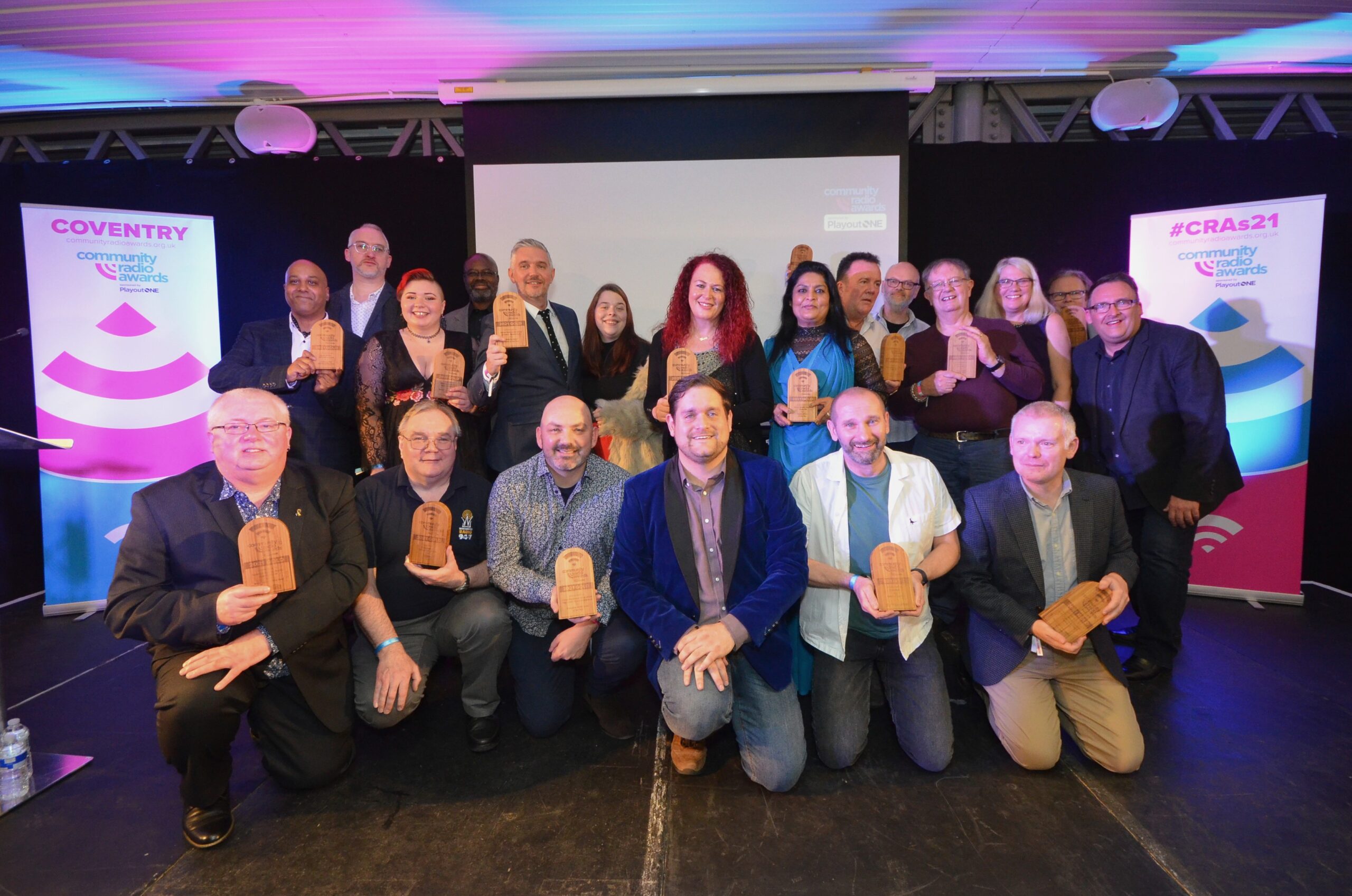 The best of Community Radio has been rewarded in a face-to-face event in Coventry over the weekend.
This year's event was also the Premiere for the new Honours, with six exceptional candidates recognised for their contributions to community radio, presented by awards director Maxine Jones.
Martin Steers, awards chair, said: "It was fantastic to host the Awards in person once again. More than 200 people from up and down the country came together to celebrate success through a pretty tough year.
"As ever, the judges tell me how impressed they are with the output of our sector, and how year on year, it steps up a level."
"It was great to see the awards follow a successful first conference organised by the UK Community Radio Network."
Nadine Dorries, Secretary of State for the Department of Culture, Media and Sport, said, in a video played at the start of the awards: "It's so great to see such a huge variety of nominees, and you all thoroughly deserve your nominations."
Community Radio Honours
Audrey Hall
Danny Lawrence
Graham Laycock
Nathan Spackman
Soo Williams
Tony Hall
Community Development Project of the Year
Bronze Business Watch – Academy FM Thanet
Silver A Space to Speak your Mind – SourceFM
Gold The 4PS Radio Training School – Vectis Radio
Station of the Year – Sponsored by PlayoutONE
Bronze Sheppey FM
Silver Heartland FM
Gold Pride Radio
Female Presenter of the Year
Bronze Amelia Slaughter – Marlow FM
Silver Katherine Liley – Heartland FM
Gold Suzie "Sparkles" Stevens – LCR FM
Male Presenter of the Year
Bronze Ste Greenall – Black Cat Radio
Silver Kev Lawrence – PCR103.2FM
Gold Lewis Bowden – BFBS Catterick
Community Show of the Year
Bronze A Space to Speak your Mind – SourceFM
Silver The Kev Lawrence Breakfast Show – PCR103.2FM
Gold Christmas Day Radio Festival of Carols and Readings – Black Country Radio
Live Event or Outside Broadcast of the Year – Sponsored by In:Quality
Bronze Scottish Parliamentary Elections 2021 – Heartland FM
Silver The Marlow Christmas Drive-In – Marlow FM
Gold The Falmouth Remembrance Service – SourceFM
Entertainment Show of the Year
Bronze Lewis Bowden's Afternoon Show – BFBS Catterick
Silver Natasha Reneaux Entertainment Show – BFBS Aldershot
Gold Switch Radio's Christmas Crackers – Switch Radio
Speech & Journalism of the Year – Sponsored by RadioToday
Bronze One Voice Radio Series: Chinese life in Britain – allfm
Silver Dad raises funds for MIND, in memory of his son – Black Cat Radio
Gold Down on the Farm – Spark Sunderland
Arts & Creative Radio of the Year – Sponsored by the Audio Content Fund
Bronze Camelot – Chelmsford Community Radio
Silver The Spooky Hour, by The Saturday Writers and Jonathan Pagden – Wycombe Sound
Gold Beginning Of The End – Radio LaB 97.1FM
Specialist Music Show of the Year
Bronze Around the World – Lisburn's 98FM
Silver The Rock Shop with Michelle Livings – Marlow FM
Gold Dance Revolution Chart of the Year 2020 – Spark Sunderland
Sports Show of the Year
Bronze K107 Saturday Sports Show – K107FM
Silver Sports+ – Purbeck Coast FM
Gold Daily Life with Rajani – Awaz FM
Volunteer of the Year
Bronze Kevin Ridgeon – Andover Radio
Silver Andy Rankine – Drystone Radio
Gold Nigel Dallard – Winchester Radio
Young Person of the Year (under 25)
Bronze Aimee Cordwell – Sheppey FM
Silver Yanis Kerampran – Ipswich Community Radio
Gold Lewis Allsopp – Erewash Sound
Sage Person of the Year (over 60)
Bronze Susie Mathis – Wythenshawe FM
Silver Moz Walsh – allfm
Gold Kelvin Currie – Vectis Radio
Newcomer (new to radio in last 12 months) – Sponsored by The Radio Hub
Bronze Flight Sergeant James Bruce – BFBS Brize Norton
Silver Amelia Salmons – Erewash Sound
Gold Ashleigh Kennan-Bryce – Heartland FM
Innovation of the Year – Sponsored by Maxxwave
Bronze A Space to Speak your Mind – SourceFM
Silver Short Breaks in Lockdown – The 4Ps Radio Training School – Vectis Radio
Gold 12 Communities One Bristol – BCfm Radio – Bristol Community FM
Podcast of the Year
Bronze 12 Communities One Bristol – BCfm Radio – Bristol Community FM
Silver Rough Diamonds: True Colours – DWS AUDIO
Gold The Alfred Daily Podcast – This is Alfred
Digital or RSL Station of The Year
Bronze Ocean Youth Radio
Silver Petersfield's Shine Radio – Petersfield's Shine Radio
Gold Radio Wanno – HMP Wandsworth – Radio Wanno – HMP Wandsworth
Covid and Community Response
Bronze Coronavirus Update – Gateway 97.8
Silver Covid Response – BFBS Aldershot
Gold Hidden Heroes, Marlow's Quiet Night In, and more – Marlow FM