Day 1 at Radiodays Europe; Paul McKenna and more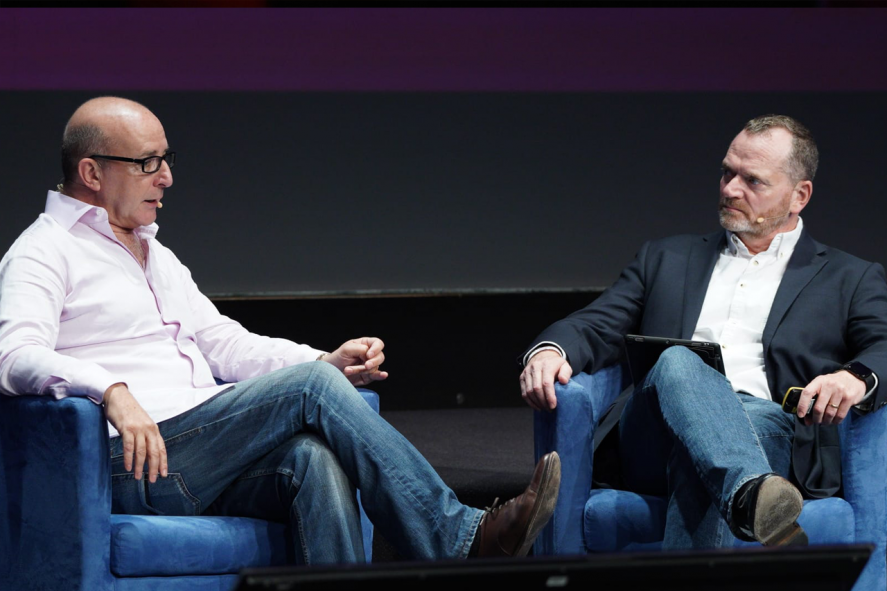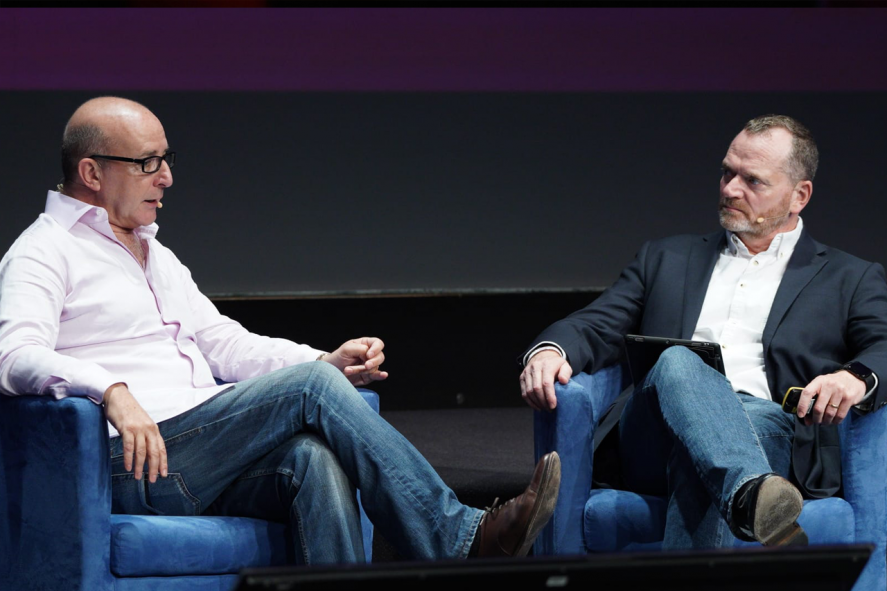 The much anticipated Radiodays Europe event is underway in Lisbon with day 1 seeing sessions from hypnotist and former radio presenter Paul McKenna, Adam Bowie from the BBC, KISS FM's Rebbeca Frank and Bauer's Tobias Nielsen.
Dino d'Santiago, the star of fado, opened the event with 'Nova LIsboa'.
Hosting the main room, "ReelWorld Track 1" this year once again is Paul Robinson and joining him as co-host is Inês Lopes Gonçalves a Radio and TV host from Portugal.
Here's what happened at some of the sessions on the first day.
Opening session
Peter Niegel, the General Manager of Radiodays Europe quoted Bruce Springsteen in saying 'it's a long time coming' and he encouraged everyone to reach out, and make the most of the ways they can talk to each other in-person and online.
A message was given to Radiodays Europe by the President of Portugal about regeneration and resumption of normal life and a need for people to be closer to the media and linked to new media, radio linked to visuals, audio, new platforms plus linked to people's new behaviours.
He was clear that radio is important and that 'There is no free society without media'.
'Radio remains a strong and relevant medium!… Listeners have more ways of listening than every before' Marianne Bugge Zederkof, Vice President of AER called for us all in the radio industry to continue to be relevant and deliver trusted news.
Edita Kudlacova from the EBU gave an overview of where radio, audio and podcasting is today. 1000 podcasts are launched everyday, Edita noted that this is a huge amount of new content. She asked the radio industry to focus on connected devices, and announced that all the big radio associations in Europe have asked on a political level to strengthen the policy on anti-competitiveness activities by connected voice devices.
RTP President, Nicolau Santos focused on the role of radio as a friend during the pandemic – which is reflected in more people listening to radio this year in Portugal than in 20 years. He ended with 'Let the Radio Games Begin!'.
Teresa Fragoso talked about the importance of gender equality in radio. Women make up 50% of the population and yet only hold 27% of management roles in media. Gender equality should be essential but if that isn't a good enough reason then Fragoso pointed out it is also good business. She ended with 'gender quality is everybody's responsibility'.
Adam Bowie, Business Development Manager at BBC World Service spoke about how radio and audio is habit-driven which was massively disrupted in the pandemic. The morning commute shifted to working from home and fewer people using public transport. Will listening return to 'normal', Adam Bowie doesn't think so – the world has shifted and with it so has the audio world.
Paul McKenna: an 'anything is possible' mentality
In a session with Francie Currie, Paul McKenna dedicated himself to studying success and learned techniques in neurolinguistics and clinical hypnosis. His career skyrocketed when, in 2008, Paul signed a contract with Discovery Channel.
He sold around 10 million books, and worked with David Bowie: "I was starstruck".
Paul told a story about his past: He had to interview a local hypnotist. The hypnotist lent him a book that was written by his future teacher. DJ by day and hypnotist by night, he had an "anything is possible mentality".
Then, someone approached him to do a hypnotism show. He went from being on the radio to people recognizing his face. Paul was somewhat overwhelmed at first and he quickly had to learn how to be a stage performer and then a television performer.
He helps professionals in several areas, but mostly in communication: "A lot of people deal badly with rejection". Paul trains them to overcome those kinds of struggles.
Paul's new book is about confidence and motivation. To exemplify the kind of themes discussed in it, he invited the audience to do an exercise in visualization.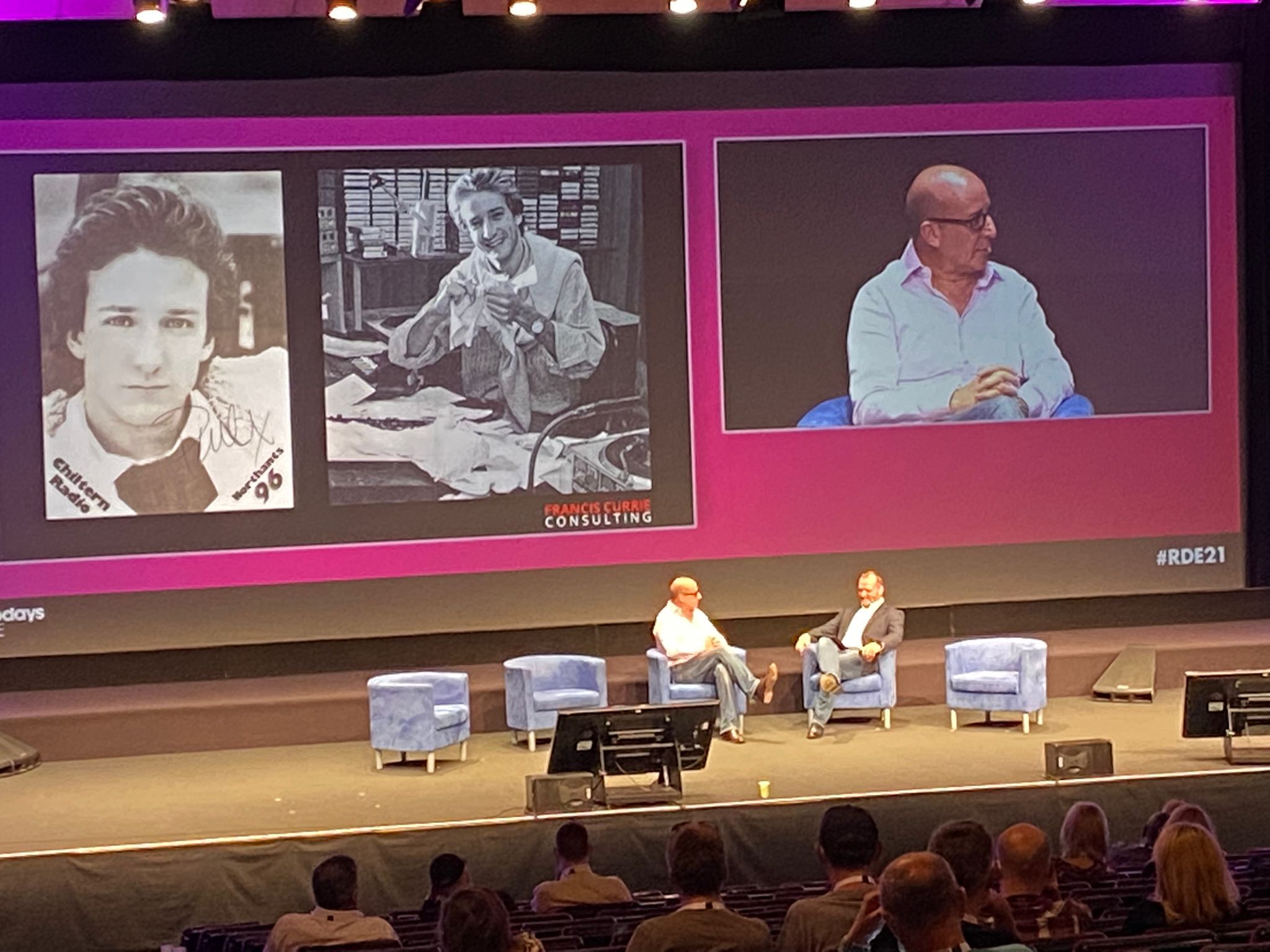 Radio revenue: making money by creating stories
Digital audio spots are more than just spots. Gavin Deans and Natalie Dooley from Media Central, Irish radio network, showed how their collaborative approach to advertising have innovated and made them "a one-stop shop".
Deans explains that the DNA of their radio network is made of different components, such as music, lifestyle, entertainment and sports. As Dooley added, "Ireland is a nation of storytellers", and also of radio, with 3.1 million daily listeners. To make audio spots stand out, they have to combine those two factors and go beyond taglines.
Embraced by their personality, that being the presenters, all of those topics become stories. "You have to trust the presenters that they are capable of delivering the message", stated Dooley.
Also in the panel, Joris Van der Pol (Managing Director of Talpa Network) explains that 40% of the media consumption in Netherlands is audio, but only 5% of media spend is audio.
The speakers left the audience with three points to consider to solve radio's marketing problem: logical (customers need it for its effectivity); new (to be innovative and interesting); desire (make creative content).
The future of Music Radio: "Streaming vs Radio?" – Rebecca Frank and Nick Goodman
The move to streaming is not a new thing. There's no need to use the radio to listen to music nowadays.
"It's not the fact that streaming has come around, it's about life having changed" – Lona Clarke
Rebbeca Frank, Kiss Content Director, explains that stations that have music-only sequences, need to "stop being lazy" and start making programs. Admitting that even radio workers go to work listening to Spotify, "there is nothing better for me than having a guide in music."
Besides that, there is a need to stop thinking about streaming and radio as enemies:
"We coexist, and make deals. Not one against each other." – Rebeca Frank
To Lorna Clarke, BBC, it is not music radio that has been attacked, or news radio. It's changing times, when at home, people go digital. To Sophian Fanen, a freelancer, there is a need to stop thinking about radio and to create podcasts.
Through the pandemic new channels emerged as an attempt to globalise radio, small channels streamed and compartmentalized in diverse genres so that audiences could adapt their preferences and listen to more radio.
Audiences became used to the power in modifying streaming sites to personal preferences, and that's the demand for radio to compete – give the listener a personal touch in radio – this modification in radio might happen in two formats: new radio station, provided by a mother station, or streaming branches connected to the station.
Creating the Hybrid Radio Experience in Cars: New technologies, new radio experiences
With the technology evolving comes the challenge to innovate. Nowadays, cars are demanding new ways of thinking about the radio experience.
Back in Track 4, Bob Dillon (Xperi), Roger Lanctot (Strategy Analytics), Nick Piggott (RadioDNS), Xavier Filliol (Radioline), Cas Adriani (Pluxbox) and Caroline Graze (Radioplayer) discuss the future of hybrid radio- with cars that have bigger screens and that also promote digital content.
Google is taking the dashboard and, if this happens, with only an app in the system it will be possible to have a hybrid radio. Making the process manageable for the radio industry is urgent. And there have been a lot of things helping to create the hybrid radio experience in cars.
"The broadcasters need to maintain the relationship with car makers" – Bob Dillon
This is important to make sure that they create a global solution when making the cars. On the other hand, Dillon states that, because of this urgency, there is a need to find an industry to represent radios globally, but not the car industry. As far as personalization goes, it creates a paradox. The quality is needed for the car companies want to have partnerships: if car companies share the user's data with radio stations – like the duration of their commute – it could would be possible to know if we needed to shorten our news program, for instance.
"The interaction with the audience is a benefit." – Roger Lancton
In USA, radio is not the first preference to car drives anymore. TV, Watches, and computers and podcasts have been adapting over time. There's a need to create a solution to make sure radio gets part in this new reality. Can be an app but there is more, like podcast or even different sites.
"Cars are not obliged to have radios but consumers expect them to come with them." – Caroline Graze
An upgrade solution is saying what the audience is listening to, so they don't need to use apps like shazam. And that doesn't happen in most in "nonstop" music programs, the radio knows what is playing, but the drivers don't. The sensitivity to know how to share the knowledge with the listeners.
Premium radio and the sweet spot for the listeners
Traditional radio is healthy, but there are challenges to tackle. Tobias Nielsen, Director of Audio+ Bauer UK, flagged up how important it is to reach a young audience when thinking of the future of radio.
Part of the vision of this project is to create more content, and think on an international level with more opportunities being created if a subscription model is added.
One of the attempts to make radio more appealing for that age group is to achieve what Nielsen describes as the "sweet spot" between something easy to use and flexible through subscription systems. The option to be able to skip a song is reinventing radio, giving listeners a choice and more control through a premium product.
Customers don't mind paying for content when it is worthwhile. Nielsen explains that there is a small group of listeners that are passionate about their favourite radio station and are willing to pay to listen to without ads in the middle.
The option of premium radio is complementary to the advertising business. They will forever advertise, while having the option of a premium as "something additional done in full respect of the advertisement world", explained Nielsen.
The point of a premium service isn't to sell it to everyone. Rather, it is to have a premium version for those who really enjoy radio and the programs, and are willing to pay to enjoy without ads.
The above reports are highlights from the Radiodays Europe official blog, which you can view here.
Writing credits: Michelle Coelho, Artyom Laptseu, Beatriz Figueira, Mariana Serrano, Andreia Simão, Gonçalo Borbinha and Francisco Sezinando.