MKFM thanked for supporting Captain Tom Moore fundraiser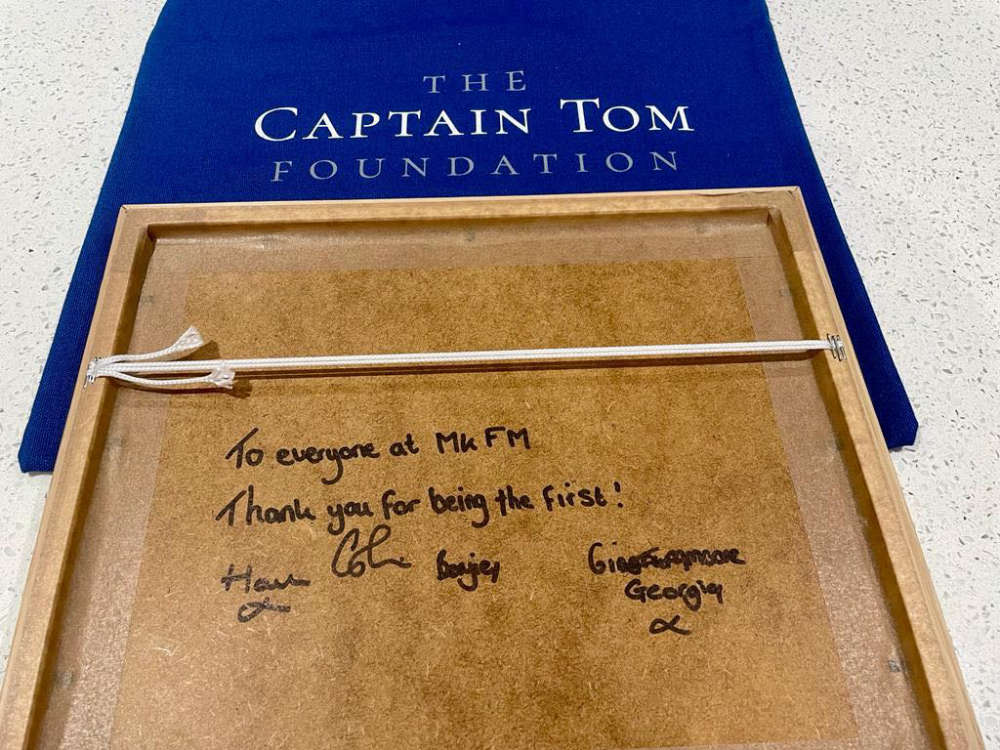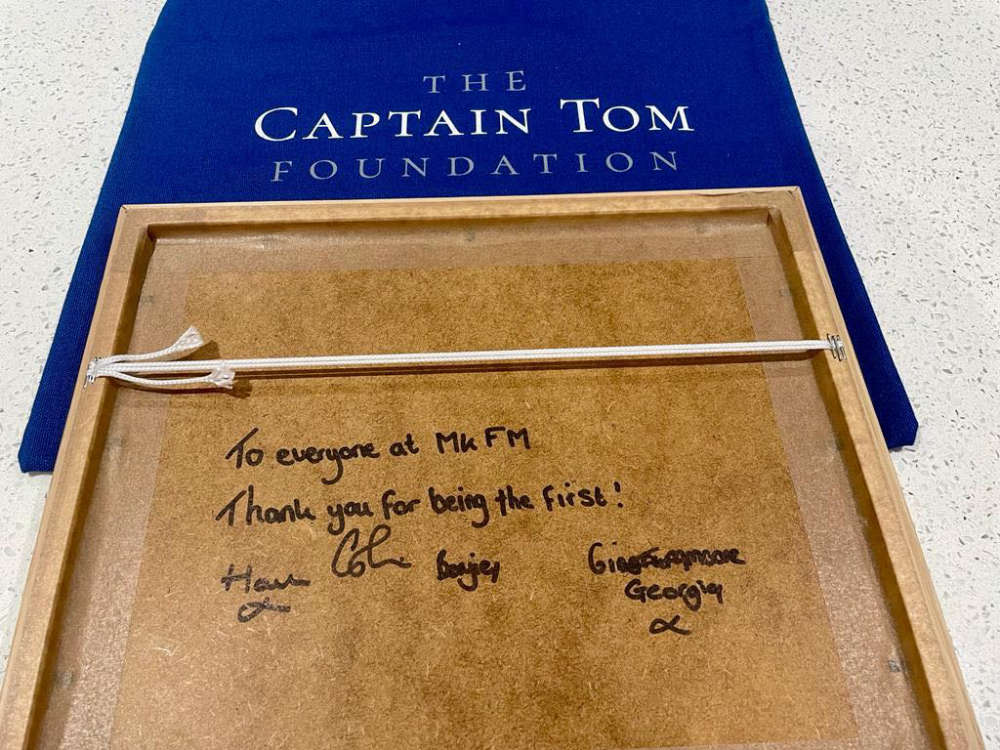 The family of Captain Tom Moore has thanked MKFM for being the first media organisation to get behind his fundraiser.
In early April 2020, during the first few weeks of the pandemic, a retired Army officer was walking laps around his garden at age 99, in an attempt to raise £1,000 for charity.
With help from his walking frame, he aimed to complete 100 laps of his garden before his 100th birthday.
One morning, Darren and Lia from the MKFM Breakfast Show received an email about the man named Tom Moore.
Within an hour the story, 'Local man is celebrating his 100th birthday by walking for the NHS' was on MKFM's website and social media pages along with an interview.
Hours later, Tom had reached his target with more and more money coming in for the NHS.
Three days later the story went national.
In the months following, the donations kept going, and on the morning of his 100th birthday, he had raised over 30million for the NHS and by the closure of the campaign later that day, he reached a total of £38.9 million including gift aid.
He went on to make international headlines. From Forbes in USA to the Independent and the BBC in the UK.
In recognition of his efforts, he was awarded the BBC Sports Personality of the Year Helen Rollason Award at the 2020 ceremony.
He also performed in a cover version of the song "You'll never walk alone" by Michael Ball. The charity single topped the UK music charts, making him the oldest person to achieve a UK number one.
Captain Tom Moore was knighted at Windsor Castle, in the Queen's first engagement after the first lockdown.
Sadly, the national hero Captain Sir Tom Moore passed away at age 100, after contracting COVID-19 in February 2021.
Captain Sir Tom Moore has received a guard of honour and his family have created a charity in his legacy.
On 1st January 2022, MKFM CEO Darren Dorrington met Sir Captain Tom Moore's family and was presented with a special gift for MKFM, thanking the team for their work along with thanks for being the first media organisation to get behind him.
Hannah Ingram-Moore, daughter of Sir Captain Tom Moore, told Darren: "We couldn't have done it without you and we certainly couldn't have done it without MKFM. We sent out a couple of messages, we thought maybe our local paper would take it in, but MKFM was behind us. From that story, it led to people around the world wanting to spread the message.
"We couldn't have done it without you."
Darren Dorrington MKFM CEO said "Sir Captain Tom and his family have been on an incredible journey since his story went viral during April 2020, we can't begin to tell you how much it means to the MKFM team that Hannah and family came to Stadium MK and acknowledged that MKFM were the very first to interview Captain Tom and publish his story. MKFM is very much looking forward to working with the Captain Tom Foundation on a number of exciting projects."
MKFM Presenter Michael Blades, the first person to interview Sir Captain Tom Moore, said: "I was hugely honoured to be able to speak with Captain Tom in the early days of his fundraising challenge. It was no surprise to me that he then captured the hearts of the nation as his story of courage and selflessness at a difficult time was so inspirational and lifted everybody's spirits.
"When I spoke to him his fundraising total was in the thousands, and he was shocked and humbled even then by people's generosity… of course, we had no idea what was going to happen next! A truly incredible man."