Comedians announced for BBC Asian Network's Comedy 2022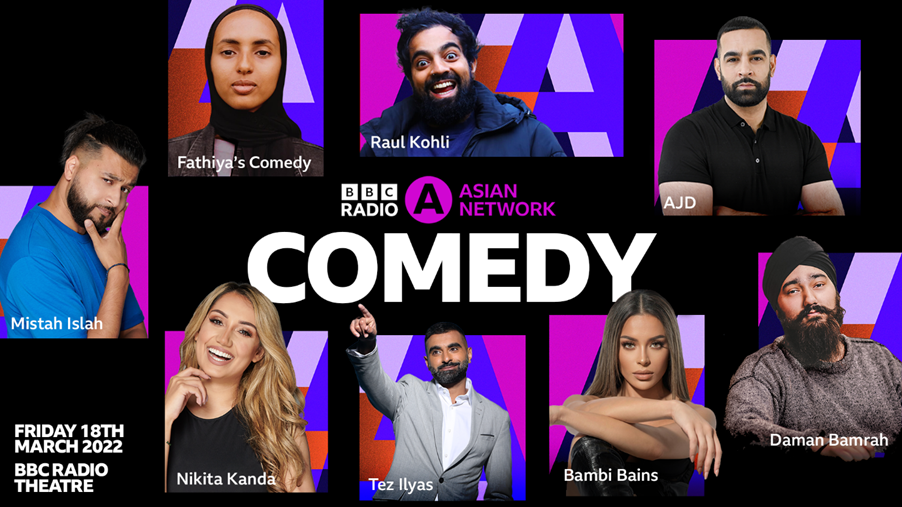 BBC Asian Network has announced its line-up for Comedy 2022 during Harpz Kaur's breakfast show this morning.
The event will return as a live comedy event on Friday 18th March with headliners including Tez Ilyas, Raul Kohli, Fathiya's Comedy and Daman Bamrah.
Recorded in front of a live studio audience at the BBC's Radio Theatre, tickets are free of charge and are available now through the BBC Asian Network website.
The event will also feature a live music performance from Birmingham-born singer and dancer Bambi Bains.
Previously supported by BBC Asian Network and hot off her latest collaboration with Afro B, Bambi has released global hits including Retro Rarri and Khayaal. While AJD will keep guests entertained as the resident DJ for the night.
Ahmed Hussain, Head of BBC Asian Network says: "Asian Network Comedy returns after three years! This revamped offering includes live music and a DJ – so get ready for a proper night out! I'm really pleased to be able to showcase brand new comedy talent from across the UK, alongside household names and I think we've all waited long enough to get out there and have a proper laugh!"
The show will run from 8 – 9:30pm on Friday 18th March 2022 and highlights of all performances will be available on BBC iPlayer in the weeks following the event.