Sing along station Absolute Radio Natalie has launched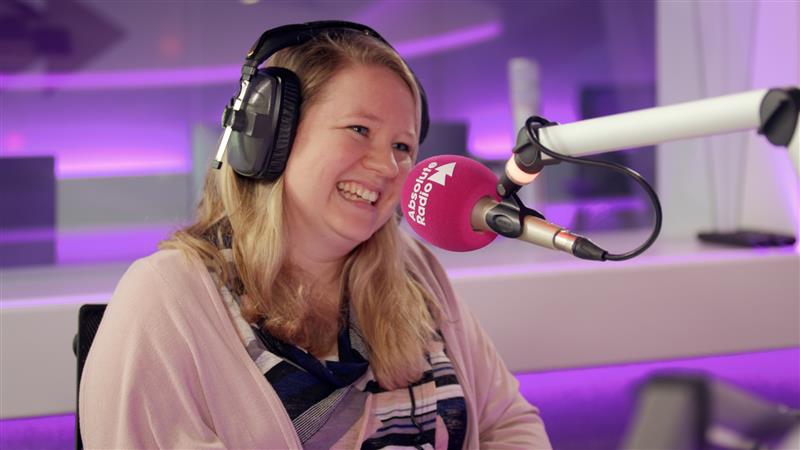 Absolute Radio has delivered its latest prize – a complete personal radio station – to a listener called Natalie Cole.
Absolute Radio Natalie – where sing-alongs matter – started at 8am today via the Dave Berry Breakfast Show.
Natalie says she came up with the idea for a sing-along station whilst working at home when realising that although Absolute Radio's playlist gave her a lot of songs to sing along to, there were perhaps a few more that she would like to add into the mix.
These included Disney classics, epic show tunes, boyband ballads and some pop magic from Kylie Minogue.
After pitching the idea live on air to Dave Berry and the Absolute Radio Breakfast team Natalie was hopeful that she might be chosen as the winner but said she hadn't really thought about the consequences of her actions and was feeling a lot of pressure to pick the perfect playlist for her station, especially after so many other great entries.
On Tuesday Natalie went into the Absolute Radio studios in London to meet the breakfast team and record all the features and links for her very own station.
She was joined by Breakfast Presenter Dave Berry for the morning who gave her some pointers on presenting on the radio and she even managed to grab herself a chat and a selfie with Manchester icon Liam Gallagher whilst he was in the building.
"I still can't believe I won, it all feels really surreal to be honest" said Natalie, "It has been an amazing day, everyone has really put me at ease, and I have had so much fun taking part in all the features. I keep listening back and thinking that doesn't sound like me! I just really hope everyone enjoys listening to the station and singing along."
You can listen in the free Absolute Radio App, online or ask your Amazon Smart Speaker to, 'Play Absolute Radio Natalie' during February.
#AbsoluteRadioNatalie is launching this coming FRIDAY MORNING and it's going to be pretty special. A station where #RealSingAlongsMatter

P.s… we wouldn't be Absolute Radio if we didn't get a Gallagher involved would we?! pic.twitter.com/p8b8xqNn4g

— Absolute Radio (@absoluteradio) February 2, 2022