KISS creates new partnership with the Rio Ferdinand Foundation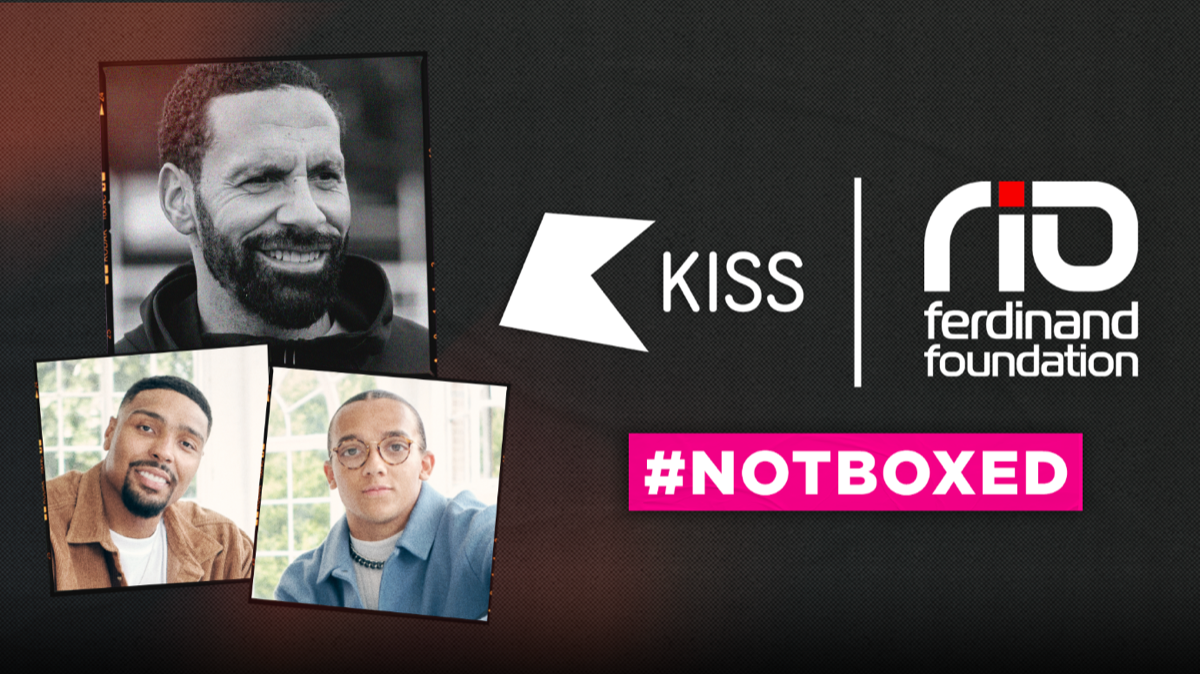 KISS Breakfast's Jordan & Perri have announced a new KISS partnership with the Rio Ferdinand Foundation to raise awareness and drive change in the way young people are supported in building their futures.
Together they have launched #notboxed, a campaign featuring a programme of events and opportunities to drive new investment and support from business and government, other decision-makers and people in power.
The campaign follows new insight from a KISS survey of 16-24 year olds which found that there is a significant knowledge gap in how young people can kickstart their careers.
The study echoes recent government figures which showed that 467,000 16-24s in the UK are currently unemployed, and 1 in 9 young people are now not in employment, education, or training.
The campaign will see KISS shine a light on real stories and amplify the work the Rio Ferdinand Foundation aims to do over the next year.
Rebecca Frank, Content Director for KISS said, "Compounded by the post-Covid landscape, the need to develop skills and gain meaningful employment and social mobility for young people is more urgent than ever. There isn't one type of person in need here – its everyone. Together with the Rio Ferdinand Foundation, we will work with young people to inform, drive awareness and create real impact."
KISS Breakfast presenters Jordan and Perri said, "It's such a fragile time for young people in the UK with the pandemic having shattered already difficult times in finding their next steps in life. We're proud to stand by Rio's mission in shining a light on their stories and helping to find solutions."
Rio Ferdinand said "The Rio Ferdinand Foundation was started to create opportunities for young people and to help them reach their potential in life. We know that young people have talent, aspirations and dreams, but we also know many of them don't have the support, networks and knowledge to help them achieve their goals. Following the Covid-19 pandemic young people face more challenges than ever in getting into meaningful careers as businesses rebuild, and most of us will see this in our own families and friends.
"This partnership with KISS will give a great platform for young people to tell their own stories, engage with employers to unlock new talent and pathways and to campaign for change in the way we invest in young people for the future. I can't wait to get started."
Partners involved in #notboxed already in investing in young people's skills and future pathways are; Warner Music UK, The Gym Group, The Jockey Club and the Guinness Partnership and their suppliers in the construction industry.
Bauer Media is supporting this campaign through The Bauer Academy, providing training and facilitation for young people.