BBC Sounds to include new Local to Me content section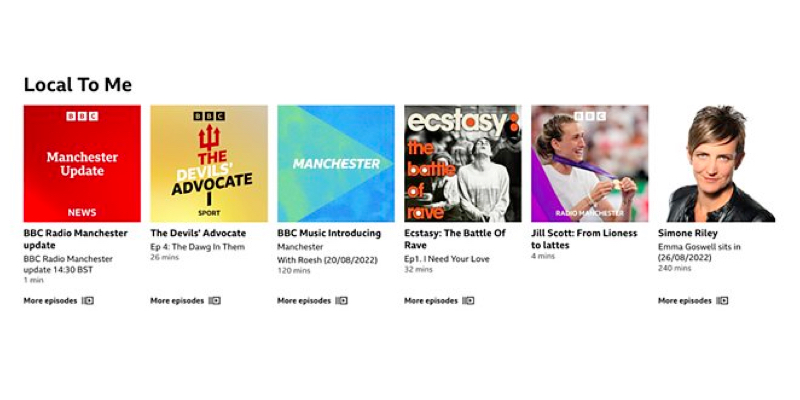 BBC Sounds is introducing a new section on the home screen showing programmes and podcasts people can listen to which are about and from their local area.
In England, this will be called Local to Me, and will include a mix of sports podcasts and sports shows from local radio stations, regional news bulletins, BBC Music Introducing shows, under the radar local artists, and podcasts from Sounds, as well as short-form audio and full radio programmes.
Outside of England this new section will work a little differently, with each nation choosing the best content it has to offer, and will be called 'From Wales', 'From Scotland' and 'From Northern Ireland' respectively.
Over time, the BBC says the section will become more relevant to listeners with a wider range of content for them to listen to. Initially, only some listeners will see this new section, but it will appear to everyone in the near future.
Pushpa Reddy, Director of Product says: "This new section is the latest of various ways in which we make BBC Sounds feel more personal and relevant for our listeners. We have a Continue Listening section that remembers where you left off with a programme, the My Sounds section that feeds all the new programmes from those you've subscribed to into one place, and Bookmarks to help you return to specific programmes.
"Listeners also get personalised recommendations, which help them discover more from around the BBC they may not have heard before – as well as useful touches, like remembering listeners' favourite radio stations in the dial at the top, and making listeners' local radio stations easy to access in the dial too.
"We hope this local content will help people feel Sounds is even more personal and relevant to them by better connecting them to fantastic content about and from the place they live."