BBC Radio 2 to air five hours of Take That programming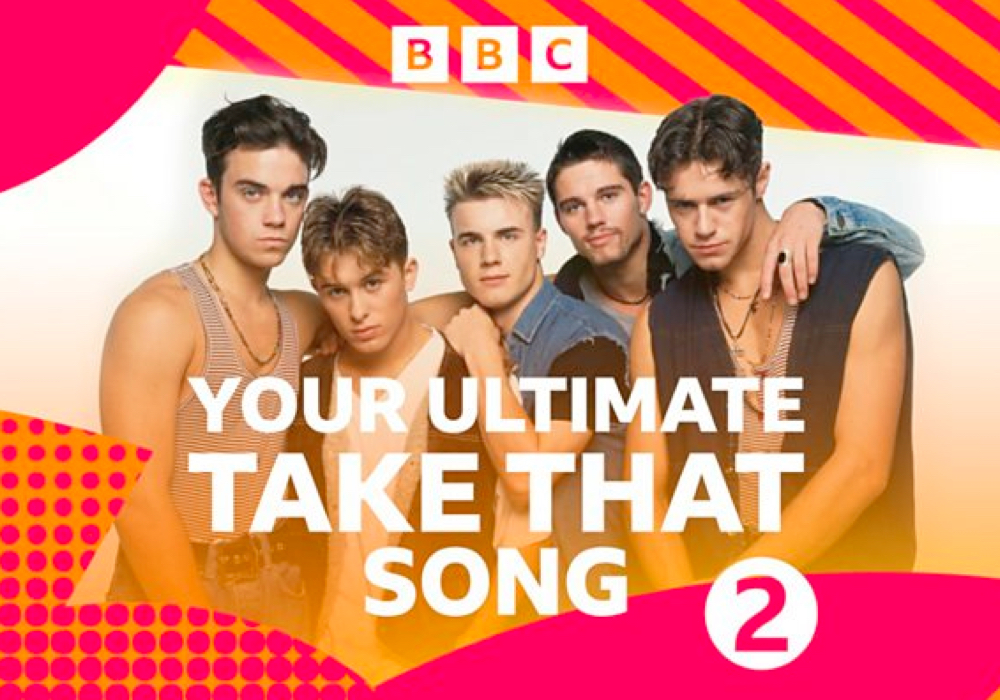 BBC Radio 2 is going all out with Take That features on New Year's Day including a two-hour countdown of Take That songs voted for by listeners.
The station is marking the 30th anniversary of the group's first Number 1 single, Pray, in 1993.
From today, anyone can vote for up to three of their favourite songs taken from Take That's Top 75 chart singles.
Cat Deeley will host the live countdown show – The Ultimate Take That Song – on New Year's Day in a show which will also feature the band with new and archive interviews, plus fans such as Olly Murs and Sam Bailey talking about many of the songs which have been voted into the chart. Produced by BBC Audio.
The band says: "We are so lucky to have the best fans in the world, who have supported us for over 30 years – can you believe it! We're honoured that Radio 2 are giving them the opportunity to vote for their favourite Take That songs, which our friend Cat will be counting down on New Year's Day. We'll be tuning in to find out which song is at Number One !"
Cat says: "I was a Take That fan back in the day and I'm a Take That fan today! So I can't wait to welcome the first day of 2023 live on Radio 2 by playing two hours of their hits, chatting to the listeners about their own Take That encounters and celebrating a brand new year together."
Jeff Smith, Head of Music, Radio 2 and 6 Music, says: "Of the 16,000 different tracks played on Radio 2 last year, quite a few were by Take That! So I'm delighted to give our listeners the chance to vote for their best-loved songs for our New Year's Day chart, live with Cat Deeley."