Gaydio plans 24 hour broadcast to raise awareness of HIV and AIDS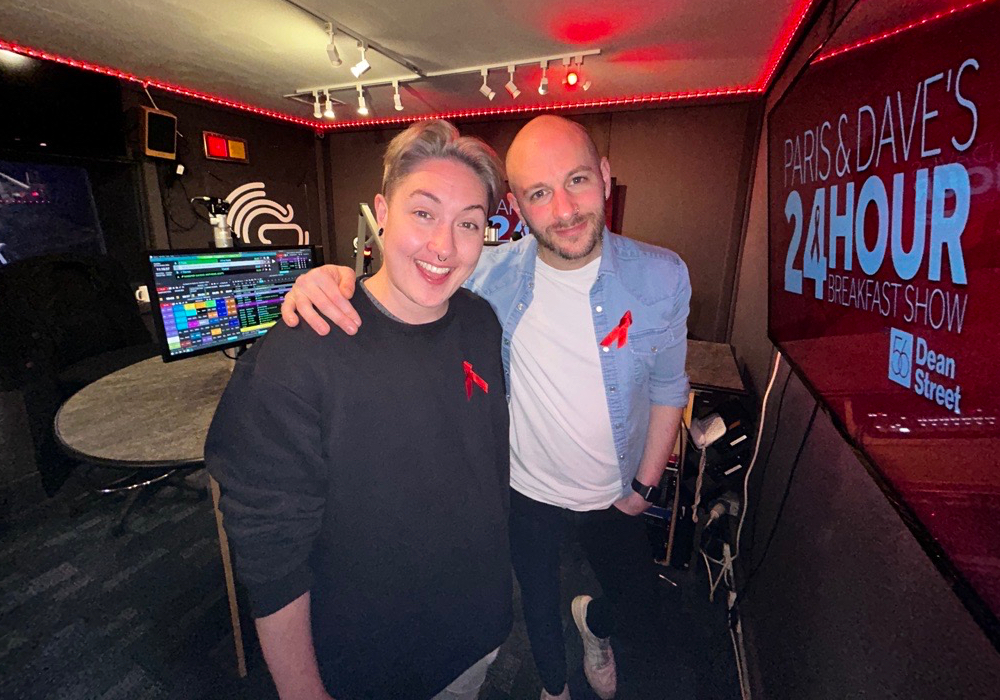 Paris & Dave from Gaydio Breakfast are going live for 24 hours to raise money for the Terrence Higgins Trust charity from 7am Thursday.
The team aims to raise £2030 and generate awareness of HIV & AIDS as the UK aims to end new cases of HIV in the UK by 2030.
Listeners can expect prize auctions, challenges to raise money and guests such as; It's a Sin actor Nathanial Hall, journalist Jay Hawkridge, Drag Queens Sister Sister & Ginny Lemon, and the queen of clean Kim Woodburn.
As well as this, there will be a one-hour documentary hosted by It's a Sin's Nathaniel Hall and supported by the Audio Content Fund talking about HIV in the dating game featuring real-life stories about living and dating with HIV and the stigma that still remains.
THURSDAY. 7AM. @itsparismunro & @djdavecooper go live for 24 HOURS for #worldaidsday, raising money for @THTorguk Join them for a lotta fun, a lotta laughs, massive prizes and huge guests pic.twitter.com/h8mkwjAiK7

— Gaydio (@Gaydio) November 28, 2022
Kriss Herbert, Network Content Manager for the Gaydio network said: "World Aids Day is such an important time in the calendar of LGBTQ+ people, an opportunity to raise awareness and break the stigma of HIV and AIDS, something that is unfortunately still an issue in our community today.
"Terrence Higgins trust are an incredible charity at the forefront of the fight against HIV. We're really pleased to be able to support them with Paris & Dave's 24 Hour Breakfast Show, so join us on Thursday from 7am and get involved to raise money for an incredibly important cause!"
Ian Green Chief Executive at Terrence Higgins Trust said: 'Everyone at Terrence Higgins Trust is incredibly grateful to Gaydio for their dedication to raising awareness of HIV this World AIDS Day. The radio station has been a longstanding supporter of our charity's work.
"Gaydio's generous support helps to fund support for people living with HIV, work towards ending new cases of HIV by 2030 and the promotion of good sexual health for all."