Jay Crawford tells us all about operating Edge Radio in Scotland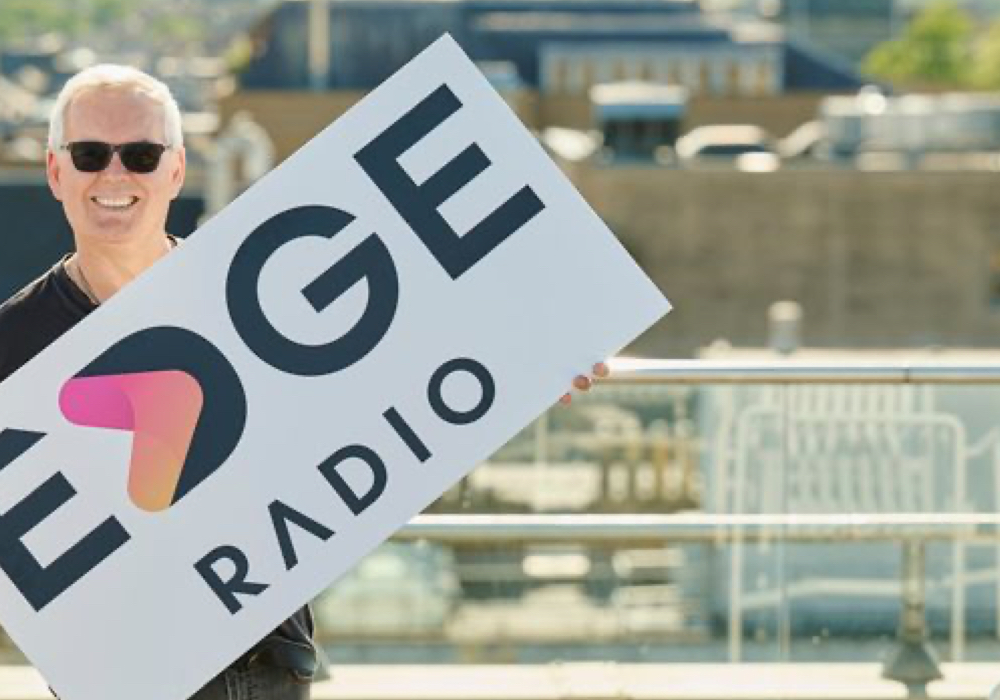 In a special piece for RadioToday, Edge Radio's Jay Crawford shares his experience of operating a new radio station in Edinburgh.
Edge Radio hit the airwaves on DAB in Edinburgh this summer after operating online for almost a year. The station saw an increase in listeners since Jay purchased the station in October last year, and Jay has used all his experience as the former programme director at Real, Smooth and Rock Radio to bring a team of presenters together and help make the station a success.
"As we transition into autumn, it feels like the right time to take a breath and reflect on the year so far after a busy summer.
I've been working in radio for almost 48 years. I was one of the original DJs on Radio Forth when it first launched in 1975 and have worked as a Programme Director for stations such as Forth 1 and 2, Scot FM, Real, Smooth and Rock Radio. When you're coming up for half a century into your career, it is always going to be of interest when a new exciting opportunity is presented.
I had the opportunity to purchase Edge this time last year. I was aware of the station as it had been operating online for almost a year at that point and had a great team behind it. I purchased it in October and after a lot of hard work we launched the station on DAB digital radio in June.
A thanks to you here: https://t.co/remrYmL7gx#Edinburgh #EdgeRadio pic.twitter.com/4cvSO3mo8X

— Edge Radio (@EdgeRadioScot) October 27, 2022
I am extremely proud of the team we have put together who have worked tirelessly to make Edge Radio what it is. Matt Shields in charge of production and programming and Mark Martin, who worked with me at Real Radio and Forth One, get Edge listeners through the midweek mornings from 6am to 10am. Brad Yule, who worked on Capital Radio, then takes over to carry listeners through to lunch time.
We've rejigged our line up to focus on on-air performances with award-winning host Claire Kinnaird now presenting our daily Home Run show (3pm-7pm) and new radio name Matthew Paige also promoted to our popular evening show, weeknights from 7pm. Matthew's dad, Brian Paige, worked with me years ago at the Wireless Group and I know he would be delighted to know how well Matthew is performing on air.
Our mission for the summer was to provide listeners with current and upbeat tunes and the feedback we've received on the station has been amazing. Launching just before the Edinburgh Fringe Festival, one of the greatest celebrations of arts and culture in the world, we've been able to try out new and experimental content, collaborate with brands, and bring a fun, creative energy to our overall offering.
We've also been able to secure local sponsors, which meant that within six months Edge Radio is now operating in profit. The Breakfast show is sponsored by Belmont Suzuki, mid-day by Kingsgate Shopping Centre and the afternoon drivetime show by Cartmore Building Supply Company. Haines Electrical have also come on board as sponsors of the Edge Edit, an hourly guide to what's on in Edinburgh. They have all been crucial in making sure we are delivering the best station possible. I'm delighted to have just signed Cheynes Hair Salons as a sponsor for 2023, alongside all of our current sponsors.
Throughout the summer, our weekday and weekend shows have gained a strong, steady audience.
We are in ongoing discussions with Edinburgh DAB and other multiplex operators for our signal to reach more listeners across the country as our following in Scotland's capital has grown. Listening through our smartphone app increased by more than 15% in the past month and our app downloads are constantly on the rise.
It's evident listeners and advertisers are enjoying our Edinburgh USP as we share what's happening locally in and around the capital, with the likes of our Edge Edit feature hosted by ex-Forth 1 presenter, Jill McLaren. Jill and the team all did a marvellous job as we went into obit procedure following the announcement of Her Majesty the Queen's death, we kept Edinburgh right up to date with all the pomp and circumstance around the Royal Mile and beyond.
This morning, Edge Radio's @immarkmartin has been gauging public mood in Edinburgh as we mourn the passing of Queen Elizabeth II, who's passed away aged 96. #Edinburgh is a sombre city this morning with a small crowd gathering to pay their respects at The Palace of Holyroodhouse pic.twitter.com/KQ01n48hge

— Edge Radio (@EdgeRadioScot) September 9, 2022
As summer comes to a close, we are looking at how we can continue to establish ourselves in Edinburgh's digital radio marketplace. We are continuing to let the talent in our team flourish and we're looking forward to what the future holds for our brand.
It's been an incredible journey to say the least. I can't thank enough the tireless dedication of our team, as well as our station sponsors and advertisers, in delivering a fresh, local sound to Scotland's capital.
2023 is going to bring some more exciting news for Edge Radio and we'll be making further announcements shortly."
You can listen to Edge Radio by:
Downloading the new smartphone app, just search 'Edge Radio Scotland' wherever you get your apps.
Our website: edgeradio.co.uk
On DAB digital radio in Edinburgh
'Play/launch Edge Radio Scotland' (Alexa/Google)